Capt Khan ballot tribute: Orthodox Jew dedicates vote to US Muslim soldier (PHOTO)
Published time: 10 Nov, 2016 14:25
Edited time: 11 Nov, 2016 12:08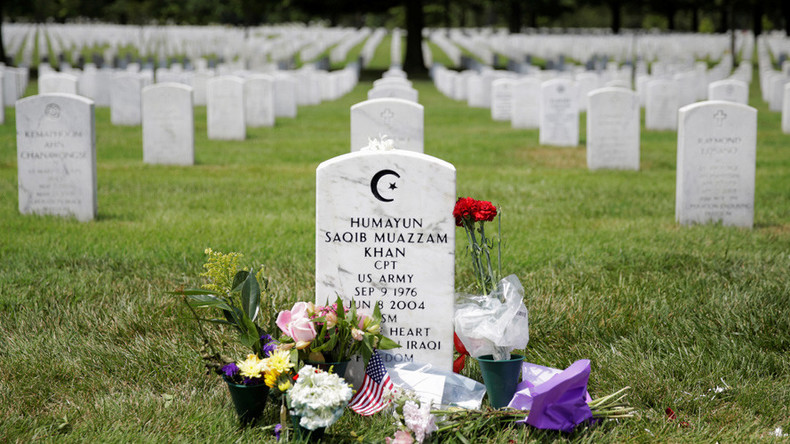 A Jewish man used his vote to pay tribute to a US soldier killed in Iraq whose family fell foul of a Donald Trump rant about Muslims.
Yosef Rapaport, an Orthodox Jew, moved to Brooklyn, New York from Montreal decades ago.
He posted a picture of his blank ballot to Twitter on Tuesday, alongside an image of US Army Captain Humayun Khan, writing that the young serviceman's sacrifice made "religious freedom possible".
Khan was killed by a car bomb while guarding a US military base in Iraq back in June 2004.
"I'm an Orthodox Jewish Immigrant," Rapaport tweeted. "My vote is private. Dedicated in honor of US CPT Khan, his devotion makes (religious) freedom possible."
Rapaport's tribute has since garnered thousands of retweets and drew comments from other Twitter users noting that his salute brought them to tears.
Capt Khan, 27, was hailed as an American hero by Democratic candidate Hillary Clinton in a campaign speech last year, where the former secretary of state recounted details of his "courageous" last moments.
However, it was her Republican rival Donald Trump's war of words with Khan's family that became one of many flashpoints during his race to the White House.
READ MORE: How Trump won the White House: Key moments of #Election2016

Capt Khan's father spoke at the Democratic National Convention to criticize Trump's controversial calls for a "total and complete shutdown of Muslims" entering the US.The Republican then responded by implying Khan's mother had not been allowed to speak at the convention because of sexism in her faith.
"If you look… she was standing there," Trump said in an interview with ABC News in July. "She had nothing to say. She probably, maybe she wasn't allowed to have anything to say."
Asked whether he had anything to say to the Khan family, he added: "I'd say, we have a lot of issues with radical Islamic terrorism, that's what I'd say."
READ MORE: 'Unacceptable': Republicans blast Trump comments about family of slain Muslim soldier

The comments provoked outrage and led to many prominent Republicans coming out in support of the Khan family.