'Unacceptable': Republicans blast Trump comments about family of slain Muslim soldier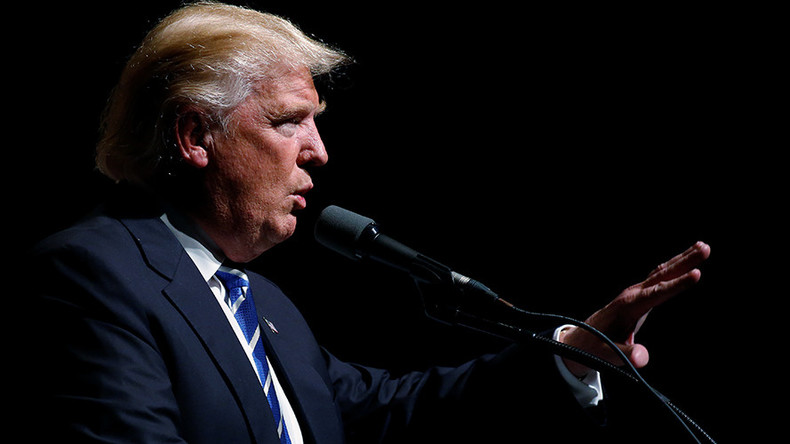 Republican leaders have denounced remarks made by their presidential nominee, Donald Trump, about the parents of a decorated Muslim-American solider who died in Iraq.
Several top Republicans have said they are "appalled" by Trump's "unacceptable" comments about the parents of a slain American soldier who questioned whether Trump had ever read the US Constitution.
"This is going to a place where we've never gone before, to push back against the families of the fallen," US Senator Lindsey Graham told ABC News. "There used to be some things that were sacred in American politics — that you don't do — like criticizing the parents of a fallen soldier even if they criticize you."
Khizr and Ghazala Khan, parents of Army captain Humayun Kahn, who died serving in Iraq in 2004, spoke at the Democratic National Convention last week. The speech made by Khizr was both paying homage to their son and a criticism of Trump's stated plans to bar non-American Muslims from entering the United States.
During the speech, Khizr Khan said Trump has sacrificed "nothing" and "no one," and that the billionaire real estate mogul did not understand that people of many backgrounds had given their life in service of their nation.
"Have you ever been to Arlington Cemetery?" Khan asked. "You will see all faiths, genders, and ethnicities. You have sacrificed nothing. And no one."
Trump responded by suggesting Ghazala Khan was unable to speak due to her Muslim faith.
"If you look at his wife, she was standing there," he told ABC News' George Stephanopoulos. "She had nothing to say. She probably, maybe she wasn't allowed to have anything to say. You tell me, but plenty of people have written that."
Ghazala Khan later told MSNBC that she did not speak because of the powerful emotion that the photo of her son, which was in the hall, evoked.
"I was very nervous, because I cannot see my son's picture and I cannot even come in the room where his pictures are, and that's why when I saw the picture on my back, I couldn't take it," she said. "And I controlled myself at that time, so it is very hard."
Trump also told NBC News that he has "made a lot of sacrifices."
"I work very, very hard. I've created thousands and thousands of jobs, tens of thousands of jobs."
When asked by Stephanopoulos what he would say to the Khizr Khan, Trump said, "I'd say, we have a lot of issues with radical Islamic terrorism, that's what I'd say."
Since those comments, Trump has continued to insist his remarks following Khizr Khan's speech are focused on "radical Islamic terror" and not about their son, "a hero," Trump has tweeted.
Trump and running mate Mike Pence released a statement Sunday saying the campaign believes "that Capt. Humayun Khan is an American hero and his family, like all Gold Star families, should be cherished by every American."
On Sunday, Trump also tweeted that he was the one who was first attacked.
"I was viciously attacked by Mr. Khan at the Democratic Convention. Am I not allowed to respond? Hillary voted for the Iraq war, not me!"
Meanwhile, Republican leaders have scrambled to disavow Trump's sentiments while praising Humayun Khan.
"As I have said on numerous occasions, a religious test for entering our country is not reflective of these fundamental values," House Speaker Paul Ryan said. "I reject it. … Many Muslim Americans have served valiantly in our military, and made the ultimate sacrifice. Captain Khan was one such brave example."
Senate Majority Leader Mitch McConnell also hailed the slain solider while distancing himself from Trump's remarks — all without mentioning Trump's name.
"Captain Khan was an American hero, and like all Americans I'm grateful for the sacrifices that selfless young men like Capt. Khan and their families have made in the war on terror,"said McConnell,. "And as I have long made clear, I agree with the Kahns and families across the country that a travel ban on all members of a religion is simply contrary to American values."
Senator John McCain penned a letter to the Khans, according to the New York Times, telling them Trump's comments do not reflect all Republicans' views.
"In recent days, Donald Trump disparaged a fallen soldier's parents," he wrote. "He has suggested that the likes of their son should not be allowed in the United States — to say nothing of entering its service. I cannot emphasize enough how deeply I disagree with Mr. Trump's statement. I hope Americans understand that the remarks do not represent the views of our Republican Party, its officers or candidates."
Senator Kelly Ayotte said she was "appalled that Donald Trump would disparage" the Khans "and that he had the gall to compare his own sacrifices to those of a Gold Star family."
"There is no greater sacrifice than to lay down one's life for their country, and that's the sacrifice that Capt. Humayun Khan made fighting to defend our freedom and our constitutional rights,"Ayotte said. "He was a true American hero. The Khan family deserves nothing less than our deepest support, respect, and gratitude, and they have every right to express themselves in any way they choose."
While denouncing Trump's comments, none of the Republican leaders said they would alter their support for Trump's presidential candidacy.
Democratic presidential nominee Hillary Clinton's campaign also reacted with a denunciation of Trump's criticism. Spokeswoman Karen Finney tweeted: "Trump is truly shameless to attack the family of an American hero. Many thanks to the Khan family for your sacrifice, we stand with you."
Clinton's former rival for the Democratic nomination, Bernie Sanders, also slammed Trump, saying he "will do everything I can to rid this country of the ugly stain of racism."