'Dangerous outcast': Ukraine minister blasts Trump for saying Crimea people want to be with Russia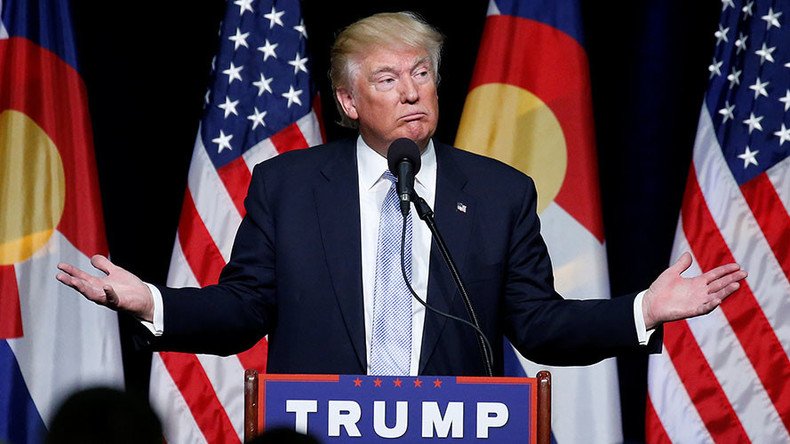 Senior current and former officials in Ukraine were outraged with US presidential candidate Donald Trump, who called their country "a mess" and said the people of Crimea would rather be with Russia than with Ukraine.
In an interview broadcast Sunday on ABC's 'This Week', Trump said he would look into how Crimea broke away from Ukraine after a 2013 armed coup and voted in a referendum to rejoin Russia. The current US administration does not recognize the referendum and brands the move an annexation by Russia.
"The people of Crimea, from what I've heard, would rather be with Russia than where they were. And you have to look at that also," Trump said.
He went on to criticize the Obama administration, saying the political crisis in Ukraine happened under the Democrat president's watch.
"As far as Ukraine is concerned, it's a mess. And that was under the Obama administration with his strong ties to NATO… Don't blame Donald Trump for that," he said.
"I will do better and yet we will have better relationship with Russia – maybe. And having a good relationship with Russia is a good thing, not a bad thing."
Trump says that the US and Russia should join forces to fight terrorism. He also demanded that all NATO members follow the alliance's defense spending rules the way the US does, threatening to reconsider America's collective defense commitments otherwise. Critics accuse Trump of bowing down to Russian President Vladimir Putin and betraying America's allies.
The Republican's latest statements sparked outrage in Ukraine, which considers the US its most important sponsor and seeks to become a NATO member.
"The shameless statement of US presidential candidate Trump on possible recognition of Crimea as Russia is a diagnosis of a dangerous fringe politician," Ukrainian Interior Minister Arsen Avakov wrote on his Facebook page. "He is dangerous for Ukraine and equally for the USA. An outcast bowing down to Putin cannot be the guarantor of democratic freedoms in the US and the world."
READ MORE: Online outrage over NY Post's nude pics of Melania Trump, Donald not too bothered

Similar sentiments were voiced by former Ukrainian Prime Minister Arseny Yatsenyuk, who accused Trump of "violating ethical and civilizational principles."
"The United States is the leader of the free world," he wrote on his Facebook page, claiming that without American leadership the free world "would be destroyed… by dozens of dictators, demagogues and populists.
"The Americans deserve a responsible and wise president and commander-in-chief," he added. "Donald Trump should seek wise advice from members of the Republican party, who understand freedom, international law and a free world."
You can share this story on social media: