How Trump won the White House: Key moments of #Election2016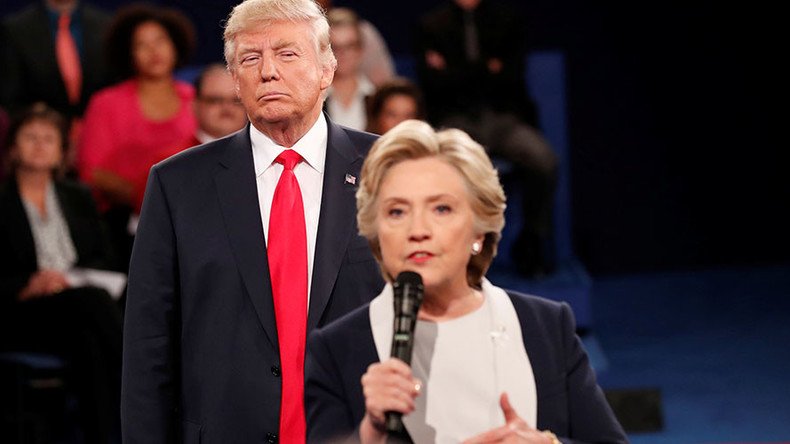 The race is over. Donald Trump is president-elect, defeating HIllary Clinton and putting a Republican back in the White House. The 2016 election campaign wasn't pretty, but it was entertaining.
Trump's announcement in June 2015 that he would run for president was met largely with ridicule, as many saw the reality TV star's bid to make the White House as a joke. Trump's lack of any experience in political office positioned him as an outsider from the start.
Building walls
Campaigning started off controversially, with Trump laying down his mission with the now-infamous statement that he would build a "great wall" on the US-Mexican border, claiming their neighbours were sending "criminals, drug dealers, rapists," into the US.
His attack on immigrants was ramped up in December 2015 in the wake of the San Bernardino shooting. Trump called for a temporary ban on Muslims entering the US, causing further division amongst Republicans and outrage from his future Democratic rival.
A bitter Republican race
The bizarreness of the Republican campaign continued when, in the first primary debate in August 2015, Trump declared he would not pledge his support to a Republican nominee other than himself and didn't rule out running as a third-party candidate.
Trump, already gaining traction in the polls despite not being backed within the party, later signed a pledge promising his allegiance to the Republican Party.
Trump became Clinton's confirmed opponent after a bitter Republican primary that saw many leading Republicans refuse to endorse him. Speaker Paul Ryan took some time to come around to the idea of Trump as the party's nominee, originally saying he was "not ready" to endorse him. After meetings with Trump, he announced his full support.
Beating Bernie
Clinton's fight for the Democratic nomination seemed clear from the start, with a distinct lead over her party rival Bernie Sanders. However, by appealing to younger voters and others feeling alienated by the party, Sanders clawed his way back and called on voters to elect the person they think has the best opportunity to beat Trump.
Sanders targeted Clinton's relationship with Wall Street in his efforts to defeat her, choosing not to concentrate on the email scandal that had plagued her since it first emerged in March 2015.
He eventually lost the delegate fight to Clinton.
Leaked emails
Clinton's campaign turned sour when emails from the DNC were released by WikiLeaks and revealed a bias within the party against Sanders. The mails revealed collusion between the DNC, Clinton and the media in an effort to beat his bid.
READ MORE: New DNC email leak reveals anti-Sanders bias, pro-Clinton collusion among top officials
Her campaign was also dogged by the investigations into her use of a private email server while secretary of state. In July, the FBI said no charges would be brought in relation to the emails.
However, the issue resurfaced in the closing weeks of the election campaign when emails were found on a laptop belonging to former Congressman Anthony Weiner, which was also used by his wife, Clinton aide Huma Abedin.
FBI Director James Comey said the agency would examine the emails and announced just days before the November 8 poll that no information was found which would warrant any charges being brought against Clinton.
Convention controversies
Both parties' conventions took place in July, with Melania Trump grabbing the headlines with her allegedly-plagiarized speech from Michelle Obama.
Clinton used the Democratic National Convention to attack Trump's proposed ban on Muslim immigrants to the US, with the Pakistani-American parents of deceased US soldier Humayun Khan speaking.
"Have you ever been to Arlington Cemetery? Go look at the graves of brave patriots who died defending the United States of America. You will see all faiths, genders, and ethnicities." his father Khizr Khan said.
Trump caused outrage with his rebuttal when he said "If you look at his wife, she was standing there. She had nothing to say. She probably — maybe she wasn't allowed to have anything to say."
Ghazala Khan responded that she was too upset to speak about her deceased son.
Trump picked Indiana governor Mike Pence as his running mate, with Clinton choosing junior Senator from Virginia Tim Kaine.
The 'Aleppo moment'
The Green Party's Jill Stein and Libertarian Gary Johnson, among other third-party candidates, would keep the nominees company on the ballot. Johnson's gained most notoriety for famously not knowing what Aleppo was.
Meanwhile, Stein become embroiled in accusations she was "anti-vaccine" after claiming they were not to be trusted, a statement from which she later attempted to distance herself.
'Basket of deplorables' and 'locker room talk'
Comments made by Clinton in September this year that described half of Trump supporters as a "basket of deplorables" caused further damage to her reputation. She apologized for the comment claiming she was wrong to be "grossly generalistic."
The "deplorables" comment paled in comparison to what was to come for Trump, however. A video emerged of him from 2005 in which he makes sexually aggressive comments about groping women. The video was dismissed on his side as "locker room talk" and he issued a hasty apology, quickly attempting to turn the attention back to Clinton's campaign, resurrecting allegations of sexual assault against Bill Clinton.
The win
Walls, bans and inappropriate grabs weren't enough to derail the Republican's campaign though, with Trump becoming president-elect with a stunning win.
READ MORE: It's official: Trump to become 45th president of the United States
Trump delivered his victory speech after receiving a call from Clinton who conceded defeat. She has yet to address her supporters.
You can share this story on social media: