New DNC email leak reveals anti-Sanders bias, pro-Clinton collusion among top officials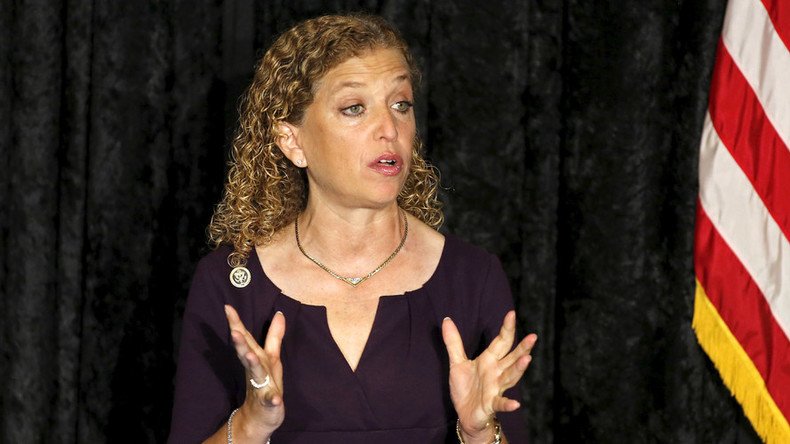 A WikiLeaks dump of nearly 20,000 Democratic National Committee (DNC) emails, the supposedly neutral governing organization of the Democratic Party, indicates that the committee strategized with the Clinton campaign and plotted against Bernie Sanders.
In #DNCLeaks we learned that Bernie's atheism was used against him. I'll take an atheist over someone that bears false witness any day FWIW.

— Jeff Tidwell (@BladeJB343) July 22, 2016
Collusion with Clinton and the media

A communication from late May laid out the pros and cons of DNC Chairwoman Debbie Wasserman Schultz accepting an invitation to CBS's 'Face the Nation', and indicated that the DNC was plotting its moves based on what would be amenable to Hillary Clinton's presidential campaign.
"Clinton campaign is a mess, they're afraid of their own shadow and didn't like that we engaged," DNC communications director Luis Miranda wrote. "But they'll be unhappy regardless, so better to get out there and do some strong pivots and land good punches on Trump. They can't tell us NOT to do TV right now, we shouldn't pull ourselves out until they actually do."
"It's clear that Bernie messed up and that we're on the right side of history," Miranda wrote in another bullet point, referring to the Nevada convention.
"Let's take this offline," Wasserman Schultz said in response. "I basically agree with you."
Wasserman Schultz and Miranda brainstormed ideas to attack Sanders' position on the Israel/Palestine conflict with her communications team in one thread, with Wasserman Schultz saying that "the Israel stuff is disturbing" in reference to Sanders' platform committee appointees attempts to include language denouncing the occupation of Palestinian territory in the Democratic platform.
The chairwoman says that the idea "HFA," or Hillary For America, originally proposed the idea of using Israel/Palestine as "an ideal issue to marginalize Sanders on," suggesting that the DNC were exchanging communications about anti-Sanders strategies with the Clinton campaign.
The DNC also appears to have made a secret "agreement" with Kenneth Vogel, an influential report for Politico.
An email from late April with the subject line "per agreement... any thoughts appreciated" shows that Vogel sent an advanced copy of a story about Hillary Clinton's fundraising to the DNC even before his editor even saw it.
"Vogel gave me his story ahead of time/before it goes to his editors as long as I didn't share it," DNC press secretary Mark Paustenbach wrote to Miranda. "Let me know if you see anything that's missing and I'll push back."
The published version of the story did not appear to have any significant edits from and was not favorable to the Clinton campaign, but the sending of a full, advanced copy to the subject of a story is considered to be a violation of journalistic ethics.
A source with familiar with the interaction between Politico and the DNC told RT America that the message was sent to officials to ensure accuracy in the story, and that it would have been difficult to ask for piecemeal clarifications due to its complexity. The "agreement," in fact, referred to the DNC promising not to pass the story to a more favorable news outlet who might publish before Politco.
Another email released in the Friday leak indicates that the DNC was in close contact with news websites on articles related to the Democratic Party.
A Real Clear Politics article said that Sanders supporters were causing a lack of unity at the Nevada Democratic Convention.

"This headline needs to be changed," Wasserman Schultz wrote to Miranda.
"We need to push back... Patrice, what happened, DNC had nothing to do with this, right?" Miranda replied, referring to DNC Director of Party Affairs Patrice Taylor.
Taylor responded saying that the article should be changed the event was run by the state party and the disorder "sounds like internal issues amount [sic] Sanders supporters."

"Walter, please connect with Stewart and get him to push back," Miranda wrote. The last email on the thread says: "Done. Article has been updated."
Plotting against Sanders

In a May 5 email, two top DNC executives plotted a smear against Sanders by drawing his Jewish faith into question and painting him as an atheist in strongly religious states.
READ MORE: New Hillary leak: Wikileaks releases 20K DNC emails
"It might may no difference, but for KY and WVA can we get someone to ask his belief," DNC Chief Financial Officer Brad Marshall wrote. "Does he believe in a God. He had skated on saying he has a Jewish heritage. I think I read he is an atheist. This could make several points difference with my peeps. My Southern Baptist peeps would draw a big difference between a Jew and an atheist."
"AMEN," DNC Chief Executive Officer Amy K. Dacey replied.
Want to see inside how a counter-revolutionary party squashes a revolutionary campaign? Follow @wikileaks and #DNCLeaks. We must fight on.

— Dr. Jill Stein (@DrJillStein) July 22, 2016
In an email that concerned Sanders out-polling Clinton in Rhode Island, where the state reportedly only had a fraction of voting stations open, one staffer took a contemptuous tone of Sanders' supporters, speaking about them more as a nuisance than an arm of the party.
"If she outperforms this polling, the Bernie camp will go nuts and allege misconduct," the staffer writes, "They'll probably complain regardless, actually."
Another email shows similar 'us and them' language being directed at Sanders supporters.
"We have the Sanders folks admitting that they lost fair and square, not because we 'rigged' anything," the email said. "Clinton likely to win the state convention with a slim margin and we'll send a release with final delegate numbers."
An email titled 'Bernie narrative' sent by DNC National Press Secretary Mark Paustenbach to Miranda indicates that top officials in the party were trying to find an angle to disparage the Vermont senator in the media.
"Wondering if there's a good Bernie narrative for a story, which is that Bernie never ever had his act together, that his campaign was a mess," Paustenbach wrote in the May 21 message. "Specifically, [Debbie Wasserman Schultz] had to call Bernie directly in order to get the campaign to do things because they'd either ignored or forgotten to something critical."
"It's not a DNC conspiracy, it's because they never had their act together," Paustenbach suggested.
Writing off Bernie

Wasserman Schultz seemed to have already counted Sanders out of the race in a May 21 email, when there were still nine primaries to go.
"This is a silly story," the chairwoman said. "He isn't going to be president."
In another email, Paustenbach informed her that Sanders campaign manager Jeff Weaver said the candidate should continue to the convention, Wasserman Shultz said: "He is an ASS," referring to Weaver.
The chairwoman made her opinion clear about Sanders in an message concerning the candidate alleging that the party hadn't been fair to him.
"Spoken like someone who has never been a member of the Democratic Party and has no understanding of what we do," she said.
There seems to be clear bias in the aggregate as well. Searches of the database shows an apparent bias by DNC officials against Sanders just by how closely either campaign was monitored. A search of "Sanders supporters" yields 306 messages, while a search of "Clinton supporters" shows only 65 results. A search of "his campaign" yields 780 messages, while "her campaign" only brings up a paltry 120 results.
You can share this story on social media: