Pence's chief of staff tests positive for Covid-19, VP not infected – spokesman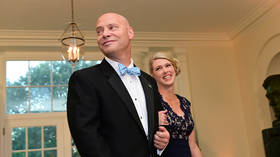 Marc Short, known as Mike Pence's closest aide, has been infected with coronavirus, the vice president's spokesman has confirmed, adding that Pence himself tested negative and is not planning to halt his campaign.
"Vice President Pence and Mrs. Pence both tested negative for Covid-19 today, and remain in good health," spokesman Devin O'Malley reported on Saturday evening as he confirmed that the VP's right-hand man, Short, had contracted the virus.
Pence is not expected to cancel any of his scheduled events in light of his top aide's illness, O'Malley noted, adding that his boss "will maintain his schedule in accordance with the CDC guidelines for essential personnel."
Also on rt.com
Melania Trump cancels campaign event with Donald over 'lingering cough' following Covid diagnosis
The decision for Pence to continue his public engagements was made "in consultation with the White House Medical Unit," the spokesman said.
Short, who served as director for legislative affairs in the Trump administration from 2017 to 2018 and, since March 2019, has been Pence's chief of staff, is considered to be a "close contact" of the vice president.
The Centers for Disease Control and Prevention's guidelines for "critical infrastructure workers" who have been potentially exposed to the coronavirus state that such workers can go on with their duties as long as they don't display any symptoms, are under regular monitoring, and "wear a mask at all times while in the workplace for 14 days after last exposure."
Along with Short, Bloomberg reports that one other senior advisor to Pence, Marty Obst, not a government employee, has also tested positive for Covid-19.
Pence's decision to maintain his campaign schedule has drawn the ire of some critics, including media outlet CNN, which noted several instances in which Pence and Short had been spotted not wearing masks in public and noting CDC guidance stating you should quarantine for 14 days after being in close contact with someone who is positive for Covid-19 (though this applies to non-essential workers). The outlet also noted that there have not been major changes to the layout of campaign events for Pence or Trump since the president was treated for Covid, with "little social distancing and few masks" being seen, according to them.
Short has become yet another high-profile White House official to have contracted the virus. US President Donald Trump, First Lady Melania Trump and their teenage son Barron all tested positive for the virus in early October. Shortly after his diagnosis, Trump was transported to Walter Reed medical facility, where he spent four days being treated with an experimental drug cocktail and oxygen.
Also on rt.com
Twitter removes mask guidance from White House Covid-19 adviser, claiming it violated policies on 'misleading information'
After his discharge from hospital on October 5, Trump immediately resumed his public engagements, and has been busy campaigning ever since.
Apart from Trump, an array of White House officials were treated for coronavirus, including his senior advisers Stephen Miller and Hope Hicks, White House Press Secretary Kayleigh McEnany, and a number of GOP officials and lawmakers.
Think your friends would be interested? Share this story!