Woke on steroids, Brexit breakthrough & Iran on brink of war: 2020 predictions from RT contributors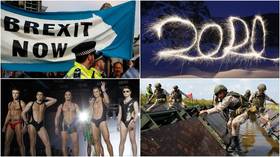 2019 was a volatile year of fever-pitch politics, flamboyant rhetoric, culture wars and narrowly missed actual wars. By the looks of it, 2020 is set to crank it all up even further. Here are RT's top predictions for the new year.
Culture: More woke, more broke
Zachary Leeman, author of the novel 'Nigh' and journalist who covers art and culture:
Woke female Bond ('No Time to Die'), unnecessary sequels ('Bad Boys for Life,' 'The New Mutants'), reboots ('Fantasy Island,' 'Sonic the Hedgehog'), remakes ('Mulan,' 'Dolittle'), and an election for Donald Trump's spot in the White House that is sure to further trigger already-triggered celebrities is what 2020 has to offer us, so the new year will kind of be like 2019, but on steroids.
Also on rt.com
Dear Media: The new 'Star Wars' trilogy is garbage, and your endless fawning 'rankings' can't change that
With Hollywood continuing its politically correct effort to keep theaters empty while staying afloat with retooled works boasting brand names, woke mobs on social media will feel as empowered as ever to give some extra juice to cancel culture by targeting anyone who dares to speak an opinion not totally in line with the most progressive talking points out there. Plus, the presidential election will be pushing celebrity political rhetoric to a new level of annoying. Buckle in.
Economy: The time of gold, bitcoin and neo-feudalism
Max Keiser, veteran business commentator, host of RT's Keiser Report:
2020 is the year the USD loses its role as the global reserve currency. We will see a multipolar world of several dominant currencies with gold playing a central role and hitting new all-time highs against the dollar. Bitcoin will also hit new all-time highs as the so-called alt-coin market (BCH, XRP, ETH, BSV, etc.) falls from 32 percent dominance to less than five percent.
QE4 will be unleashed by the US Fed in 2020 and the world's central banks will continue to gobble up toxic assets and overpriced equities by the trillion. Global central banks will soon hold more than 100 percent of the world's GDP on their books in the form of illiquid, mis-priced 'assets' that can never be sold.
In 2020, easy money and the absence of the rule of law in financial markets will result in a 99 percent concentration of the world's wealth being controlled by just a few thousand individuals as the global economy transitions to neo-feudalism.
Arms race: A new generation of weapons unleashed
Scott Ritter, former US Marine Corps intelligence officer writing on international security and arms control and non-proliferation:
Russia and the US find themselves on the cusp of a new arms race that is as unnecessary as it is dangerous. The legacy of Cold War arms control agreements born of the previous arms race between the US and Soviet Union has been deconstructed by successive US presidential administrations, leaving only the Obama-era New START agreement in place. But this treaty, which places restrictions on the size and composition of Russian and US strategic nuclear forces, is scheduled to expire in early 2021.
Also on rt.com
Avangard changes everything: What Russia's hypersonic warhead deployment means for the global arms race
President Trump has criticized the treaty as advantageous to Russia and has indicated he would rather negotiate a new treaty which also covers China's strategic nuclear force. There isn't time to negotiate a new treaty before the existing New START agreement expires, setting both the US and Russia on course to develop and deploy a new generation of strategic nuclear weapons without any controls or limitations.
China: Hong Kong riots settled through incentives, not force
Benjamin Chiao, co-author with Nobel Laureate French economist Jean Tirole:
The Hong Kong riots will continue in 2020. The US will continue to give enough incentives to nurture the opposition forces so that Hong Kong can be used as a bargaining chip in US-China relations.
The intermediate goals for the rioters are to undermine the credibility of the pro-establishment camp and the government so that the pan-democratic party will win majority seats of the upcoming legislative council election and the chief executive election.
Even if Beijing fails to see the most desirable candidate elected, it will not march in the People's Liberation Army, especially because not all protesters are rioters. In fact, Beijing could simply not appoint the elected candidate as a last resort. Beijing will also need to win back the hearts of all protesters by giving favorable policies in the Greater Bay Area. Hong Kong youngsters will find it too attractive to turn down such offers. The youngsters will have no choice as Hong Kong will continue into the second year of recession, the worst in recent decades. They will then find the people across the Shenzhen River are also blood and flesh, different from what the Western media depicts.
Middle East: Iran on the brink of war
Darius Shahtahmasebi, legal and political analyst focused on US foreign policy in the Middle East, Asia and Pacific region:
Iran will be one of the most ominous theaters in the Middle East to keep an eye on in 2020. Just on December 29, the US struck five facilities in Iraq and Syria linked to Iranian-backed militia. While delivering the strikes, the US gave a stark warning that the superpower will take "additional action" necessary for self-defense and "deter further behavior from militia groups or from Iran." Right until the end of 2019, the US continued to ramp up its maximum pressure campaign against Tehran through the use of its targeted sanctions regime and continues to deliver very elaborate threats against Iran. Furthermore, the possibility of a war between Israel and Iran becomes ever more real.
Also on rt.com
Iran lashes out at US strikes as a 'clear example of terrorism' after attacks on Iraq & Syria announced
With Iran-hawks such as John Bolton out of the picture, it is unclear whether or not the US will launch a strike against Iran in 2020. As President Trump seeks to be re-elected in the new year, a hot war with Iran may be the last thing on his mind. However, the tit-for-tats and multiple accusations levied against Iran, namely that it has been targeting US forces and major allies in the region, will also raise the specter that 2020 is likely to result in a noteworthy conflict at some stage involving Iran. Be sure to keep an eye on developments in Iran as the new year ticks away.
US: Failed impeachment & re-election give Trump free hand
Robert Bridge, American writer and journalist, author of the book 'Midnight in the American Empire':
Despite a soaring economy and low unemployment, 2020 will be a very challenging year for the American people. The never-ending effort on the part of the Democrats to impeach Donald Trump will continue into the spring, aggravating partisan tensions to boiling point. Meanwhile, yet another domestic scandal will erupt as the Republicans level charges against a number of former Obama officials connected to Hillary Clinton's 33,000 missing email messages as well as spying on the Trump campaign.
Regarding the much-anticipated 2020 presidential elections, Hillary Clinton will be tempted to join the race as the field of Democratic contenders stands no chance of defeating the incumbent.
Also on rt.com
Democrats' push to impeach Trump is just the latest chapter of US Civil War 2.0
Nebojsa Malic, Serbian-American journalist, blogger and translator, senior writer at RT:
Facing a fractured Democrat field and the DNC preference for an establishment candidate, chances are that Trump will get re-elected thanks to the robust economy.
With his opposition thoroughly discredited, Trump would then have a free hand to write his own legacy, both at home and abroad. He might withdraw from Afghanistan, ending the longest US war ever, or make peace with North Korea. He could also start a war against Iran, egged on by Israel and Saudi Arabia – and facing no opposition from Democrats or the media. Expect hostility towards Russia and China to continue, too.
One major promise Trump has yet to deliver on is to "drain the swamp" in Washington, punishing those who targeted him in 'Russiagate' conspiracy. He may do that, or he may keep just tweeting about it. We'll see what happens.
Russia: Turning to Asia, wary of the West
Bryan MacDonald, Irish journalist based in Russia:
Russia's pivot to Asia will continue. In 2018, the value of Russia-China trade passed $100 million. And that's only going to grow. The new "Power of Siberia" pipeline, and a massive €11 billion ($12.4 billion) gas processing plant project in the Far East, will further drive it.
Relations with the EU depend on a) whether Angela Merkel lasts the year (and who replaces her if she doesn't); and b) how determined Emmanuel Macron will be in pursuing his plans to bring Russia "back to Europe (sic)."
The almost complete silence of the EU when the US pulled out of the INF Treaty was bizarre, given that Western and Central Europe has so much to lose from any renewed arms race, as was the incredibly feeble German response to US sanctions on Nord Stream 2. Moscow sees the EU as a US vassal, unable to make its own foreign policy. And Berlin's reaction will only confirm that belief.
Everyone will hope for peace in eastern Ukraine. Russia would like to improve relations with the EU, and put an end to (at least some) sanctions. But whether Ukrainian President Volodymyr Zelensky is strong enough, and able to resist US pressure, in order to deliver Kiev's side of any bargain is a real unknown.
Also on rt.com
Putin & Zelensky meet: Lasting peace in Ukraine closer, but still far away
The Kremlin will probably try to keep the US at arm's length, fully aware that the "Russia scare" will be used to discredit presidential candidates who threaten the interests of wealthy liberals who control the mainstream media there.
At home, barring some unexpected global shock, Russian economic growth should pick up. Watch the ruble this year. An under-reported story has been its rise in 2019 (especially against the euro). It may well make further gains.
India: War of Indianness 2.0 & a possible surprise with China
Abhijit Majumder, senior Indian journalist who has been the editor of national dailies like Mid Day, Hindustan Times (Delhi and NCR editions) and Mail Today:
As nationalists push harder for their 2020 vision of India, the pushback from the old, 'liberal' Nehruvian establishment will be fiercer this year.
After passing the Citizenship Amendment Act to shelter persecuted minorities from Muslim-majority Pakistan, Afghanistan and Bangladesh, the Narendra Modi government is now aiming for a more stringent and updated National Population Register and thereafter a nationwide National Register of Citizens. All this to weed out illegal immigrants mainly from Bangladesh and Myanmar.
Also on rt.com
An invasion of falsehoods: India's 'liberals' running propaganda war over new citizenship law
Other widely anticipated political earthquakes next year are a two-child policy, and a Uniform Civil Code (which the Indian Constitution advises), dissolving any religion-based personal law.
Frosty India-China relations may spring a warm surprise in 2020, with Chinese President Xi Jinping and Modi designating it the 'Year of India-China Cultural and People to People Exchanges.'
EU: Learning to live without Britain
Neil Clark, journalist, writer, broadcaster and award-winning blogger:
One of the most cogent arguments for supporting Brexit, from a genuinely internationalist viewpoint, was that without Britain, the EU would go in a better direction, certainly in regards to its foreign policy. The UK, where neocon influence in the establishment remains very strong, even after Iraq and Libya, urged the EU to lift its arms embargo on Syrian 'rebels' and has also been the most hawkish of the major EU powers on sanctioning Russia. The downside of Brexit, from a Brussels perspective, is that the third largest net contributor to the EU budget is leaving, so that hole in the finances will have to be covered after the transition period ends. The EU faces a challenging year, but predictions of a total collapse are likely to be proven wrong again: the EU is simply too big to fail. Paradoxically, Brexit could help it in the medium- or long-term, especially if it leads to the economically suicidal sanctions on Russia (calculated to have cost the EU €30 billion ($33.7 billion) in October 2017) being substantially eased or lifted.
UK: Buy British, build British, think British
George Galloway, former UK MP, TV and radio presenter, film-maker, writer and renowned orator:
I predict a big jump in the sale of union flags in Britain as post-Brexit our people begin to think British, buy British, build British! For years now, we have been regaled by EU fanatics with Project Fear. We'd run out of everything apparently from medicines (including those we invented) through cheese (cheddar anyone?) to people who pick our apples. Well, now we will have to pick our own fruit and grow more of our own food in this green and fertile land. I predict a surge in patriotic feelings and there is reason to be pleased about that. A self-sufficient country (like Russia) is something to be. The EU flag in any case never really caught on in Britain – except among Labour leadership contenders like Emily Thornberry who wore one to the Labour Party conference.
If you like this story, share it with a friend!
The statements, views and opinions expressed in this column are solely those of the author and do not necessarily represent those of RT.
You can share this story on social media: