Putin & Zelensky meet: Lasting peace in Ukraine closer, but still far away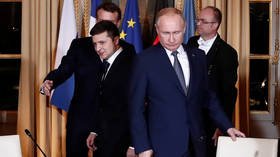 The Normandy Four peace talks in Paris suggest that while the road is long, there may be light at the end of the tunnel when it comes to ending the Ukrainian war.
PARIS – At first, the omens were bad. A chaotic Monday in the French capital, as a transport strike left the bus and metro networks banjaxed. Immense traffic tailbacks added to the anger. However, by the afternoon, the sun broke through the clouds. Perhaps a sign of things to come as the 'Normandy Four' format resumed for the first time in a few years.
While Parisians shook their fists at the transit gods, Vladimir Putin and his counterpart Volodymyr Zelensky were preparing for their first meeting – the presidents of Russia and Ukraine finally under the same roof. If anyone had predicted, just a decade ago, how difficult it would be to organize such an encounter, you'd have classed them as insane. But almost six years since 'Maidan', Crimea and ethnic conflict in the Donbass, this is where things stand.
Also on rt.com
Russia's Putin meets Ukraine's Zelensky for the very 1st time at Paris summit
Under Petro Poroshenko's administration, peace in Eastern Ukraine wasn't possible. Once the former Ukrainian president ratcheted up his decisive ethno-nationalist babble, it made compromise a non-runner. Instead, time was wasted on ridiculous posturing about language and religion. Poroshenko was rejected by Ukrainian voters in April, scoring 24 percent versus Zelensky's 73.
The loser campaigned on a "patriotic" – and militant – platform while his successor promised to bring peace to his country's east. The size of his mandate indicates what Ukraine's voters valued more. Half a year on, 75 percent of Ukrainians support Zelensky's outreach to Putin. A staggering figure, given five years of wall-to-wall anti-Russia rhetoric from the rejected Poroshenko.
Angela Merkel, Emmanuel Macron, Zelensky, and Putin are trying to break the impasse. And all signs indicate momentum is finally behind some sort of settlement.
Different times
The main stumbling block appears to be the order in which Ukraine regains control of its eastern border and elections are held in the separatist regions. And while it seems like an issue which should be easy to solve with enough will, the reality is a little different.
Also on rt.com
Normandy Four agree to 'stabilize' eastern Ukraine in Paris communique (VIDEO)
Things are somewhat easier for Moscow here, given the Donetsk and Lugansk 'People's Republics' are reliant on its support. However, for Zelensky it's more complicated. The opposition he defeated is backboned by hardcore "patriots," who don't care much for the ballot box. They overthrew Viktor Yanukovich from the streets and they could attempt another Maidan to oust Zelensky. The fact the West has already encouraged, let alone accepted, the forced removal of a democratically elected president in 2014 also complicates matters. Because a clear precedent has been set.
That said, the Western consensus which supported the last Maidan probably doesn't exist now. Macron has made "normalizing" relations with Russia a priority, so he'd hardly support any uprising which would undermine Zelensky. And Merkel is on her last lap before retirement.
At the same time, US President Donald Trump is not remotely as fervent a supporter of NATO expansion as his predecessor, Barack Obama. And the key supporters of Ukrainian nationalism in Washington, Joe Biden and John McCain, no longer have direct influence: one is out of power and the other has died.
Putin says he had a "good, businesslike" private meeting with Ukrainian counterpart Vladimir Zelensky. The leaders are now having dinner with Emmanuel Macron & Angela Merkel. With a press briefing to follow https://t.co/HlhBS0Uoqu

— Bryan MacDonald (@27khv) December 9, 2019
Nevertheless, Zelensky's failure to secure a White House meeting with Trump also weakens his hand domestically. A strong US show of support, before heading to Paris, would have been a boon. To make matters worse, from Kiev's point of view, Russian Foreign Minister Sergey Lavrov went directly from Monday evening's summit to Washington, where he will meet US Secretary of State Mike Pompeo on Tuesday and possibly also Trump himself. Frustratingly for Zelensky, it means the Americans will get the Russian version of events first-hand.
More to do
In order for some movement to begin, both sides have to disengage from the military frontlines. It appears Russia has proposed a complete withdrawal, but Kiev won't agree. And the probable reason is that Ukrainian forces have slowly taken more territory in the supposed neutral (or "grey") zone and now don't want to pull back from their gains. It's worth noting this area should be demilitarized under the Minsk agreements.
However, some progress was made, which increases hope that everyone is finally pulling in the right direction. There was a fresh commitment to ceasefire enforcement and three new front-line disengagement areas agreed, plus a promise to work towards a further prisoner exchange and open extra civilian crossing points. All this is positive, as is the pledge to meet again within four months.
Afterward, Putin stressed that he wants the opposing sides in Donbass to communicate directly – something Kiev has been unprepared to do, up to now. This policy, of course, denies local separatists any agency and will have to change before any final settlement is reached, because they hold legitimate fears about how they will be treated if the region comes back under Ukrainian government control.
It's also notable that Crimea wasn't mentioned in the post-summit communique, which was apparently put together before the leaders even sat down – although Zelensky did briefly reference the peninsula during the subsequent press briefing. Make of that what you will.
Think your friends would be interested? Share this story!
The statements, views and opinions expressed in this column are solely those of the author and do not necessarily represent those of RT.
You can share this story on social media: