Dear Media: The new 'Star Wars' trilogy is garbage, and your endless fawning 'rankings' can't change that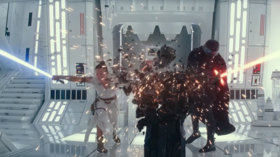 Each year brings with it obligatory 'ranking' lists from the mainstream media meant to convince us that Disney's reboot Star Wars trilogy is brilliance we just don't understand or appreciate enough yet.
The "Star Wars" reboot trilogy is coming to an end this Friday with JJ Abrams' 'The Rise of Skywalker.' For some fans, the end of this new saga is a relief and offers a moment to hope Disney course-corrects this franchise. For others, it's a moment to celebrate 'Star Wars' becoming a woke, social agenda-pushing machine filled with half-baked ideas and paper-thin characters.
While 2015's 'The Force Awakens' made big bucks for Disney after they'd acquired LucasFilm from George Lucas himself, but the success of that movie can really be chalked up to pure nostalgia. People were just excited to have Star Wars back and to see Harrison Ford, Carrie Fisher and Mark Hamill return to their most famous roles.
Things went downhill after that. Spinoff movies 'Rogue One' and 'Solo' earned their fans, but the productions were incredibly troubled and juggled directors. And 'Last Jedi' … well, 'Last Jedi' is awful. While critics praised the film, which included bizarre speeches about evil rich people and more paper-thin characters who checked off social agenda boxes, viewers hated it. The film underperformed at the box office and fans were quick to express their frustrations.
On Rotten Tomatoes, over 500 critics have given the film a 91 percent approval rating, while over 200,000 users slammed the movie, with a 43 percent rating.
The brainwash begins
The obligatory 'Star Wars' rankings have dropped this week with Abrams' new movie around the corner and they show that this new trilogy speaks only to crowds of keyboard warriors eager to please woke mobs on social media by praising pictures for putting social agendas above story and character.
A ranking from The Independent puts Lucas' prequel trilogy at the bottom of its list and then proceeds to place 'Force Awakens' and 'Last Jedi' right behind 'A New Hope' and 'The Empire Strikes Back,' the two original films in the long-running franchise. Both are also ahead of 'Return of the Jedi,' the original trilogy's finale — an updated version of the list places 'Rise of Skywalker' right below 'Return of the Jedi.'
While sandwiching two movies that seem to have aged about as well as milk in the sun between Lucas' original trilogy would appear bold, many in the media are pushing the same narrative.
A list from Just Jared takes things a step further by having 'Force Awakens' tie with 'Empire Strikes Back' as the best movie in the franchise. And where does 'Last Jedi' rank? Fourth. Right after 'A New Hope' and ahead of 'Return of the Jedi.'
Lists from Thrillist and GamesRadar also place 'Last Jedi' right behind the original trilogy. CheatSheet and Newsarama, meanwhile, go to bat for 'Force Awakens' and place it right behind the original Lucas trilogy.
Lists released last year, around the time 'Solo: A Star Wars Story' dropped, showed media outlets similarly running PR for Disney, with Vulture, Mashable, Business Insider and Esquire all placing 'Last Jedi' near the top of their lists.
I don't care how much you hate Jar Jar Binks or Hayden Christensen, you will never convince me that a film that brought back Han Solo and Luke Skywalker, but made them miserable pricks who never share a scene and a movie that basically rewrites Lucas' mythology while also presenting a main character about as boring as a Steven Seagal role, are better than the prequels or anywhere near the original trilogy in quality.
Also on rt.com
'The Mandalorian' marks the official death of Star Wars
Time to hope
If this new trilogy were as brilliant and definitive as woke writers like to believe then we would see Disney doubling down. Rian Johnson would be hard at work on his new trilogy and the focus would be less on shows like 'The Mandalorian' and an upcoming Obi-Wan project and more on this saga continuing. Instead, Disney seems to be ready to course-correct and focus on the things fans have actually responded positively to.
This new saga has made critical mistakes. Rey has been propped up as our new protagonist and we are supposed to like it because she's female. A female lead in Star Wars is great, but the writers appear to be so desperate to appeal to woke crowds that they forgot to give her flaws, an arc or any basic emotion resembling a human being. Luke Skywalker she is not.
And how about that nostalgia? The franchise is bringing back everyone and their cousin for the new franchise (Billy Dee Williams returns in 'Rise of Skywalker'), but instead of writing complex characters who have lived actual lives during the decades we haven't seen them, the writers have dismissed Lucas' hard work and instead presented characters who can simply be defined by one or two events that have happened in the decades between trilogies. It's one of the lowest forms of writing. Just undo whatever happy ending you left audiences with and turn original characters into miserable human beings meant to simply die or make a sacrifice to help a new character (is this what happened to Luke in 'Last Jedi' ... has anyone figured that nonsense out?).
I'm happy this new trilogy is coming to an end not only because it leaves hope for better films in the future, but because now we won't get the obligatory 'lists' from critics every year trying to convince us that we are wrong in disliking what Disney has done and we should shut up and be as brainwashed as they are already.
The statements, views and opinions expressed in this column are solely those of the author and do not necessarily represent those of RT.
You can share this story on social media: