'Free food & giveaways!' US college turns mass shooting survival drills into casual routine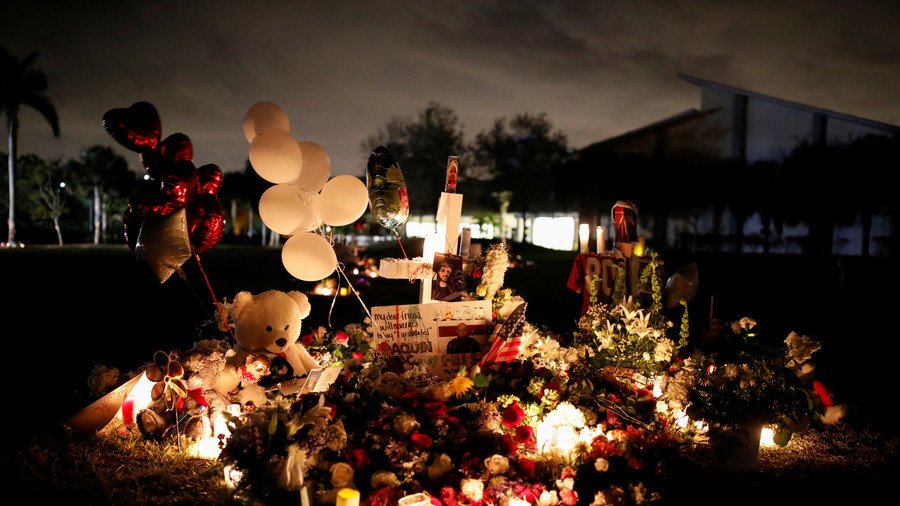 With mass shootings killing more people than ever in America, a New York college is offering students regular drills in surviving "active shooter incidents," preparing them for an emergency that has seemingly become routine.
Stony Brook University is hoping that instructing students and faculty in the finer points of running and hiding might up their chance of surviving a mass shooting on campus. The class offers students an opportunity to role-play "active shooter scenarios" not just in the classroom but also in dorm hallways and off-campus housing.
Students run the drills once a week, equipped with helmets, assault shields, bullet-proof vests, and of course, (fake) weapons.
TOMORROW! Do you know what to do in an active shooter situation? Please join UPD and Risk Management on Wednesday afternoon, November 14th, at 1pm in Roth Cafe, rm. 122, to learn what you should do during an active shooter situation on campus. Free food and giveaways! pic.twitter.com/aj6Apm4nd0

— SB University Police (@SBU_PD) November 13, 2018
Like fire drills, active shooter drills lack the sense of emergency that can easily turn the best laid plans into chaos. The drill sequence is basically instinctive – run for the exit, hide if you can't leave, assist others, and only fight as a last resort – but instructors hope repetition will help students keep a calm head in case of a real crisis, when every moment counts. "There are no exact answers, but we give them tips and advice that could help them save their lives by buying them extra seconds," explained Stony Brook assistant police chief Eric Olsen.
Such drills can be a double-edged sword, with some students admitting they are more on edge after taking the class. "It put me in a mindset where I'm always waiting for something to happen," one student told CBS.
Others saw no harm in being prepared: "It happened to my siblings, it could happen to me. It's happening to everyone else in the country." The course is reportedly at full enrollment. Let it never be said that college doesn't prepare kids for the real world.
Perhaps most importantly, the class reminds students to show they are "unarmed and not one of the bad guys" by putting their hands up when the cops finally arrive. Earlier this week, police entered a bar in response to an active shooter 911 call only to shoot and kill the bar's security guard, who had engaged the gunman while they were en route.
Americans are more than three times as likely to die by choking on food than in a mass shooting, but it doesn't always seem that way – 60 survivors of last year's Las Vegas hotel massacre were among the crowd fired on at a Thousand Oaks bar earlier this month in a mass shooting that killed 12.
There have been 311 mass shootings in the US so far this year, according to the Gun Violence Archive, which defines "mass shootings" as incidents involving four or more people "shot and/or killed" in a single time and place. That's nearly one mass shooting a day.
While Stony Brook's response seems fatalistic, it is not unusual – Ohio's Adelphi University has offered a similar course for two years, based on materials offered on the Department of Homeland Security's website. Course materials carefully avoid addressing the cause of the US's increasing levels of gun violence.
Like this story? Share it with a friend!
You can share this story on social media: