Black security guard killed by police while stopping a bar shooting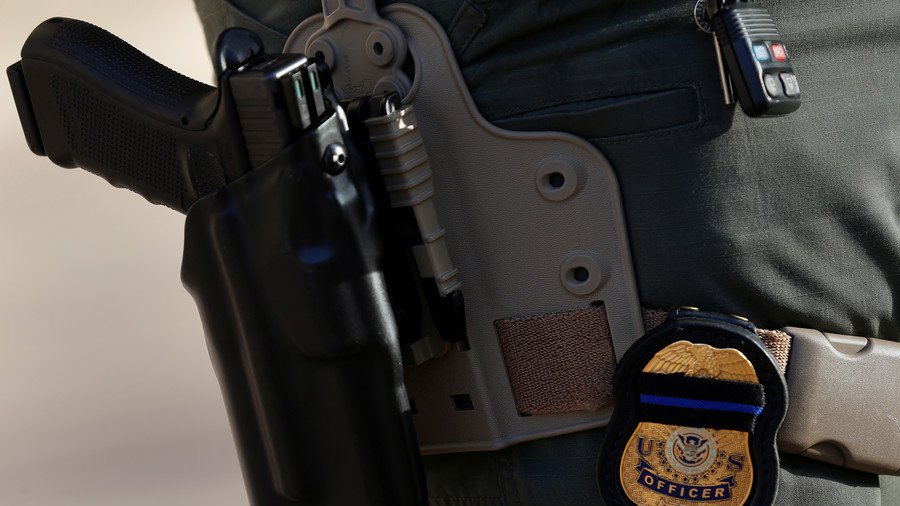 Responding to reports of a bar shooting, police in a southern suburb of Chicago shot and killed the heroic security guard as he was subduing the gunman. Local residents say the killer cops are unlikely to be punished.
Jemel Roberson, 26, was shot dead by Midlothian police officers after they mistook him for the suspect in a shooting call. The victim turned out to be a security guard at the bar where the incident took place - and had been in the process of restraining the perpetrator when police officers shot and killed him.
Drunk bar patrons open fire on a bar.Jemel Roberson, the bar's black male security guard, saves the day by returning fire and apprehending one of the men.Cops show up, see Jermel holding a gun...and murder him on the spot. https://t.co/LPnWVkt5Df

— Eric Haywood (@EricHaywood) November 12, 2018
Local residents told the media that Roberson hoped to one day become a police officer. Now he is the latest case in a long string of police shootings of African-American men.
Officers were responding to a report of a shooting at Manny's Blue Room Bar in Robbins, Illinois, a short distance south of Chicago. After the establishment asked a group of drunken men to leave the bar around 4am on Sunday, one of the men then returned to the bar and began to open fire, trading shots with security, according to witnesses at the scene. Upon arriving, police then shot and killed Roberson, who had been pointing his gun at a suspect he had pinned down and detained.
"Everybody was screaming out, 'Security!' He was a security guard," witness Adam Harris told WGN-TV, suggesting the decision to use deadly force had a racial motivation. "And they still did their job, and saw a black man with a gun, and basically killed him."
Roberson had a valid Illinois firearm owners identification card, as required by state law. His family has already filed a wrongful death lawsuit, AP reported.
There are cameras outside of Manny's Blue Room Lounge, but it's unclear if they captured the deadly police shooting of bar security guard, Jemel Roberson. pic.twitter.com/JDBrIW6syL

— Courtney Gousman (@cgousman) November 12, 2018
"A Midlothian officer encountered a subject with a gun and was involved in an officer-involved shooting," Chief Daniel Delaney said in a statement. "The subject the officer shot was later pronounced deceased at an area hospital."
The "State Police Public Integrity Task Force" is investigating the incident to determine if the police involved acted criminally. However, a recent investigation of 113 police shootings in Cook county since 2005, by WBEZ radio and the Better Government Association, noted that not a single one resulted in disciplinary action against the officer involved, likely due to potential costs to the state, as well as fraternal feelings between investigators and the officers being investigated.
While many of the fatal shootings involved police responding appropriately to actually dangerous situations, the probe highlights the serious and consistent failure of oversight in police killings in the Illinois county that includes Chicago.
Some Illinois residents have taken issue with police investigating themselves in criminal cases, and are pushing the state to adopt elected police accountability boards. After tireless effort by activists and numerous scandals, former Chicago mayor Rahm Emanuel even promised such a board, but his hastily drafted version of the initiative was shot down by the city council.
"Every city in the US where Black people live has the same crisis of police accountability. Until Black people have the power to determine who polices them and how they are policed, cops will brutalize, torture and murder us with impunity", Frank Chapman of the Chicago Alliance Against Racist and Political Repression told RT.
Chapman is a leading figure in the effort to adopt a civilian police-crime control board in Chicago, the first city where such legislation was considered. The group, who is in contact with the family of the slain security guard, are gathering supporters to organize a response the incident.
There have been 840 police killings so far this year, according to data collected by the Washington Post, putting the US at the highest number of killings by law enforcement in the world with no close second. According to FBI data cited by Vox, while African-Americans make up only 13 percent of the US population, they represent 31 percent of all people killed by police.
Think your friends would be interested? Share this story!
You can share this story on social media: