Faulty water heater prompts active shooter warning in North Carolina high school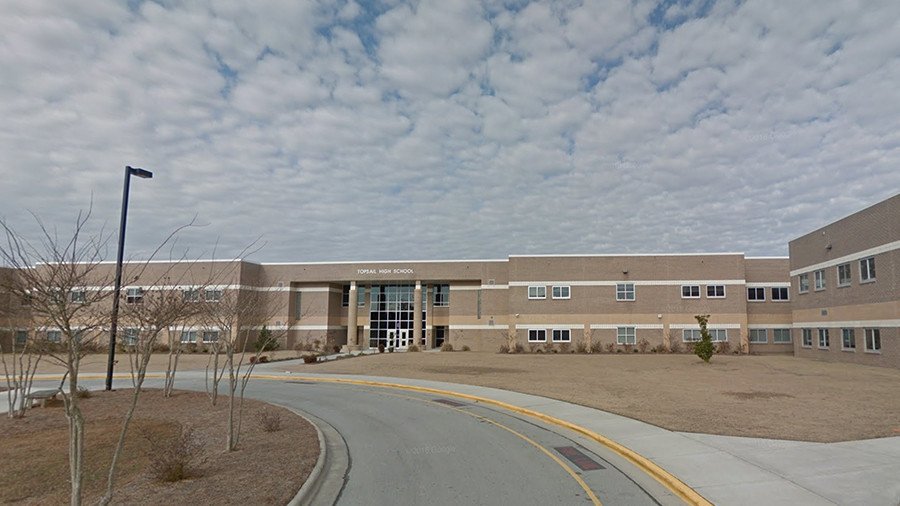 Police in North Carolina responded to reports of an active shooter at Topsail High School, near Wilmington. Instead of finding a gunman, they found a noisy and malfunctioning water heater.
Local law enforcement responded to a call from the school some time around 6.30am on Friday, and instantly prepared for the worst.
"It's extremely busy right now," an emergency dispatcher told Time magazine. "All of our units are trying to take this person into custody."
"It's extremely busy right now," an emergency dispatcher told Time magazine. "All of our units are trying to take this person into custody."
Reports from social media suggested that the shooter may have been on the roof of the school, but it emerged a short while later that there never was a shooter at all.
Commissioner George Brown with the Pender County Sheriff's office told WECT News that there is a piece of equipment, near the school's roof, that has been malfunctioning lately, and makes intermittent gunfire-like sounds.
"I was sure it was not gunfire over an hour ago," Commissioner David Williams, who is also the assistant coach for the varsity football team, told WECT. "I also coach football there. Lately, we've been hearing a piece of mechanical equipment go 'bam bam bam.' It made us the first time we heard it turn around."
Williams said that he believes the sound may have come from a malfunctioning water heater that became damaged when Hurricane Florence ripped through North Carolina two months ago.
Still, he thinks law enforcement responded correctly.
"They did exactly the right thing. Law Enforcement did what they're supposed to do," he said. "There's no such thing as an over response."
Topsail Middle and Elementary schools, as well as Surf City Middle School, just over 8 miles from Topsail, were also placed on lockdown, and children and families assembled in a grocery store parking lot near the Topsail campus.
Topsail High School was placed on lockdown in May, after a student brought a large hunting knife onto campus. Upon hearing of the lockdown, another student brought a semiautomatic rifle, and told deputies that he brought the gun to stop a potential shooter.
In February, another 14-year-old Topsail student was charged with threatening to shoot up the school on social media.
READ MORE: Tragedy strikes twice for California shooting survivors who witnessed Las Vegas massacre
Friday's false alarm occurred less than two days after a gunman in California fired into the crowd at a bar in Thousand Oaks, killing 12 people. As initial reports surfaced from North Carolina on Friday morning, social media users tweeted calls for gun control.
Once the true culprit was revealed, some were still worried. "I'm sure there'll be plenty of hot takes about how this was much ado about nothing," one local tweeted, "but where are we when our official's first thought is active shooter vs. equipment malfunction?"
Think your friends would be interested? Share this story!
You can share this story on social media: