Saudi-friendly Kushner 'keeping low profile' as Trump admin shrugs off Khashoggi case, report claims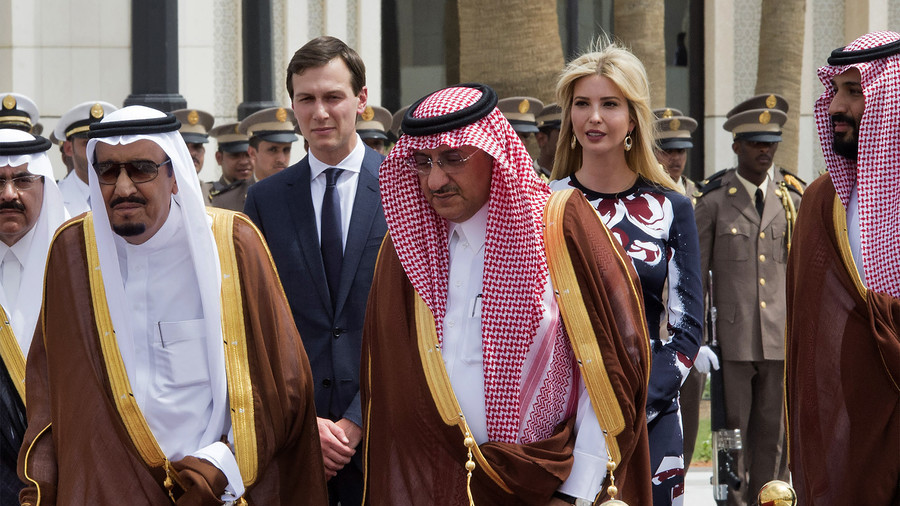 Amid growing outrage over Jamal Khashoggi's case, US media seem to have found a target in Jared Kushner, claiming he's being kept at arm's length over ties to Riyadh – all that despite the openly pro-Saudi stance of Donald Trump.
Pleasantries were exchanged between Secretary of State Mike Pompeo and Crown Prince Mohammed bin Salman earlier this week, while President Donald Trump himself signaled that lucrative arms deals would prevent a rift in US-Saudi ties.
However, now CNN reports that Jared Kushner – who has cultivated close ties with both Riyadh and Tel Aviv – has been hiding in the shadows, lest the Trump administration is painted as overly friendly towards Saudi Arabia.
READ MORE: Christian leader urges viewers to 'cool down' anti-Saudi rhetoric, and protect vital arms deals
Citing "multiple people familiar with the matter," the report says that Kushner has remained "intentionally in the background this week" as the White House fears a more conspicuous role in dealing with the diplomatic nightmare created by the Khashoggi case could spark public anger.
Kushner is reportedly working behind the scenes, using his relationship with the Crown Prince to help navigate the choppy diplomatic waters that have resulted from the alleged macabre murder of Khashoggi at the Saudi consulate in Istanbul. The network even hinted that Kushner may have been informally consulting with Salman using the popular messaging app, WhatsApp. All of this has been allegedly hidden to prevent the American public from getting too upset about its country's ties to a state that beheads heretics accused of wizardry.
There is, however, little evidence to support this alleged damage-control campaign – or the logic behind it – since the Trump administration has been remarkably transparent about its affection for Riyadh and its appetite for US weapons.
CBS breathlessly reported on Wednesday that a Secret Service agent blocked one of its reporters from asking Kushner, Trump's son-in-law and Middle East adviser, about the disappearance of Khashoggi, who was last seen entering the Saudi consulate in Istanbul on October 2.
The incident occurred on a domestic flight from Washington DC to New York, with the Secret Service agent telling the CBS reporter: "I don't give a damn who you are, there's a time and a place."
Jared Kushner did not answer my question and the secret service informs me, while obscuring my phone, that despite identifying as WH press, there is a "time and a place" for questions. It is unclear when and where that is. pic.twitter.com/KRzlj3hrqw

— errol barnett (@errolbarnett) 16 октября 2018 г.
Donald Trump and many of his administration's most senior officials have fielded dozens of questions about Washington's position on the Khashoggi case, and have made no attempts to hide Washington's vested interest in maintaining warm relations with the Saudis.
Jared Kushner, who flew to NY last night, has remained intentionally in the background as West Wing officials feared a public role would prompt backlash because of his close ties with Saudi Arabia's powerful and domineering crown prince. https://t.co/btTMawUJ9f

— Kaitlan Collins (@kaitlancollins) 17 октября 2018 г.
The president himself seems to have believed Salman when he denied any involvement in or knowledge of Khashoggi's mysterious disappearance. This makes the media's focus on Kushner and the suggestion that his coziness with Riyadh has caused concerns in the White House all the more suspicious.
READ MORE: Suspected member of Khashoggi 'hit-team' dies in mysterious 'traffic accident' in Saudi Arabia
Meanwhile, Kushner has made several public appearances with the president and his entourage. He was seen at the president's side during a trip to Orlando just last week, which even CNN has acknowledged. Later, he was seen hamming it up with Chief of Staff John Kelly as they returned to Washington.
Think your friends would be interested? Share this story!
You can share this story on social media: