Christian leader urges viewers to 'cool down' anti-Saudi rhetoric, and protect vital arms deals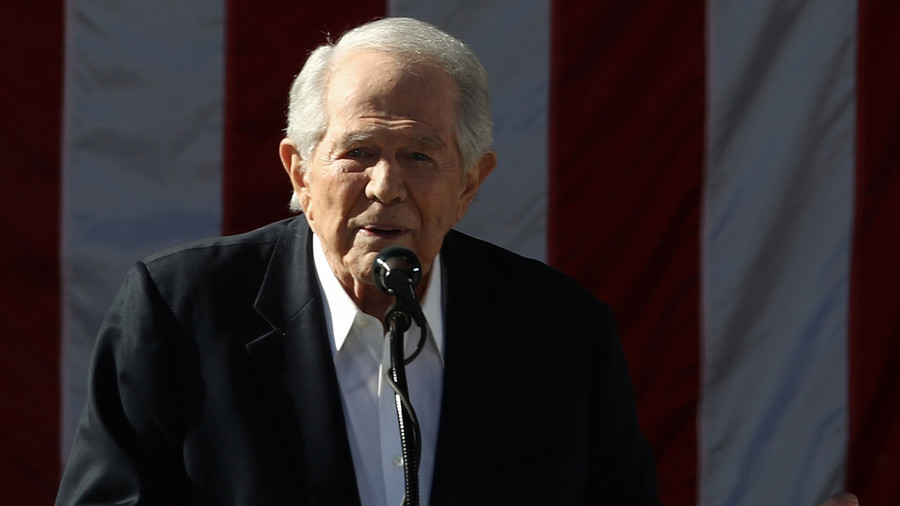 Evangelical leader Pat Robertson has urged viewers to "cool down" and give Saudi Arabia a pass on the apparent murder of journalist Jamal Khashoggi, arguing that the US' arms deals with the Kingdom are more important.
"I just want to cool down the temper of those who are screaming blood for the Saudis," Robertson said, speaking on Christian television show the 700 Club on Monday. "These people are key allies," he continued, adding that sanctions and tough diplomacy would be a "mistake."
Likely drawing inspiration from a previously unreleased version of the Bible in which Jesus loved tanks and cluster bombs, Robertson argued that the Saudis' Wahabi faith and views on human rights are "obnoxious," but the US' $110 billion arms deal with the Saudis is too important to risk.
"It'll be a lot of money coming to our coffers," he said of the deal, "and it's not something that you want to blow up willy-nilly."
Robertson elaborated on his message on Tuesday, as State Secretary Mike Pompeo flew to Riyadh to question the Saudi government. Praising President Trump's cautious approach to the incident, Robertson argued that the disappearance of "one journalist" shouldn't get in the way of US-Saudi partnership, especially against Iran.
"Our main enemy in the Middle East is Iran," the Christian leader continued. "They're the formenters of terrorism and they're killing a lot of people...we cannot alienate our biggest player in the Middle East, who's a bulwark against Iran."
Robertson's peculiar Christian message was mocked on Twitter, particularly his interpretation of "Thou shalt not kill."
Khashoggi, a Saudi citizen, US resident, and critic of the ruling royal family, disappeared two weeks ago while visiting the Saudi consulate in Istanbul to obtain documents for his marriage. Turkish sources claim Khashoggi was brutally tortured, killed and dismembered inside the consulate, and claim to have recordings of the journalist's final moments, but have not released them.
Saudi Arabia denies involvement, and President Trump has vowed to "severely punish" Riyadh if Saudi involvement is proven. Secretary of State Pompeo has reportedly warned Crown Prince Mohammed bin Salman to wrap up a probe into Khashoggi's alleged murder in 72 hours or risk a harsh US response.
Robertson is a former Baptist minister who set up the Christian Broadcasting Network in 1960, one of several business interests that have earned him an estimated net worth somewhere between $200 million and $1 billion. Robertson regularly weighs in on politics, ad his inflammatory and decidedly un-Christian statements have landed him in trouble before, like in 2016 when he suggested that Muslims should "kill themselves."
Like this story? Share it with a friend!
You can share this story on social media: