Kavanaugh vote goes to Senate - Only question is when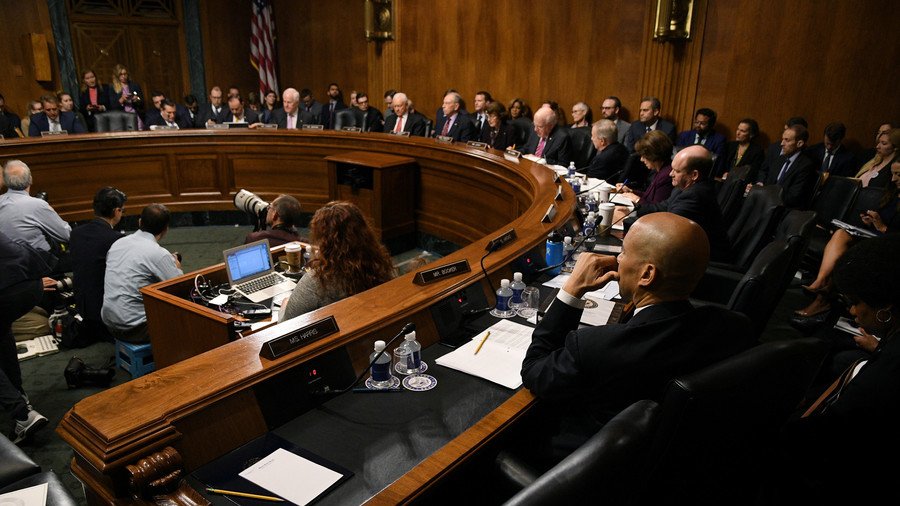 The Senate Judiciary Committee has voted along party lines in favor of the nomination of Brett Kavanaugh to the Supreme Court, with 11 yeas and 10 nays. Senator Jeff Flake (R-Arizona) asked for a delay of the floor vote, though.
After extensive conferencing, the committee leadership said it would request from the White House a FBI investigation into "current credible" claims against Kavanaugh.
Democrats fought tooth and nail to delay the vote in committee and stop the floor vote, demanding a FBI investigation into allegations against Kavanaugh following Thursday's testimony by the judge and one of his accusers, Christine Blasey Ford.
At one point, nearly all the committee Democrats were in the adjacent chamber with Flake, trying to persuade the Arizona senator to join them in blocking the nomination. Flake, who is not running for re-election, finally said he would join his Republican colleagues in voting to advance the nomination to the Senate floor but requested a week's delay for the FBI to investigate.
"I think it would be proper to delay the floor vote for up to, but no later than one week" to allow the FBI to conduct an investigation limited in time and scope, said Flake. "That's my position."
Earlier in the day Flake has been cornered by protesters, including a tearful woman who claimed to be a survivor of sexual assault.
"Look at me when I'm talking to you," the woman sobbed. "You're telling me that my assault doesn't matter...you're going to let people who do these things into power."
Chairman Chuck Grassley (R-Iowa) called the vote, with all eleven Republicans voting in favor and all ten Democrats voting against.
Flake may or may not be comfortable, Senator Lindsey Graham (R-South Carolina) pointed out, but the floor vote is not up to him - or anyone else on the committee. "I love this committee but we're not the majority leader. It doesn't matter what we say here, this is up to Senators Schumer and McConnell," Graham said, naming the minority and majority leaders.
Flake's proposal was backed by Sen. Lisa Murkowski (R-Alaska), who said Friday she supported a week-long delay in a floor vote. With a 51-49 majority in the Senate, the GOP can afford one defection but not two.
A week's delay would mean Kavanaugh would not be able to take his seat with the other eight Justices when they convene on Monday. McConnell (R-Kentucky) has said repeatedly he wanted to confirm President Donald Trump's nominee before then.
Speaking at the White House on Friday, Trump said he has not thought "even a little bit" about alternatives in case Kavanaugh does not get confirmed.
"I'm going to let the Senate handle that. They'll make their decisions," Trump told reporters.
Sen. Whitehouse references Kavanaugh calendar entry. "This may—may—be powerful corroborating evidence that the assault happened...But with no FBI investigation, we can't tell.""You investigate. It's the least thing a sexual assault victim is entitled to when she comes forward." pic.twitter.com/GwxVSKL85J

— Evan McMurry (@evanmcmurry) September 28, 2018
Mark Judge, Kavanaugh's friend who Ford claimed was present during her alleged assault, has written the committee saying he will cooperate with any confidential law enforcement investigation. Judge dismissed the accusations by Julie Swetnick, that he and Kavanaugh were present at "rape train" parties, calling them "so bizarre that, even while suffering from my addiction, I would remember actions so outlandish. I categorically deny them."
Ford accused Kavanaugh of improper sexual behavior in in the 1980s, when they were both in high school. Her allegations only surfaced after the Kavanaugh confirmation hearings had ended, and Thursday's testimonies revealed that Sen. Dianne Feinstein (D-California) and her staff knew about them even as Feinstein herself failed to bring them up in her meetings with Kavanaugh.
The hearing on Thursday and the committee's discussion on Friday saw lawmakers sparring on whether gaps in Ford's memories were the proof of telling the truth, and if she was used as a pawn in political games. Both Ford and Kavanaugh gave emotional statements, saying the lives of their families have been ruined by the whole process. Democrats have been pushing for a FBI investigation before the nomination process goes any further.
A procedural vote to move Kavanaugh's nomination forward has nonetheless been scheduled for Saturday.
Like this story? Share it with a friend!
You can share this story on social media: