Activists corner Sen. Flake, protest in Senate building ahead of Kavanaugh vote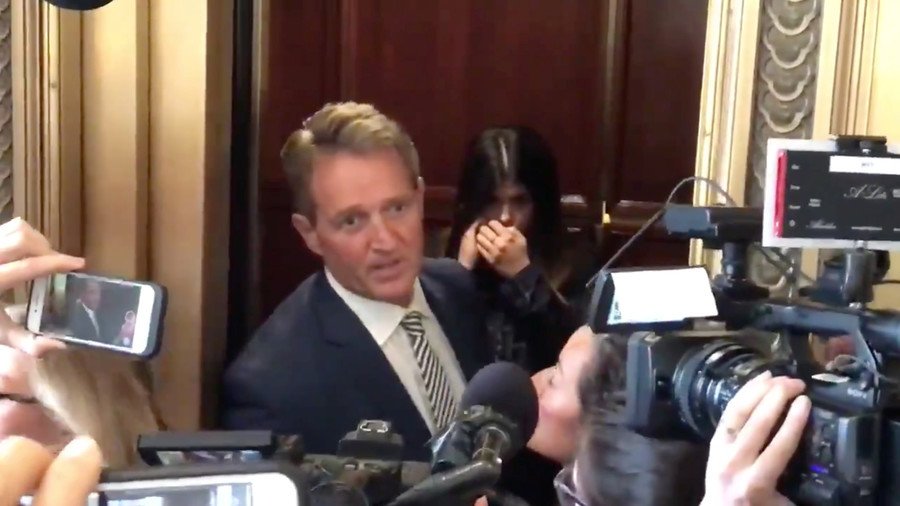 As the Senate Judiciary Committee voted to confirm Supreme Court nominee Brett Kavanaugh, Democrats walked out of the hearing and hordes of protesters made one last gasp at disrupting the bitter confirmation process.
Before the committee voted to move the confirmation to the Senate floor, protesters - including a tearful woman who claimed to be a survivor of sexual assault - cornered Sen. Jeff Flake in an elevator and breated the Republican senator for planning to vote in favor of Kavanaugh.
"Look at me when I'm talking to you," the woman sobbed. "You're telling me that my assault doesn't matter...you're going to let people who do these things into power."
READ MORE: GOP senators' personal data flashed on Wikipedia, House inside job suspected
You are allowing somebody who is unwilling to take responsibility for his own actions to sit in the highest court of the country," another woman shouted into Flake's face, while another male protester asked Flake to change his mind and "be a hero."
Flake only responded that they should hear him later at the meeting. And when he joined the Senate committee right ahead of the vote he suggested that the floor vote should be delayed until the FBI could investigate Ford's claims.
All morning, the corridors of the Dirksen Senate Office Building reverberated with the deafening screech of rape whistles, as a rabble of protesters staged a sit-in protest. The protesters chanted "November is coming," and "we believe Christine," and held signs reading "be a hero."
Scores of protesters were arrested and led away in zip-tie handcuffs. Women's March activists occupied the Hart Senate Building, renaming it the suitably woke "The People's Atrium"
Online, the #resistance was equally vocal, since Sen. Lindsey Graham's (South Carolina) fiery condemnation of the Democratic party's "unethical sham" allegations and call for a vote triggered a tirade of expletive-laden frustration from #resistance superstar Patton Oswalt on Thursday evening.
The tone was much the same on Friday, with the left predicting certain doom if Kavanaugh takes his seat at the nation's most powerful court.
Inside Senate chambers, some Democrats sided with the protest movement. Sens. Cory Booker (New Jersey) and Kamala Harris (California) declined to vote, and joined Sens. Richard Blumenthal (Connecticut), Sheldon Whitehouse (Rhode Island) and Mazie Hirono (Hawaii) in walking out ot the hearing room in protest.
Now that the commitee has voted in favor of Kavanaugh, the vote will go to the Senate floor. Republicans hold a 51-49 majority in the Senate, and can only afford to lose a single vote. To that end, Democrats have targeted Sens. Lisa Murkowski (Alaska) and Susan Collins (Maine) as potential swing votes, due to their more centrist stances on abortion. Flake's flip-flopping too means that the senator remains a potential spanner in the gears for Republicans keen for a speedy confirmation.
Senate Majority Leader Mitch McConnell (R-Kentucky) has said that a preliminary vote may take place as early as Saturday morning.
Like this story? Share it with a friend!
You can share this story on social media: