Tears, beer, anger & 'no ill will': Kavanaugh testimony highlights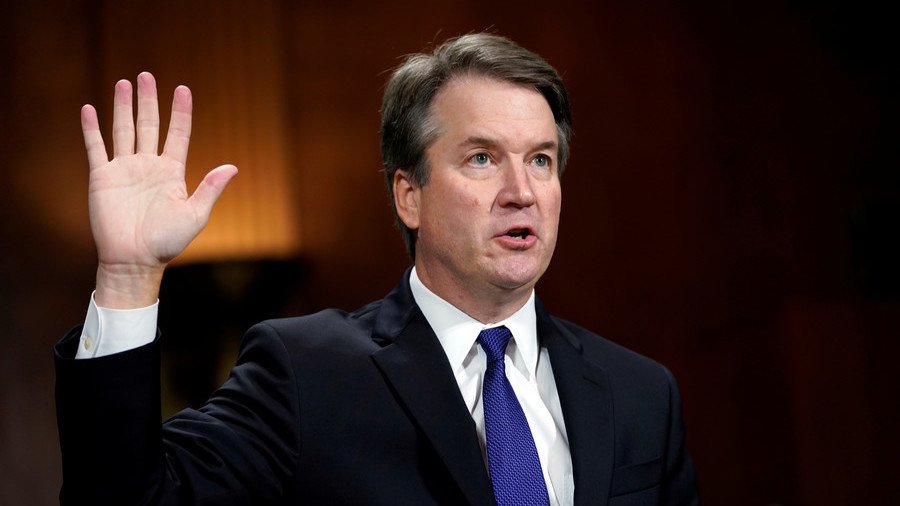 Judge Brett Kavanaugh vehemently defended himself before the US Senate Judiciary Committee on Thursday, rejecting all accusations he sexually assaulted a woman in high school.
Following lengthy testimony from his accuser, Dr. Christine Blasey Ford, Kavanaugh denied her allegations "categorically and unequivocally." He stressed repeatedly that he bore Ford "no ill will," and while he did not question that she may have indeed been sexually assaulted by someone, Kavanaugh insisted it had not been him. "I am innocent of this charge," he said.
His ire was reserved for the committee Democrats. "This confirmation process has become a national disgrace," he said, addressing them. "You have replaced 'advice and consent' with 'search and destroy'."
READ MORE: As it happened: Kavanaugh and his accuser Ford testify before Senate Judiciary Committee
Tears and 'no ill will'
"This whole two-week effort has been a calculated and orchestrated political hit, fueled with apparent pent-up anger about President Trump and the 2016 election, fear that has been unfairly stoked about my judicial record, revenge on behalf of the Clintons and millions of dollars in money from outside left-wing opposition groups," Kavanaugh testified, also describing the proceedings as a "circus" and "grotesque and coordinated character assassination."
The federal judge actually cried as he described the toll the allegations have taken on his parents, his wife, and his ten-year-old daughter, repeating that none of them harbor any "ill will" for Ford or her family.
"Little Liza, all of 10 years old, said to [Kavanaugh's wife] Ashley, we should pray for the woman," he said through tears, before recovering to lay out his record of public service and details about his high school and college years, dredged up by Ford's accusations.
'I like beer, do you?'
Several Democratic senators, including Sheldon Whitehouse (D-Rhode Island), Amy Klobuchar (D-Minnesota) and Mazie Hirono (D-Hawaii) focused on claims that Kavanaugh was a heavy drinker in high school and college, and that he might not remember attacking Ford at a party because he had been drunk.
Kavanaugh, who said in his opening statement that he "liked beer" and still does, denied he ever got so drunk that he did not remember his actions. He asked Whitehouse what his preferred drink was (the senator did not answer), and even got into a spat with Klobuchar at one point, asking if she herself had ever been blackout drunk.
"I have no drinking problem," Klobuchar said, dodging the question.
"Nor do I," Kavanaugh shot back.
After a brief recess, the judge and the senator apologized to each other over any possible misunderstanding and mended fences.
Why not the FBI?
The other major point brought up by Democrats was a demand that the FBI investigate allegations against the judge. Sen. Dick Durbin (D-Illinois) asked Kavanaugh whether he himself would request an investigation.
"You know that's a phony question," Kavanaugh replied, explaining that he had undergone six FBI background checks that found nothing, and that in the end the decision on his confirmation would still be up to the Senate.
Chris Coons (D-Delaware) and Kamala Harris (D-California) also brought up the FBI, while Hirono submitted several letters from Democrats for the record, all demanding an FBI investigation.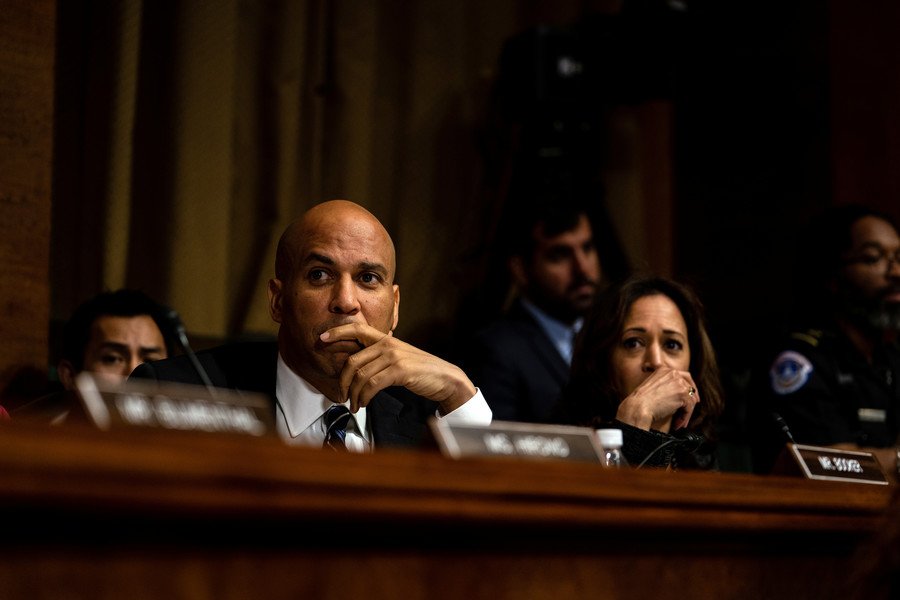 After pressing Kavanaugh on the FBI question, Harris switched gears to land a punch, getting the judge to admit he had not actually listened to Ford's testimony earlier in the day.
"I was preparing mine," Kavanaugh replied.
'Most unethical sham': Graham blasts Democrats
Sen. Lindsey Graham (R-South Carolina), himself a military lawyer, set the bar for Republican questions by laying into the committee Democrats, accusing them of not caring for the truth at all and victimizing both Kavanaugh and Dr. Ford.
READ MORE: "The most unethical sham": Lindsey Graham rails at Kavanaugh FBI probe demands (VIDEO)
"What you want to do is destroy this guy's life, hold this seat open, and hope you win in 2020," he roared. "You said that, not me!"
"This is the most unethical sham since I've been in politics," Graham added.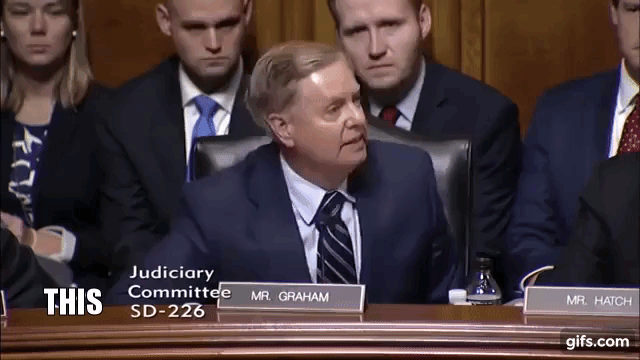 "Boy, y'all want power. God I hope you never get it," Graham added, addressing what he said were his former friends on the other side of the aisle. "You're looking for a fair process, you came to the wrong town at the wrong time, my friend," he told Kavanaugh.
Who leaked? And Democrats' delay
Graham's Republican colleagues focused on the fact that Sen. Dianne Feinstein (D-California) kept Ford's letter secret for weeks, and failed to inform them of the allegations according to proper committee procedure, even as her staff were instructing Ford to lawyer up prior to it being leaked to the press.
That prompted Feinstein to protest, blaming the leak to the media on "beach friends" with whom Ford testified she discussed the claims.
"I did not hide Dr. Ford's allegations. I did not leak her story," the committee's ranking member said. Neither did her staff, she maintained.
Sen. Orrin Hatch (R-Utah) called the way Kavanaugh was being treated a "national disgrace," worse than the attacks on Clarence Thomas (who was confirmed) and Robert Bork (who wasn't).
'I swear to God'
Wrapping up the eight-hour session, Sen. Joe Kennedy (R-Louisiana) asked Kavanaugh to tell him the truth "before God and country." Were any of the charges against him true?
None, Kavanaugh replied. "I swear to God."
Within minutes, President Trump tweeted praise of Kavanaugh, calling his testimony "powerful, honest, and riveting" and quoting the judge's own description of the Democrats' strategy as "search and destroy."
Judge Kavanaugh showed America exactly why I nominated him. His testimony was powerful, honest, and riveting. Democrats' search and destroy strategy is disgraceful and this process has been a total sham and effort to delay, obstruct, and resist. The Senate must vote!

— Donald J. Trump (@realDonaldTrump) September 27, 2018
Trump, who had earlier told reporters he "could be persuaded" by Ford's testimony, is now urging the Senate to vote and confirm Kavanaugh. According to rumors from Capitol Hill, this could happen as early as Saturday.
Like this story? Share it with a friend!
You can share this story on social media: