'The most unethical sham': Lindsey Graham rails at Kavanaugh FBI probe demands (VIDEO)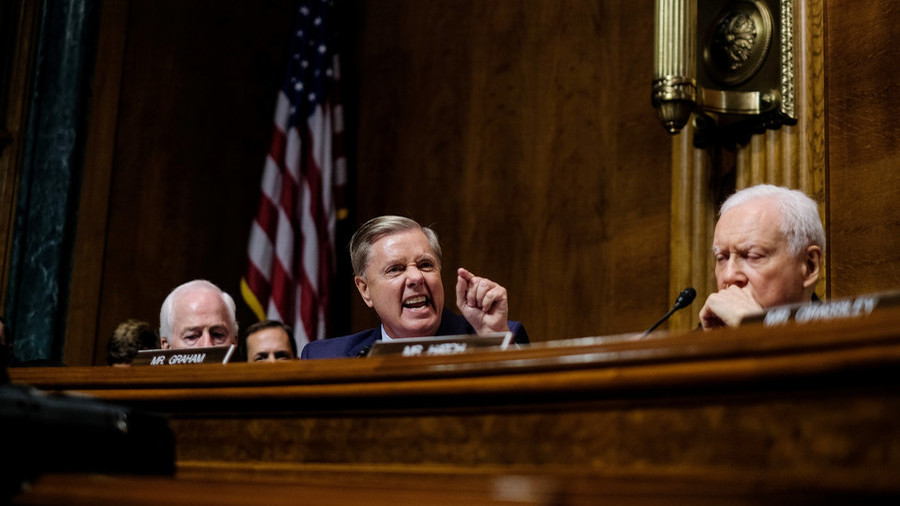 SCOTUS nominee Brett Kavanaugh declined to answer whether he would want the FBI to investigate allegations of sexual misconduct against him during a Senate Judiciary Committee hearing on Thursday.
Kavanaugh faced a tough grilling by Sen. Richard J. Durbin (D-Illinois) on whether he would personally favor an FBI probe into the allegations of sexual assault put forward by Dr. Christine Blasey Ford, who testified before him, and others.
Referring to Kavanaugh's opening statement that he would welcome any kind of investigation, Durbin suggested the judge should ask the White House Counsel, Donald McGahn, to "suspend the hearing until the FBI completes the investigation." That, according to Durbin, would allow them to "finally put to rest these charges if they are false or approve them if they are not," and is "the only way to answer some of these questions."
Before Kavanaugh had time to respond to Durbin's suggestion, however, Senate Judiciary Committee Chairman Chuck Grassley interjected, reminding Durbin that it was the committee that was in charge of running the hearing and "not the White House, not Don McGahn, not even you as a nominee," referring to Kavanaugh.
Kavanaugh, who showed a faint smile during the chairman's rebuke, refused to directly answer the question, reiterating that he is innocent and welcomes "whatever the committee wants to do because I'm telling the truth." When pressed, he said it was a "phony" question to ask whether he personally saw the FBI probe necessary.
"They don't reach conclusions, you reach conclusions," Kavanaugh said, adding that what the FBI would essentially do would be "ask questions and type out the report."
Durbin, apparently unsatisfied with the answer, proceeded to demand a definite "yes" or "no" response from Kavanaugh. Over the course of the hearing, several more Democrats would do the same, but Kavanaugh wouldn't answer.
Then came a thunderous rebuke by Senator Lindsey Graham (R-South Carolina), who scolded Democrats for "the most unethical sham" he said he'd seen since he has been in politics.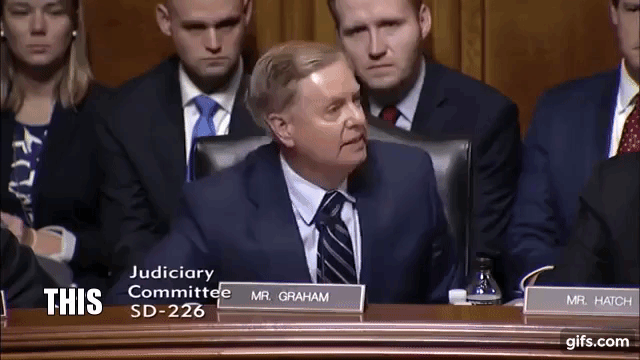 "If you wanted an FBI investigation, you could have come to us! What you want to do is destroy this guy's life, hold this seat and hope you win in 2020."
He specifically referred to a statement by Senate Minority Leader Chuck Schumer, who said back in July that he would "fight this nomination with everything I've got."
"If you really wanted to know the truth, you sure as hell wouldn't have done what you have done to this guy," Graham said, arguing that Kavanaugh has been "as much a victim" as Ford.
The bickering over the prospect of an FBI probe comes a day after the US President, Donald Trump, said that he would not order one as "there was nothing to investigate."
READ MORE: Emotional, 'heroic' and with factual gaps: Highlights from Kavanaugh's accuser's testimony
"They didn't know location, year. They didn't know anything," Trump said at his Wednesday press conference, adding that the results of the probe, whatever they might turn out to be, were "not going to change the Democrats' minds."
"They destroyed a man's reputation and they want to do more," he said.
Subscribe to RT newsletter to get stories the mainstream media won't tell you.