Senate committee votes on Kavanaugh after emotional hearing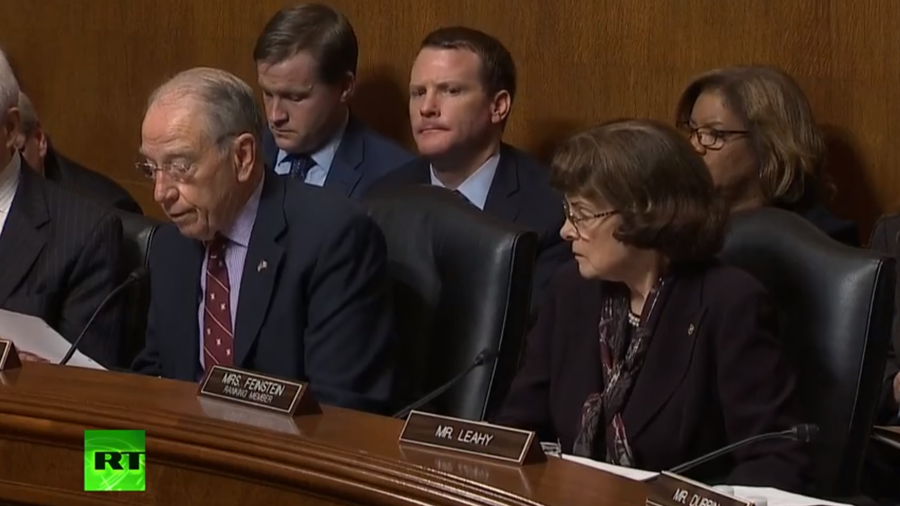 The Senate Judiciary Committee is preparing to vote on Supreme Court nominee Brett Kavanaugh, just one day after the judge provided an emotional testimony to members of Congress, denying allegations of sexual misconduct.
If the committee approves the nomination, it will then go to the full Senate.
However, no matter how the vote goes, Senate Majority Leader Mitch McConnell has the power to bring Kavanaugh's nomination to a floor vote.
A full Senate confirmation vote could take place early next week.
28 September 2018

18:03 GMT

Grassley adjourns the session.

18:02 GMT

"I would only be comfortable moving on the floor" if the FBI completes the investigation. "We owe them due diligence," says Flake.

"This country is being ripped apart here," Flake tries to explain himself to the committee. He urges a "short pause" so Democrats can't complain there hasn't been an investigation, so "we can then move on."

18:01 GMT

Sen. Chris Coons (D-Delaware) is asking for a FBI investigation, "not for the purpose of delay, but to investigate further and… demonstrate a bipartisan commitment" to due diligence.

"I love this committee but we're not the majority leader. It doesn't matter what we say here, this is up to Sen. Schumer and Sen. McConnell," Sen. Lindsey Graham (R-South Carolina) points out.

17:54 GMT

The committee votes: All Republicans are in favor, including Flake. All Democrats are opposed.

17:50 GMT

The scheduled time for the vote in the Senate Judiciary Committee has come and gone, with a lot of behind-the-scenes activity. Even if he doesn't get the committee's recommendation, Kavanaugh can still be confirmed in the Senate floor vote - but the committee has to vote, one way or another.

17:10 GMT

The senators are now taking a break before the vote takes place.

17:09 GMT

Sen. Richard Blumenthal (D-CT) is making a last appeal to avoid a rush to judgment, asking for the vote to be delayed.

Blumenthal says Kavanaugh was "filled with anger" on Thursday, causing him to believe he would not be an impartial voice on the Supreme Court.

Kavanaugh's views are a "disqualifer" for Blumenthal. But his "character and fitness" should be disqualifers for everyone.

16:56 GMT

Sen. John Kennedy (R-LA) says there were no winners on Thursday, just two people in pain. He adds that he is certain something happened to Ford, but does not believe Kavanaugh was involved.

"And that is why I support his nomination."

"This is no country for creepy young men, or old men, or middle-aged men," he said, adding that the way women are treated in America matters. However, due process is necessary.

He says that the person or people who breached Ford's anonymity by leaking the letter and not telling her she could have testified in private should "hide their head in a bag for the rest of their natural life."

16:33 GMT

Hashtag #delaytheVote has been trending in the US since morning.

If we delayed Merrick Garland indefinitely, then we can delay Brett Kavanugh temporarily. The Senate's decision will either show how far America has come since Anita Hill or how far we have to go after Dr. Ford. History will judge us. #DelayTheVote

— Congressman Al Green (@RepAlGreen) September 28, 2018