'Completely contrary to reality': Trump's Israel embassy move irreversible, US ambassador says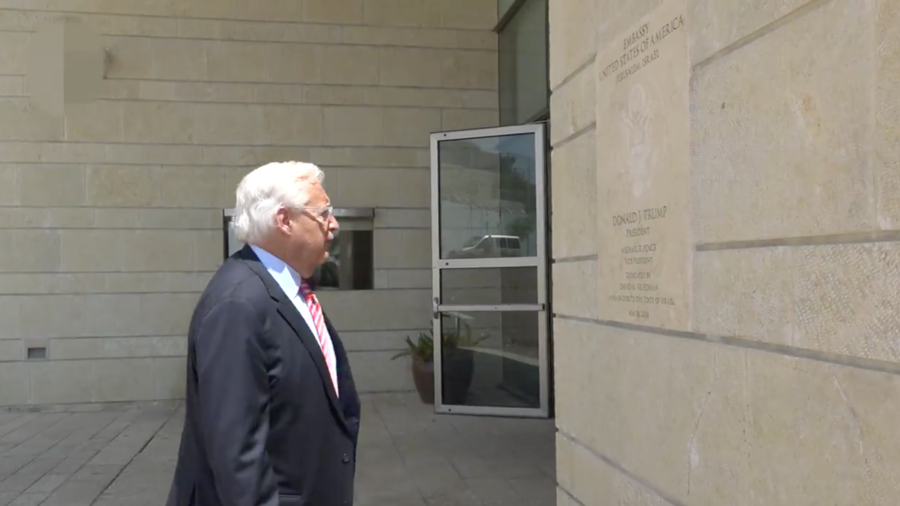 The US does not have any politicians on the horizon who would dare to reverse Donald Trump's decision to recognize Jerusalem as the capital of Israel and relocate American embassy there, according to the US ambassador.
Donald Trump's daring decision to recognize Jerusalem as the capital of the Jewish nation in December of last year sparked outrage among Palestinians and Arabs across the world. While previous US administrations had pondered the option of moving the embassy from Tel Aviv to Jerusalem, Trump relocated the mission in May – in a decision so bold that no American politician will be able to reverse it, according to US Ambassador to Israel David Friedman.
"I really can't see that happening, no matter what party is in control. In order for an administration to reverse this, they would have to conclude that Jerusalem is not the capital of Israel and Tel Aviv is. I think that would be a far more controversial thing to do than what the president did," Friedman noted on Friday, just after Paraguay announced it will move its embassy from Jerusalem back to Tel Aviv.
"It would be completely at odds with reality and I don't believe that there is an American politician of any party – of no party – who would take a position that is completely contrary to reality. So I don't think that's going to happen," the US envoy explained to Israel Hayom.
Once again praising Washington's move as "major, courageous" and "important," Friedman proceeded to clarify Trump's comment last month, in which the US leader said Israel would now have to pay "a higher price" in the future negotiations with Palestinians because of the US recognition of Jerusalem.
"Since the US began this with a very good faith effort in Israel's direction, the hope is that Israel will take that into account and reciprocate with the same level of good faith that it received," he said, noting that Israel should be willing to trust Washington as a "good faith mediator."
Palestinians, on the other hand, have repeatedly rejected the prospect of any mediation role for the US. The same opinion is also shared by the Arab League, which views the White House's policies in the region as detrimental to the future of the Palestinian state. Trump has repeatedly used financial assistance as a leverage to force Palestinians to negotiate.
US stops funding to Palestinian refugee agency due to 'irredeemably flawed operation'
"I'd say, you'll get money, but we're not paying you until we make a deal. If we don't make a deal, we're not paying," Trump said on Thursday, referring to Palestinian leaders during a conference call with Jewish leaders and Rabbis.
Just on Saturday, it was reported that the US plans to cut $25 million in aid to six hospitals accommodating Palestinians in Jerusalem. Recently, Washington also announced the withdrawal of all funding from the UN agency for Palestinian refugees (UNRWA).
Subscribe to RT newsletter to get stories the mainstream media won't tell you.
You can share this story on social media: