Trump says 'no reason' for costly war games with South Korea, blames China for stalemate with North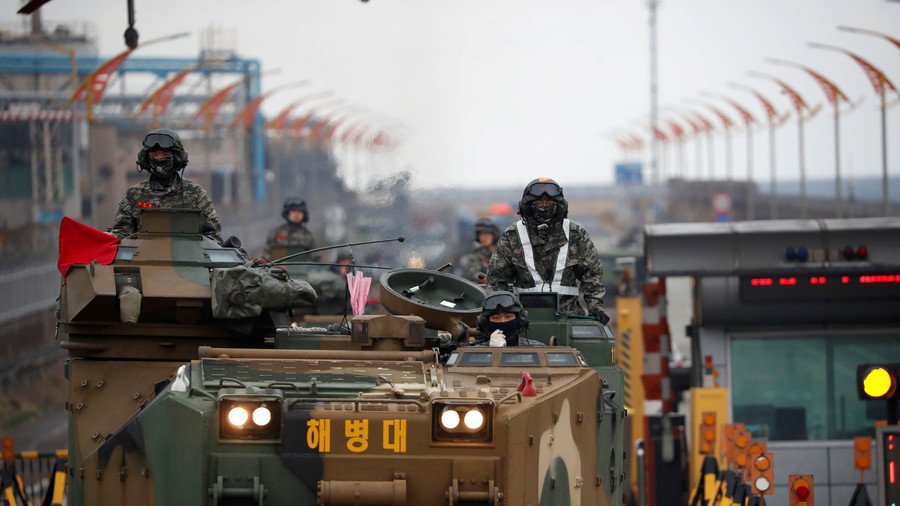 US President Donald Trump has blamed Beijing for the lack of progress on North Korea's denuclearization, saying China has put North Korea "under tremendous pressure" in response to a trade war Trump had started in the first place.
The White House statement, posted by Trump in a string of tweets, says that the US President "feels strongly" that Pyongyang has been a subject of "tremendous pressure from China because of our major trade disputes with the Chinese Government."
Trump went on to allege that Beijing continues to provide various types of assistance to the North, including supplying fuel, fertilizer and "various other commodities" thus effectively undermining the US policy of "maximum pressure."
Despite the White House's failure to reach any substantial progress in implementing the loosely worded agreement between North Korean leader Kim Jong-un and Trump, reached at the bilateral summit in June, the statement stresses that Trump believes his relationship with Kim is a "very good and warm one, and there is no reason at this time to be spending large amounts of money on joint US-South Korea war games."
However, the statement notes that should the need arise "the President can instantly start the joint exercises again," both with South Korea and Washington's other top regional ally, Japan. As with many things Trump, the restarted wargames would be "far bigger than ever before," the US president warned.
After effectively accusing the Chinese government of foul play on the Korean peninsula, the statement then concludes by saying the bitter trade dispute between the US and China "will be resolved in time" by Trump and "China's great President Xi Jinping."
It comes after US Defense Secretary Jim Mattis indicated earlier this week that although several major US drills with South Korea had been suspended as an act of goodwill, the Pentagon has "no plans to suspend any more."
READ MORE: US not planning to suspend any more drills with S. Korea unless ordered by Trump – Mattis
At the time, Mattis said that the Pentagon would follow the Trump administration's lead in handling the matter, adding that no decision regarding the drills set for 2019 has been made as of yet. It's unclear so far if Trump's statement is an indication that more exercises will indeed be suspended, or just a confirmation of Mattis' words.
North Korea, which has long been irritated by the joint wargames, recently accused Washington of "double-dealing." The ruling party's official newspaper reported that the US contingent stationed in Japan has been rehearsing an invasion into North Korea by "staging secret drills involving man-killing special units" while the White House has been "having a dialog with a smile on its face."
While there has been little progress on North Korea since the milestone summit in June, no effort to end the escalating trade war between the US and China has borne fruit. The recent talks between American and Chinese officials ended without a breakthrough, and it was reported that no follow-up meetings have been scheduled. In the meantime, China vowed to respond "resolutely" to "the unreasonable measures" taken by the US.
The ongoing trade war started with the US cranking up import tariffs on goods from China, accusing Beijing of taking advantage of the US with unfair trade practices. China then hit the US with retaliatory import tariffs of its own. Since July, the countries slapped each other with tariffs on goods worth $50 billion, affecting a wide range of products. The latest exchange of 25 percent duties on $16 billion worth of Chinese and US imports respectively took effect last week.
You can share this story on social media: