N. Korea slams US for 'hatching a criminal plot' against Pyongyang after Pompeo's canceled trip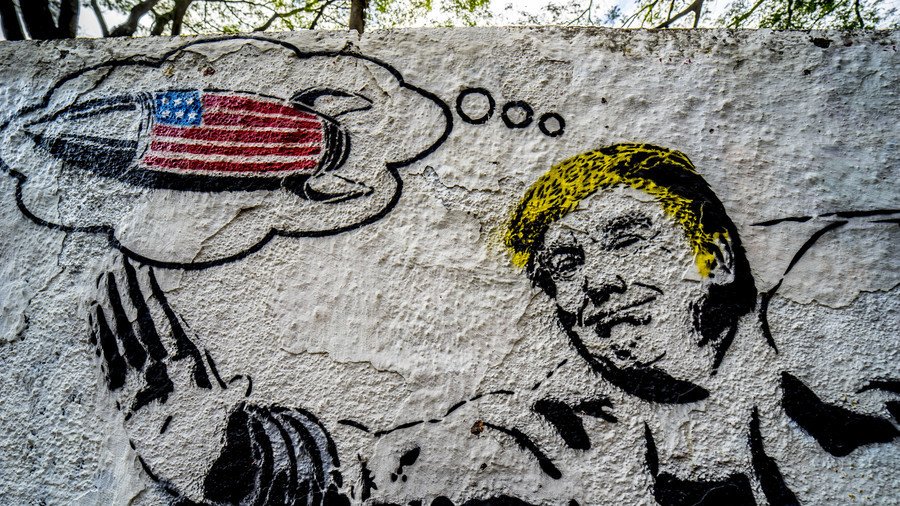 North Korea has lashed out at the US for "double-dealing" and "hatching a criminal plot" against Pyongyang, days after Donald Trump canceled Secretary of State Mike Pompeo's upcoming trip to North Korea.
Rodong Sinmun, the official newspaper of the North's ruling party, said in an editorial that US units based in Okinawa, Japan were staging drills aimed at "infiltration into Pyongyang." The paper was citing an unnamed South Korean media outlet.
The US "is busy staging secret drills involving man-killing special units while having a dialogue with a smile on its face," according to the paper, which added that Pyongyang cannot help but note "the double-dealing attitudes" of Washington.
READ MORE: north Korea slams Trump's opponents for hampering peace efforts, denuclearization
"Such acts prove that the US is hatching a criminal plot to unleash a war against the DPRK [North Korea] and commit a crime which deserves merciless divine punishment."
It's not yet clear which drills the North was referring to. The Japanese island of Okinawa hosts nearly half of the 47,000 US troops based in Japan, according to Pentagon data. The troops repeatedly hold military exercises in the area.
A spokesman at the US Embassy in Seoul told Reuters that he had no information about the military exercise mentioned in the paper.
Relations between the two states have experienced ups and downs in the past year. Initially, Trump and Kim Jong-un engaged in fierce verbal exchanges, threatening each other with "fire and fury" and "hammers of war." Later, however, relations took a U-turn, with Trump and Kim holding a summit in Singapore and the North agreeing to dismantle its nuclear testing site. After the meeting, the US leader even claimed that there is no longer a nuclear threat from Pyongyang. Relations, however, have swung back and forth since.
On Friday, in a series of tweets, US President Donald Trump said that "sufficient progress" towards denuclearization of the Korean Peninsula was not being made, and he blamed China for hindering the progress, due to the ongoing trade spat between Washington and Beijing. "I have asked Secretary of State Mike Pompeo not to go to North Korea, at this time," he said.
...Additionally, because of our much tougher Trading stance with China, I do not believe they are helping with the process of denuclearization as they once were (despite the UN Sanctions which are in place)...

— Donald J. Trump (@realDonaldTrump) August 24, 2018
The US leader, however, sent his "warmest regards and respect" to Kim, and said that Pompeo "looks forward to going to North Korea in the near future," once the current US-China trade dispute is resolved.
Like this story? Share it with a friend!
You can share this story on social media: