North Korea slams Trump's opponents for hampering peace efforts, denuclearization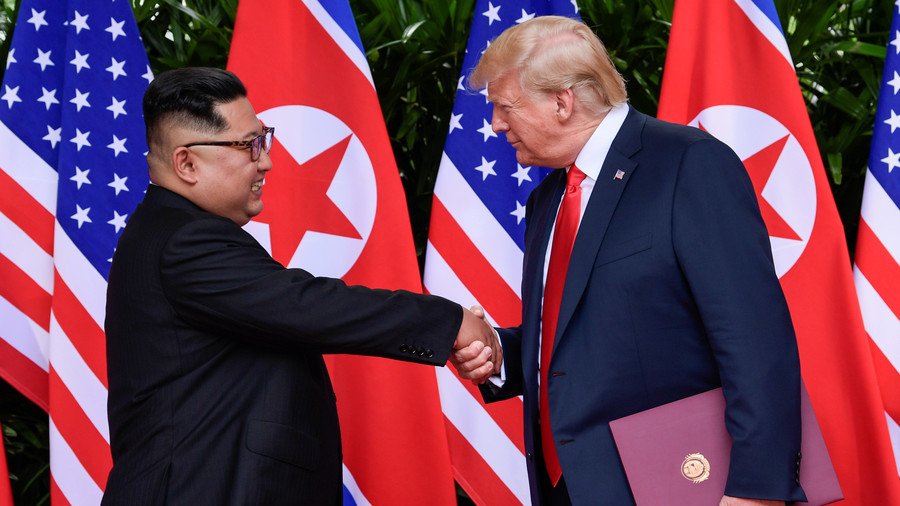 North Korea lashed out at Donald Trump's rivals for "a deadlock" in bilateral relations, calling upon the US leader to act in a "bold" manner, in a statement that differs dramatically from the North's stance on the US last year.
In a lengthy editorial, Rodong Sinmun, the official newspaper of the North's ruling party, praised US President Donald Trump for seeking to improve relations between Washington and Pyongyang. "However, he faces too many opponents," it said.
According to the paper, Democrats and even some Republicans are hampering Trump's peace efforts and the media is undermining his policies. Bureaucrats and presidential aides are "speaking and moving in contradiction to the president's will" and are "distorting facts and covering up his eyes and ears in order to mislead him to a wrong decision."
The editorial says that the political opponents of the US president are "raising their voice, dismissing the Singapore joint statement and boycotting a declaration of an end to the war." But what it thinks will end the "current deadlock in the DPRK-US relations" is "President Trump's bold decision."
Rodong Sinmun's position shows a U-turn in North Korea's attitude towards Donald Trump – from "hammers of war" in summer 2017 to "Trump's improving ties with Pyongyang" a year later.
In June, Democratic congressional leaders slammed Trump for making concessions at the Singapore summit with Kim. US Senator Chuck Schumer said that "by granting a meeting with Chairman Kim, President Trump has granted a brutal and repressive dictatorship the international legitimacy it has long craved."
Also in June, Senator Lindsey Graham (R-South Carolina) hinted at the need for war against North Korea, saying that "if diplomacy fails, as a last resort, Democrats and Republicans need to put the military option on the table or we'll never get a good deal."
Only last summer, Trump himself threatened North Korea "with fire and fury," calling the nation an "extraordinary threat" to the US. The North was also releasing menacing statements.
This spring, however, Trump took a different approach, which ultimately led to the "epochal" summit in Singapore in which North Korean denuclearization was agreed upon. After the summit, the US leader even claimed that there is no longer a nuclear threat from Pyongyang.
The anticipated Trump-Kim meeting came after the North demolished tunnels leading to an underground nuclear testing site. At one point, however, the summit was nearly canceled by Trump due to a change of heart.
The North's process of denuclearization received different reactions from the US leader. In June, he insisted that Pyongyang should start the process "very quickly" and that "a lot of people" would be sent to North Korea to verify it. Later, he said there is "no rush" on denuclearization.
Trump remains adamant about sanctions on the country, stating on numerous occasions that North Korea should not expect an easing of restrictions any time soon.
Think your friends would be interested? Share this story!
You can share this story on social media: