US not planning to suspend any more drills with S. Korea unless ordered by Trump – Mattis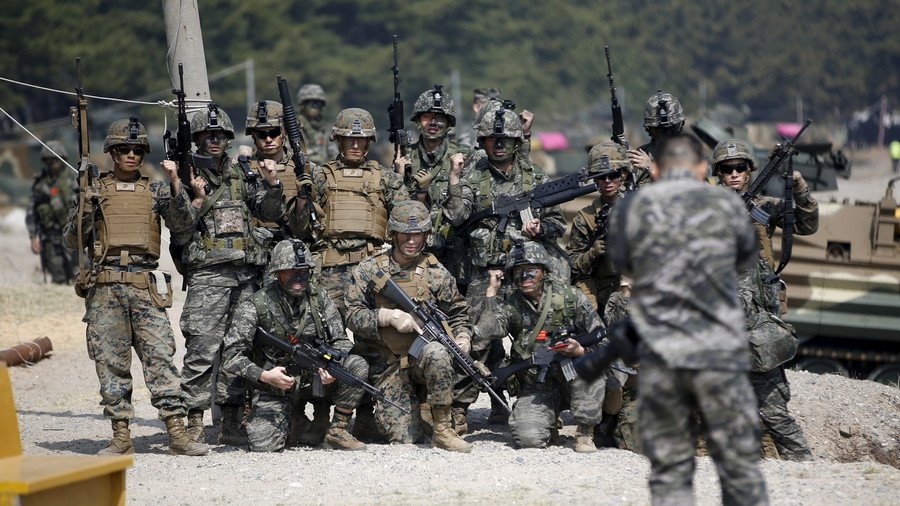 Several major US drills with South Korea have been suspended as an act of good will towards Pyongyang, but there are no plans to cancel any other joint exercises on the Korean Peninsula, US Defense Secretary Jim Mattis said.
"We took the step to suspend several of the largest military exercise as a good faith measure," Mattis told reporters at the Pentagon."We have no plans to suspend any more."
He clarified that the US and South Korea "suspended several of the largest exercises, but we didn't suspend the rest."
"There are ongoing exercises all the time on the [Korean] Peninsula. The reason you haven't heard about them is that North Korea couldn't in any way misinterpret those as somehow breaking faith with the [denuclearization] negotiations," Mattis said.
The Defense Secretary said that no decisions have yet been made on major exercises on the Korean Peninsula for 2019, adding that the Pentagon would be acting in line with the Trump administration regarding further drills.
"We will work very closely with the Secretary of State [Mike Pompeo] and what he needs done, we'll certainly do to reinforce his effort," Mattis added.
The Pentagon announced that a number of joint drills with South Korea were put on hold after the landmark talks between US President Donald Trump and North Korean leader Kim Jong-un in Singapore on June 12.
The war games near its territory have long been a source of concern for Pyongyang, with accused Washington and Seoul of preparing to invade North Korea.
Last week, North Korea lashed out at the US for "double-dealing" and "hatching a criminal plot" against it over Secretary of State Mike Pompeo's cancelled trip to Pyongyang and American drills in Japan's Okinawa.
The US "is busy staging secret drills involving man-killing special units while having a dialogue with a smile on its face," the official newspaper of North Korea's ruling party, Rodong Sinmun, said in an editorial.
The mutual concessions made by the US and North Korea after the Singapore summit fell in line with the so-called "double freeze" plan, which was introduced by Russia and China in September 2017.
Moscow and Beijing called on Pyongyang to suspend its nuclear weapons and missile tests in exchange for the Americans giving up on joint exercises with South Korea. However, Washington flatly rejected the proposal.
Think your friends would be interested? Share this story!
You can share this story on social media: