Pope Francis promises zero tolerance for pedophile priests after Pennsylvania abuse revelations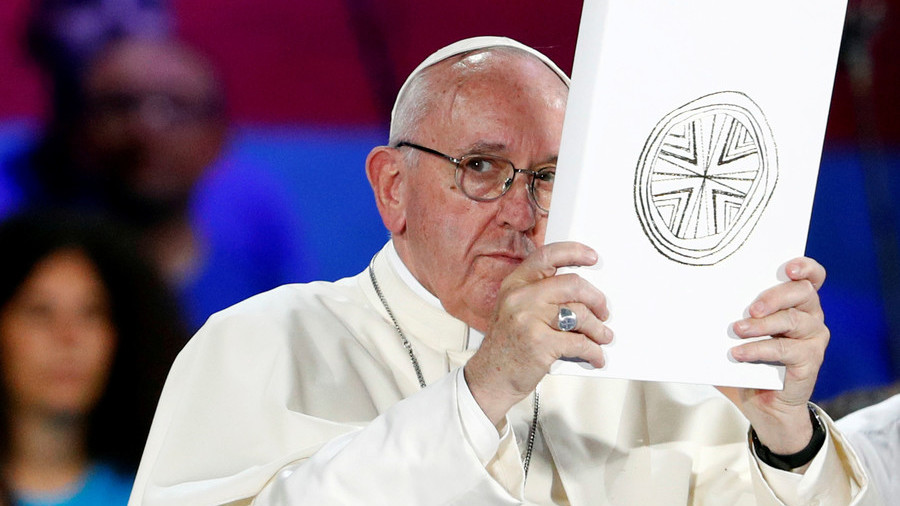 Pope Francis has acknowledged "with shame and repentance," decades of sexual abuse by priests, and regrets that some can not stand trial as the Catholic Church faces backlash and falling donations over 300 "predator priests."
"I acknowledge once more the suffering endured by many minors due to sexual abuse, the abuse of power and the abuse of conscience perpetrated by a significant number of clerics and consecrated persons," read a letter from the Pope released on Monday. The Pontiff then promised to treat future cases with "zero tolerance."
After a Pennsylvania Grand Jury report laid bare decades of sexual abuse, involving at least 1,000 victims and 300 "predator priests," the Pope had been under fire for remaining silent, until today, when he called cases of sex abuse by his own organization "atrocities."
The report makes for sobering reading. In it are "credible allegations" that priests repeatedly and sadistically abused at least 1,000 boys and girls in six of Pennsylvania's eight dioceses. Allegations from the other two dioceses, Philadelphia and Altoona-Johnstown, were subjects of an earlier report.
The jury claims that due to lost records and victims who were afraid to come forward, the real number of victims stretched into the thousands.
"Some were teens; many were pre-pubescent," the report states. "Some were manipulated with alcohol and pornography. Some were made to masturbate their assailants, or were groped by them. Some were raped orally, some vaginally, some anally. But all of them were brushed aside, in every part of the state, by church leaders who preferred to protect the abusers and their institution above all."'
In one incidence, a priest in the Diocese of Erie who had confessed to raping at least 15 boys was commended by his bishop as a "person of candor and sincerity." When the priest was finally removed from his position, the bishop instructed his parish not to say why. Some of his victims were as young as seven years old.
In another series of incidents, a "ring of predatory priests" in the diocese of Pittsburgh manufactured and exchanged child pornography, which often featured the sadistic and violent raping of their victims. The pedophile ring would give their 'favorite boys' gold crucifixes to wear, a sign to other priests in the ring that they were "optimal targets" for further abuse.
In his papal letter, Francis admitted that Catholic leadership "showed no care for the little ones; we abandoned them."
While sex-abuse scandals have dogged the Catholic church worldwide, the Pennsylvania report is the largest and most wide-reaching one in the US to date, according to the jury that compiled it.
Donations drying up
While the Pope's letter addressed sex abuse head-on, it is unclear whether his response will be enough to restore the Catholic church's credibility. US Catholics had been urged to withhold donations to the church since Cardinal Theodore McCarrick resigned amid a litany of sex abuse charges last month.
Now, those calls have been amplified by the Pennsylvania report. Practicing Catholics from across the US told AP that they were closing their wallets in response.
"The big thing that people are saying is 'We just need to stop funding their crap,'" said Brice Sokolowski, a Texan who runs a Catholic fundraising website. He's seen a drop in funding as the faithful grow tired of repeated scandals.
"[Cutting donations] in itself will not protect children. That in itself will not support survivors. That in itself will not compel ... an attorney general to take action," said Tim Lennon, president of the Survivors Network of those Abused by Priests. "It's just a message to the church that it's not just survivors knocking at their door as we have been for the last 30 years."
Meanwhile, at least one priest named and shamed in the Pennsylvania report has refused to resign. David Zubik, bishop of the Diocese of Pittsburgh, told ABC News that he was "a little surprised" to see his name mentioned in it, and asked people to "look at the things that we have done to really correct this issue."
With the fallout from the report still nowhere near settled, Pope Francis is set to embark on a trip to Ireland at the weekend. There, he is expected to face protests from child sex abuse survivors, and from Irish people incensed at the church's sordid history in the country, where it dominated society from the 1920s onwards.
Think your friends would be interested? Share this story!
You can share this story on social media: