Former Yazidi sex slave recalls horror of meeting her ISIS rapist in Germany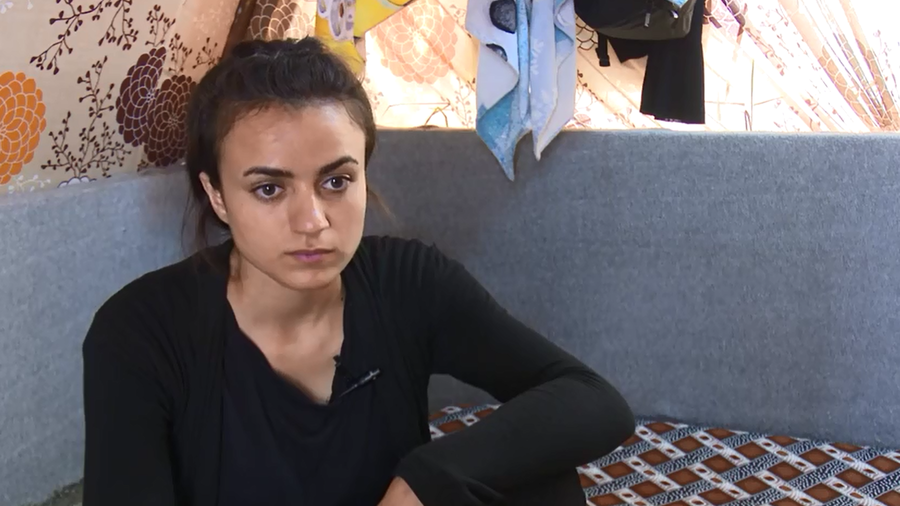 A Yazidi teenager who fled from Islamic State slavery in Iraq, only to come face to face with her former captor in Germany, told RT why she returned to Iraq, and why she thinks Europe is no safe haven for girls like her.
After fleeing captivity in Iraq, Ashwaq Ta'lo thought she was safe in Schwabisch Gmund, a picturesque market town in the foothills of Germany's Swabian mountains, near Stuttgart. That changed one night in February, when Ashwaq was returning home from school and a car pulled up beside her.
A short-bearded man stepped out and took off his glasses, leaning in closer to look at the teenager. "Can I ask you a question," he said. "Are you Ashwaq?"
It was a face Ashwaq never thought she would see again. The man, known only as Abu Humam, was a Syrian Islamic State (IS, formerly ISIS) fighter who had bought Ashwaq for $100 at a slave market in Ba'aj, Iraq in 2015. He was now living in Germany as a refugee, enjoying the same freedom as his former victim.
"I said 'no, I'm not Ashwaq,'" she told RT. "Then he said 'no, you are and I know it, don't lie to me,'" Ashwaq panicked and fled to her brother's house, as Abu Humam followed her. The encounter instantly brought her from peaceful Germany back to the dusty roads of war-torn Iraq, where her ordeal had begun a few years before.
In 2014, as ISIS hordes claimed land and took lives across Iraq and Syria at blitzkrieg pace, Ashwaq lived with 77 of her extended family in a small village in Iraqi Kurdistan. ISIS' campaign of slaughter and pillage eventually caught up with them, and jihadists surrounded her family home, capturing and separating the family.
"The worst time in my life was the moment when ISIS separated us from our families," Ashwaq recalls. "I knew that I would be raped and tortured." She was 15 at the time.
From there, Ashwaq was shuttled in pickup trucks from around northern Iraq, until she landed in the tiny town of Ba'aj, where she was sold for $100 to Abu Humam. "I tried my best to convince him that he should release me," she said. "But he said that he got orders that they should rape all Yazidi women and keep them as slaves. We even tried looking for gasoline or anything sharp, like knives or scissors, to kill ourselves with, but didn't find anything."
Ashwaq was forced to convert to Islam, and became Abu Humam's property. When the militants moved, Abu Humam kept the teenage girl by his side, a human shield against US-led Coalition airstrikes. Eventually, Ashwaq managed to flee, and a year later was resettled in Germany under a refugee program.
"We knew that if we stayed they would kill us, because they are ISIS and they are murderers," she said.
After meeting Abu Humam in Germany, Ashwaq filed a police report and told her assigned social worker who she had seen. She says the police waited a month and a half to open the case, and when they did, they found no leads.
Her social worker told her that she was in Germany to recover from the trauma of her captivity in Iraq, but Ashwaq no longer felt safe.
"How can that be, if my rapist is living here and has the same rights as me?" she wondered.
Federal prosecutors say that they investigated the case as best they could. Based on her description, they could not identify Abu Humam, and could not trace his name. Prosecutors say they wanted to ask Ashwaq some more questions, but the teenager had already left Germany at that point.
Faced with living in fear of her rapist or taking her chances elsewhere, Ashwaq headed back to Iraq to visit relatives. Her family who stayed behind in Germany begged her to return, and assured her that the German government would see to it that justice was done. Ashwaq refused.
"My dignity is more important than being in Germany," she said. "I've put my life on the edge to escape from ISIS here to keep my dignity, then you want me to stay in Germany and know that the one who was responsible for my misery is free in that country?"
"All I wanted was to be somewhere safe but if I meet ISIS there and I'm afraid all the time that he would hurt me again, then I can't stay there anymore."
Ashwaq arrived in Germany as one of over a million migrants admitted in 2015. German Chancellor Angela Merkel stood by her country's 'open-door' migration policy until it was abandoned this year. Critics have blasted the chancellor for carelessly admitting millions of migrants, often with inadequate vetting. Even when defending her decision, Merkel admitted last year that "for some time we didn't have enough control" at Germany's borders.
Ashwaq's tormentor was just one of an unknown number of violent jihadists who may have slipped through the cracks. In 2015, German federal police received over 300 tip-offs about potential jihadists or known terrorists entering the country as refugees. "We have repeatedly seen that terrorists... have slipped in camouflaged or disguised as refugees," the head of Germany's interior intelligence agency warned the following year.
Even before Merkel rolled out the welcome mat to migrants, some violent extremists managed to lay low in Germany. This April, a 42-year-old Tunisian man, living in Germany since 1997 and claiming government benefits, was found to have been a member of Al-Qaeda, and to have allegedly once worked as a bodyguard for Osama bin Laden. After his deportation, a court ordered the man returned to Germany for prosecution.
When Ashwaq arrived in Germany, she was required to remain in the state of Baden-Württemberg. This meant that she couldn't move across the country to avoid Abu Humam.
"Germany was taking care of us," she said. "But it was a mistake to bring us all to Baden-Württemberg so it was easier for them to track us and we were not allowed to move to another state."
Like this story? Share it with a friend!
You can share this story on social media: