'Broken guy with a few screws loose': Seattle plane hijacker's bizarre chat with air control (AUDIO)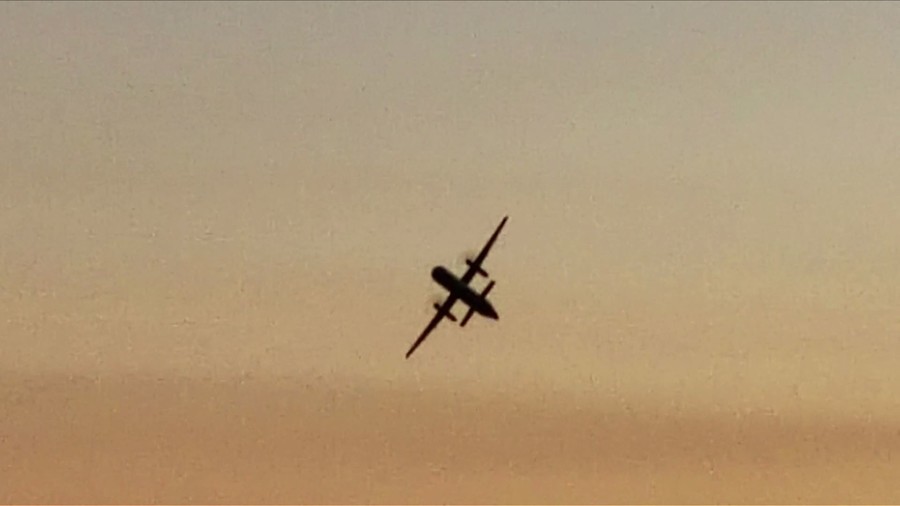 In the audio detailing the final minutes of the plane hijacker's conversation with Seattle air control, the man is heard pondering life in jail and crediting his video games skills for how he had learned to fly a plane.
The conversation between the man, addressed as Rich/Richard, and the air-traffic controller right before the Horizon Air Q400 plane crash, was released by Aviation journalist Jon Ostrower on Twitter.
At some point the man starts to worry about the fuel. "I'm down to 2,100 (pounds)," he is heard saying. "I started at 30 something… I don't know what the burnage is like on takeoff, but it burned quite a bit faster than I expected."
READ MORE: Stolen plane performs tricks & crashes near Seattle airport with F-15s in pursuit (VIDEOS)
The air controller tells him there is a runway just off to his right "in about a mile [1.6km]," referring to a military airfield at Joint Base Lewis-McChord. "Oh man," Rich says, "those guys will rough me up if I try and land there. I think I might mess something up there too. I wouldn't want to do that. They probably have anti-aircraft." The controller responds that the authorities were "just trying to find a place for you to land safely."

"I'm not quite ready to bring it down just yet," Richard said. "But holy smokes, I got to stop looking at the fuel, because it's going down quick."
The man seemed to understand that his actions would have dire consequences. "This is probably jail time for life, huh? I would hope it is for a guy like me," he said.
Richard then says he feels like one of the engines "is going out or something." The controller replies: "If you could, you just want to keep that plane right over the water. Keep the aircraft nice and low."
The man, described by police as a 29-year-old mechanic, says that he has a lot of people that care about him. "It's going to disappoint them to hear that I did this. I would like to apologize to each and every one of them. Just a broken guy, got a few screws loose, I guess. Never really knew it, until now," he added.
North American Aerospace Defense Command scrambled two F-15 fighter jets to deal with the Horizon Air plane. While the jets were in pursuit of the small plane, air traffic control helped the rogue plane stay clear of the Seattle cosmopolitan area.
The Pierce County sheriff said that the perpetrator acted alone and "was confirmed a suicidal male." He stressed that it was not a terrorism-related incident.
On Saturday morning, White House Press Secretary Sarah Sanders told media that President Donald Trump was briefed on the incident and is currently "monitoring the situation" in Seattle.
Independent aviation expert Gerry Soejatman told RT that employees of air companies should be vetted more thoroughly. "This is what we call the inside risk," he said, explaining that the security measures should not only be aimed at passengers, but also at employees. "People need to realize that flying an aircraft is not hard, flying it correctly is the hard part."
Think your friends would be interested? Share this story!
You can share this story on social media: