Stolen plane performs tricks & crashes near Seattle airport with F-15s in pursuit (VIDEOS)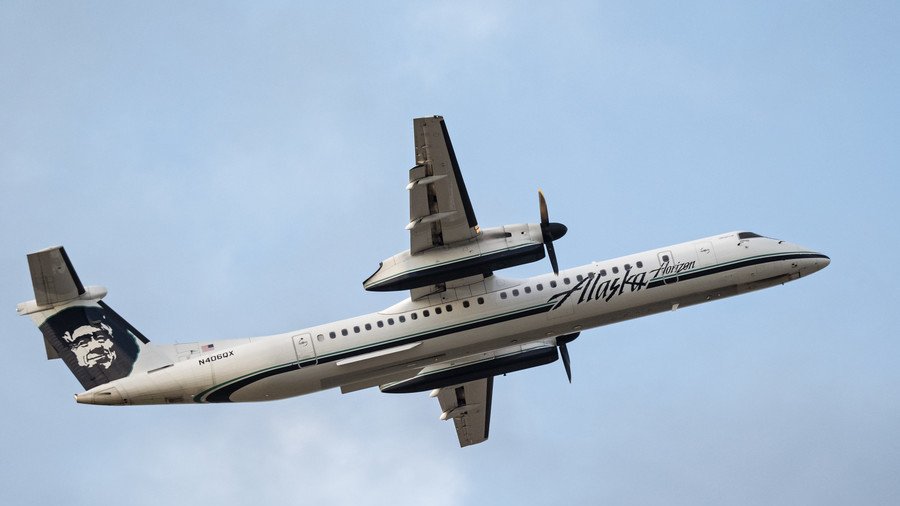 A Horizon Air Q400 plane, flown without Seattle Airport traffic controller authorization, reportedly performed several aerobatic tricks and crashed after F-15 jets were sent to intercept it, officials confirmed.
A mechanic "from unknown airlines" stole the aircraft at Seattle-Tacoma International Airport on Friday night, the Pierce County sheriff said in a statement. "[The man was] doing stunts in air or lack of flying skills caused crash" on Ketron Island.
The plane was chased by two F-15 fighter jets that were scrambled by North American Aerospace Defense Command to deal with the incident. While the jets were in pursuit of the small plane, air traffic control helped the rogue plane stay clear of the Seattle cosmopolitan area. "Told F 15s made it within a few minutes of theft of plane. Pilots kept plane out of harms way and people on ground safe [sic]," the sheriff tweeted.
The sheriff said that the 29-year-old perpetrator acted alone and "was confirmed a suicidal male." He stressed that it wasn't a terrorism-related incident.
"It was unfathomable, it was something out of a movie," a witness told the Seattle Times. "The smoke lingered. You could still hear the F-15s, which were flying low."
Alaska Airlines confirmed the incident on Twitter, saying that the plane operated by its subsidiary Horizon Air had an "unauthorized take-off" without passengers.
Like this story? Share it with a friend!
You can share this story on social media: