'In prison for advocating better US-Russia relation': Butina lawyer on her 'misunderstood' case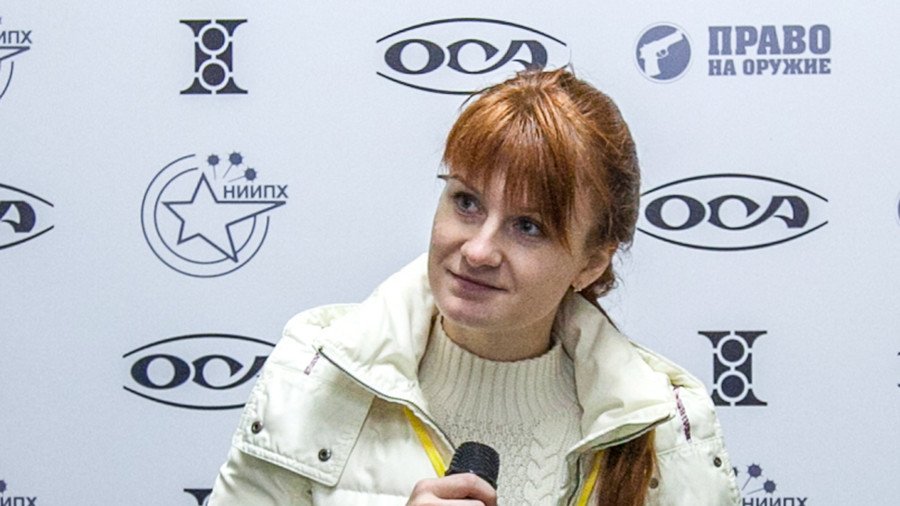 The media continues to misrepresent the "unprecedented" case against Maria Butina, even as the US government backpedals on allegations levelled at the Russian activist, her attorney told RT in an exclusive interview.
Robert Driscoll said that despite the "tsunami" of negative media coverage aimed at his client, he's confident that Butina will have a strong defense once the facts of the case are aired in court. Butina, 29, was arrested on July 15 in Washington, DC, and charged with failing to register as a foreign agent of Russia and conspiring against the United States.
The Russian national arrived in the US on a student visa in August 2016 to study for a master's degree at American University, becoming involved with the National Rifle Association (NRA) and conservative activist circles. The US government claims that her networking and political activism was part of work she did on behalf of Moscow.
However, Driscoll explained to RT that allegations made by the US government had been addressed months earlier, when Butina voluntarily testified to the Senate Intelligence Committee, providing thousands of pages of documents to help clear her name. Describing the case as "unprecedented," Driscoll also took the media to task, pointing out that the facts of the case do not align with the sensational headlines being churned out by US news outlets.
An unprecedented case
The charges against Butina set "a dangerous precedent on a number of fronts," Driscoll told RT. Using ongoing political upheaval over tariffs as an example, Driscoll said that Chinese businessmen attending a conference in the US, and who advocate for a resolution to the brewing trade war between Washington and Beijing, could be "subject to the same theory that they're agents of a foreign government infiltrating the US."
Driscoll has previously called the charges against Butina "simply a misuse of the Foreign Agent statute, which is designed to punish covert propaganda, not open and public networking by foreign students."
Government already backpedalling?
According to Driscoll, the US government has already walked back one of the more sensational claims it has made – that Butina was preparing to flee to Russia at the time of her arrest.
"The government kind of backed off that because I confronted them in court. I sent the government an email at the end of June, telling them she was leaving to move to South Dakota with her boyfriend. So the government was well-aware she was moving. She wasn't fleeing anywhere, she certainly wasn't fleeing to Russia," Driscoll said. "They surveilled her going to UHaul to get boxes – I don't think there's a way to get to Russia by land."
Rehashing old allegations
Notably, Driscoll said that the US government's claims against his client had already been addressed months ago, as Butina had voluntarily cooperated with the Senate Intelligence Committee after receiving a letter from the committee in February.
"She consulted me before we went in there, and she voluntarily testified for the committee – she testified for eight hours. We produced thousands and thousands of pages of documents to the committee. We answered every question they had, and explained basically all the types of allegations that the government has made in this subsequent criminal case. I think eventually, when everyone sees that, when that becomes public, that will help her defense as well."
Where's the espionage?
Driscoll expressed frustration at the way that his client was being presented in the media, and said he felt it was his duty – within limits – to push back against inaccurate reports claiming that Butina has been accused of spying for Russia.
"As I said the day of the hearing, it's like an eyedropper of commentary from me against a tsunami of negative press from everyone else," he said. In response to reports that the judge presiding over the case had warned him against "crossing a line" by speaking to the media, Driscoll noted: "I think frankly the risk is nil that a jury is going to be prejudice in favor of my client."
Breathless headlines about Butina's alleged activities in the United States read like a spy novel, but the US government's case against the Russian student and gun activist is far more mundane, Driscoll said.
"If you read the indictment of the case, she is alleged to be an agent of Russia who failed to register with the attorney general. Essentially, that means that they have not charged her with espionage and if you read the allegations against her, none of the allegations have anything spy-like about it. Essentially, the government is conceding that even under their own theory, if she had filed a piece of paper with the attorney general's office at the beginning of her trip to America, everything she did was legal." As Driscoll observed, "people misunderstand a lot of basic things about this case."
Sex for influence? Still waiting for evidence
Lurid tales that Butina had used offers of sex to navigate the halls of power in Washington have yet to be substantiated by actual evidence – and come off as rather sexist, Driscoll told RT. He added that the allegations were particularly damaging to Butina because "it makes [her case] more like a spy novel, and frankly easier for the public to digest. So editors and producers like those kinds of allegations."
But the government has yet to provide evidence for their clickbait claims, according to Driscoll.
"[The honey trap] allegation was set forth in a proffer by the government, meaning they did not produce evidence to back up that allegation at the time. We're still waiting to see that, and we're not sure that it even exists, or that it exists in any meaningful form."
He added that he thought the US government''s unproven allegations – which have been dutifully parroted by the media – were "unfair, and kind of sexist."
"It's very hard to see your client kind of dragged through the mud like this, which is why I've been trying to push back on that."
Politically motivated?
Driscoll said it was hard to believe that his client's arrest was politically-motivated, but stated that he was hesitant to say the case was "completely apolitical, because it's hard to imagine a national of another country being treated the same way. I think we're in a little bit of a Russophobic time."
Potentially political motivations aside, Driscoll expressed confidence that his client would receive a fair trial – although acknowledged that overwhelmingly negative news coverage meant that Butina was, to a large extent, already being tried in the media.
"We'll work hard to make sure she does [get a fair trial], and the judge will work hard to make sure she does. I think things in the end hopefully will be fair for her if it ends up in a trial."
The ultimate irony
Describing his client as "amazingly bright," Driscoll said that Butina never imagined that she would find herself in an American prison cell.
"I think there's an irony to the fact that I think she always thought that if she was going to be in prison, that she would be imprisoned in Russia for advocating gun rights if she went too far with that, and now she's in prison in the US for advocating better US-Russia relations."
Driscoll said that Butina was in good health and spirits – despite her unforeseen arrest.
"If this gets back to her parents, I want them to know that she should be in touch soon, and that she's healthy and well under the circumstances, and we're doing our best to visit her every day, and make sure to keep her spirits up."
Subscribe to RT newsletter to get stories the mainstream media won't tell you.
You can share this story on social media: