Russophobia digest part 1: 5 top Russia scares launched by MSM this week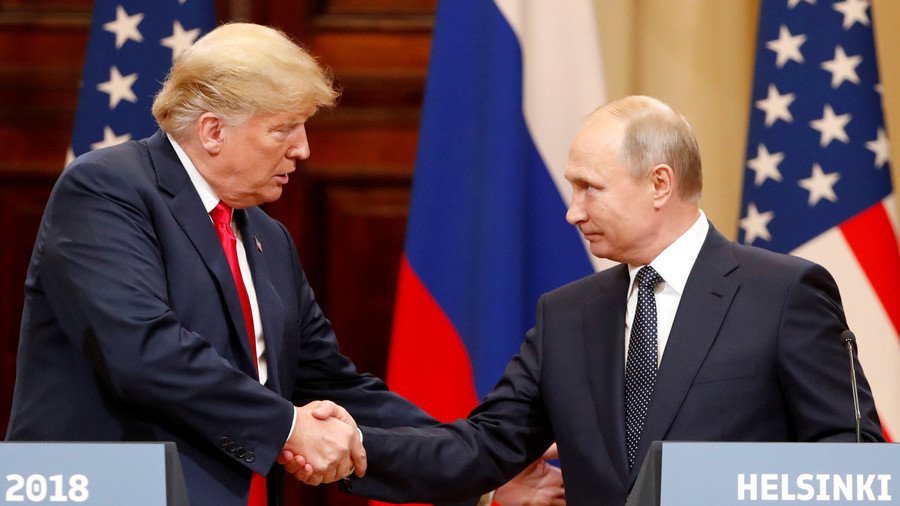 Russia has lately been accused of numerous deadly sins, as politicians and media throw around scary-sounding but unverified stories and opinions. To help you plot a course in the roiling sea of Russophobia, RT has compiled a list.
With the Helsinki summit between US President Donald Trump and Russia's Vladimir Putin hitting the news on Monday, this week didn't wait to erupt in headline upon headline of Trump and Russia bashing, including the long-sought "proof" of the Kremlin's interference in the US. Many of those were quickly adopted by the anti-Trump #Resistance for obvious political gain.
Putin 'confirms' he interfered in 2016 election
One bombshell that fell during the post-summit press conference in Helsinki, and one that the CNN immediately picked up, was Putin's supposed first-hand confirmation that he had ordered interference in the 2016 presidential election to help Trump win. This proved to be a translation mistake.
Putin was responding to a question by a Reuters reporter, who asked whether he had wanted Trump to win in 2016, and whether he had dispatched any of his officials to help Trump win.
What Putin really said was yes, he did want Trump to win, because Trump was talking about normalizing the relations between the US and Russia. With the help of a faulty translation this transformed into a "Yes I did. Yes I did," making multiple #Resistance fighters scream bloody murder online.
Trump 'agrees' to send US officials to Russia for questioning
Another memorable take-away from the press conference was Putin's suggestion that Moscow be allowed to interview some of the persons of interests in Russian criminal investigations who are now in the US, and in exchange the FBI Special Counsel Robert Mueller and his Russiagate team would be granted the opportunity to question the Russians indicted on "meddling" charges. Since Trump did not dismiss that option out of hand, an outcry rose in the establishment media and officials, escalating to farcical suggestions online that the president was about to haul American citizens off to be tortured in the KGB cellars.
Central to this was former ambassador Michael McFaul, who Moscow believes may have facilitated the shady dealings of UK financier and tax dodger Bill Browder, wanted in Russia. Considering there are no charges against McFaul and no extradition treaty between the US and Russia, the worst that could have awaited the ex-envoy was an interview on American soil. Still, the Senate discussed the proposal to allow for the questioning of US officials by Russia, and voted it down 98-0.
READ MORE: US establishment rallies around martyr figure of ex-ambassador McFaul
'Traitor' Trump invites Putin to Washington
After the summit in Helsinki, which Trump hailed as a success and his opponents branded a disaster, the White House announced that the president was inviting Vladimir Putin to visit Washington DC this fall. While some might have seen it as a potential diplomatic breakthrough, the usual suspects could not forgive such a new level of "treason" on part of the POTUS.
Responses ranged from calling the planned diplomatic visit event the "fall of Democracy," all the way through accusing Trump of choosing "Putin over the American people" and down to comparing it to George W. Bush inviting Osama bin Laden to the White House right after 9/11.
The most widely-publicized reaction was that of Trump's own Director of National Intelligence Dan Coats, who was caught flat-footed by the news in the middle of a TV interview. His incredulous "say that again?" was promptly interpreted as a sign of resistance and an omen that he could soon be fired – so much so, that Coats later had to explain himself, admitting his reaction was "awkward," but no disrespect was implied.
GOP Congressman Rohrabacher is a 'Russian hire'
Browder, who resides in the US and deems himself a personal enemy of Putin, was speaking at the Aspen Security Forum this week along with numerous other adherents of the 'Russiagate.' Among other things, Browder accused Republican Dana Rohrabacher of being "on the payroll of Russia," because of his lobbying to overturn the Magnitsky Act – a piece of legislation that led to sanctions against Russian officials accused of human rights violations. It began with Browder's accusations against Moscow over the death of a member of his staff in a Russian jail.
READ MORE: Accused fraudster Browder claims GOP Congressman Rohrabacher is 'on Russia's payroll'
Faced with a request for evidence, Browder downplayed the accusation, saying he didn't really mean Rohrabacher was a full-blown Russian agent, just "under some type of influence by the Russian government." In any case, Browder didn't have the "bank transfers to prove it."
Russia planted 'honey trap' Butina in GOP – and going to 'war' to get her back
Detained late last week in the US, Russian student and gun rights activist Maria Butina has been charged with being an unregistered Russian agent on American soil. The prosecution's claims include her using sex to get into a position of influence with Republican officials. Russia believes the arrest is a political stunt, especially considering it was timed to the Helsinki meeting between Trump and Putin, while charges against Butina have been fabricated.
The Russian Foreign Ministry's attempt to defend Butina online with a hashtag and a user pic change was met with a torrent of mockery, expletives and puns from the US establishment's digital conscripts. One award-winning journalist went as far as equating the Foreign Ministry's support campaign to a declaration of war. She clarified she had meant a "troll war," but that didn't spare her a few reminders by concerned commentators of what a real war actually looks like.
Like this story? Share it with a friend!
You can share this story on social media: