Accused fraudster Browder claims GOP Congressman Rohrabacher is 'on Russia's payroll'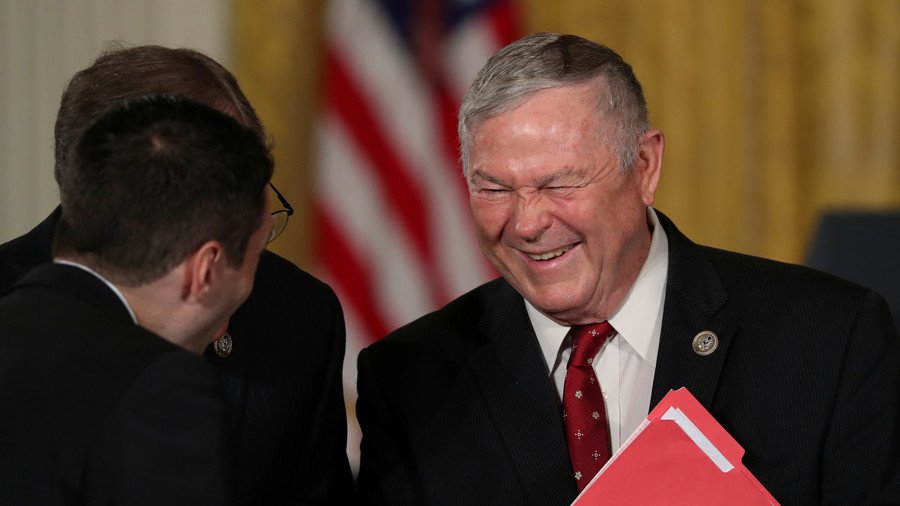 Financier Bill Browder, wanted in Russia on tax evasion charges, has accused Republican Congressman Dana Rohrabacher of being a Moscow stooge, alleging that he was paid by the Kremlin to lobby for the repeal of the Magnitsky Act.
Browder made his bold statement about Rohrabacher, who chairs the US Congress Subcommittee on Europe, Eurasia and Emerging Threats, in a speech during a panel discussion at the Aspen Security Forum on Friday.
Self-styled as "Putin's biggest critic," Browder was accusing Moscow of bribing foreign officials to promote its interests abroad, when he embarked on a personal offensive against Rohabacher.
"There is one member of the US Congress, who, I believe, is on the payroll of Russia. He is a Republican congressman from Orange County, Dana Rohrabacher, who is running around trying to overturn the Magnitsky Act on behalf of [Russian lawyer] Natalia Veselnitskaya, who is the person who went to Trump Tower," Browder said.
Pressed by a bewildered moderator to back up his claims that Rohrabacher is effectively an agent of the Kremlin with some facts, he toned down his initial remarks.
"I did not say he's an agent of the Russian government, I believe he is under some type of influence by the Russian government," he said.
Asked if he had any evidence of such nefarious collusion, Browder acknowledged that he did not have "bank transfers to prove it," but asserted that he still believes his suspicions to be correct.
According to Browder, the founder and CEO of Hermitage Capital, Rohrabacher's actions speak for themselves.
Those actions include taking documents referring to Browder's tax evasion probe from Russian Deputy Prosecutor General Viktor Grin when Rohrabacher went to Moscow as part of a congressional delegation in 2016.
In addition, Browder alleged that the congressman "was also entertaining Natalia Veselnitskaya on various occasions," without providing any further details.
In 2017, Browder filed a complaint against Rohrabacher to the US Treasury's Office of Foreign Asset Control. This alleged that the congressman had violated Russia sanctions by listening to the Moscow prosecutor's side and taking relevant documents to Washington.
Rejecting the allegation, Rohrabacher said that Browder's complaint suggested he did not want potentially damaging facts to come to light, claiming that "attempts to intimidate a member of Congress not to look at both sides is suspicious in and of itself."
Browder's attack on Rohrabacher comes days after the lawmaker admitted that he once participated in a Russian-US meeting, which was also attended by Maria Butina, a Russian gun activist who was arrested in the US on charges of acting as an unregistered agent of the Russian government. Her trial in the US is scheduled to commence next Wednesday.
Rohrabacher told Politico that the meeting was of "no consequence," and called accusations against Butina "ridiculous" and "an attempt to undermine the president's ability to have better relationships with Russia."
Browder's own name resurfaced this week following the summit between US President Donald Trump and Russian President Vladimir Putin in Helsinki on Monday. During the press conference, Putin proposed that the US allows Russian prosecutors to interview people suspected of tax evasion in Russia. These would include Browder, a fugitive, and former US ambassador to Russia Michael McFaul, who may have facilitated his dealings.
Under the proposal, Moscow would provide FBI Special Counsel Robert Mueller's team with an opportunity to question indicted Russians who are accused of meddling in the 2016 US presidential election. Washington rejected the proposal.
Daniel McAdams, executive director of the Ron Paul Institute, said that Browder and the Russian authorities were not always at loggerheads. The financier held the Moscow government in high regard until its authorities delved into his shady financial dealings.
"He was a big hedge fund operator in the '90s in Russia when billions of dollars were taken by corrupt individuals. Fortunes were made, in fact Browder himself made over a billion dollars with his hedge fund," McAdams said, noting that "his very positive attitude toward Russia continued through the Putin era despite what you may hear on television.
"Everything was fine and dandy until it seems that some of his past caught up with him, at least, according to the accusations, that he was dodging taxes."
Subscribe to RT newsletter to get stories the mainstream media won't tell you.
You can share this story on social media: