'Not a punching bag': Ex-Trump lawyer Cohen says he will put family & country before POTUS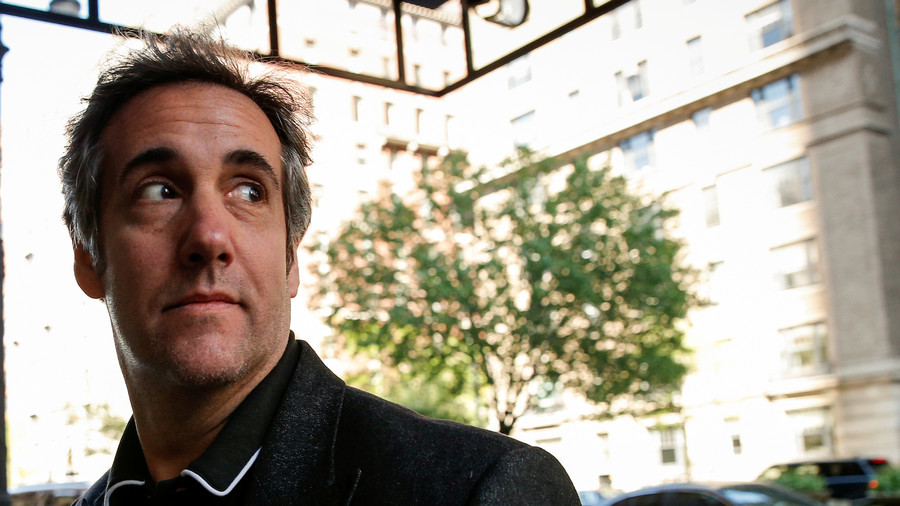 The disgraced former lawyer to US President Donald Trump, Michael Cohen, has indicated he will trade the remains of his loyalty to Trump for his family and country's interests, pledging full cooperation with the Russia probe.
Cohen, who had been the longtime personal lawyer and confidante of President Trump, has distanced himself from the quagmires of his former boss, telling ABC in an interview that first and foremost he cares about his family and country.
While this statement may seem nothing out of the ordinary if uttered by another former Trump associate after a falling-out with the president, Cohen stands out, since it was him who in an interview with Vanity Fair last September said that he was "the guy who would take a bullet for the president.""I'd never walk away," he stressed at the time.
However, in the interview with ABC, his first in-depth one, the lawyer said that he would not let anyone use him to make him look like a guilty party.
"I will not be a punching bag as part of anyone's defense strategy. I am not a villain of this story, and I will not allow others to try to depict me that way," Cohen asserted.
He is currently being investigated for a possible campaign law violation, for his paying hush money to porn star Stormy Daniels before elections, for what she claims was her affair with Trump. He also faces possible bank fraud charges relating to his personal business transactions.
Cohen said that he has been fully cooperating with both FBI Special Counsel Robert Mueller's team and with Congress, in their lingering "Russiagate" investigation. While he has not been interviewed by the Mueller team as of yet, he has already provided some documents to the special prosecutor's office.
Unlike his former boss, who lashed out at the FBI for swooping down on Cohen's home, hotel suite and office in April, tweeting "a total witch hunt" in capital letters and "attorney-client privilege is dead!," Cohen heaped unlikely praise on the FBI agents for being "respectful, courteous and professional" as they were searching his property.
"I don't agree with those who demonize or vilify the FBI. I respect the FBI as an institution, as well as their agents," Cohen said, rejecting the notion of a 'witch hunt,' Trump's favorite name to call the protracted 'Russiagate.'
"I don't like the term witch hunt. I respect our nation's intelligence agencies'... unanimous conclusions," he said, stopping short, however, of siding with those who accuse Moscow of meddling.
Noting that he is not yet willing to spill all the beans about the hush payment he made to Daniels, Cohen indicated that he is very much looking forward to setting the record straight, but is forced to hold back now, at the advice of his legal counsellor, Guy Petrillo.
"I want to answer. One day I will answer," Cohen said, responding to a question on whether Trump was aware of the payment to Daniels, which has become central to the story.
Petrillo, an ex-federal prosecutor with the Southern District of New York, has yet has to fully assume his duties as Cohen's legal representative. The rumors that Cohen had hired the lawyer as his new defender surfaced in June.
After this assumption of duty is complete, it will void the joint defense agreement between Cohen and Trump, which had allowed their legal representatives to share documents and information, and may also possibly untie Cohen's hands.