'Time to go': Veteran US ambassador to Estonia resigns over Trump's EU & NATO rants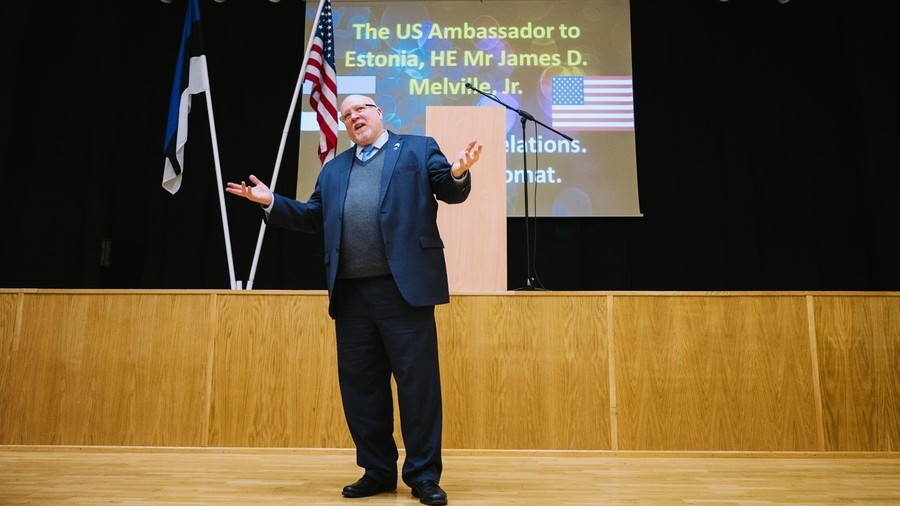 Donald Trump's careless statements and clumsy transatlantic policies have reportedly forced the US ambassador to Estonia to retire from his post, saying these values are no longer compatible with "his DNA."
"The United States' Ambassador to Estonia, Jim Melville, announced his intent to retire from the Foreign Service, effective July 29, after 33 years of public service," a State Department spokesperson confirmed, after it was reported that the career diplomat had sent out a private Facebook message notifying his friends of his decision to quit.
Apparently, American values under the new administration are no longer compatible with his "Foreign Service Officer's DNA," Melville said, explaining that he disagrees with Trump's view of NATO and transatlantic relations with the EU.
The diplomat's decision follows a series of statements by the US president at the G7 summit in Quebec, in which he complained that Washington has become a "piggy bank that everyone keeps robbing." The US leader also wasn't shy from thrashing NATO, reportedly claiming that the military alliance was "as bad as NAFTA," the North American Free Trade Agreement that he has vowed to renegotiate.
"For the President to say the EU was 'set up to take advantage of the United States, to attack our piggy bank,' or that 'NATO is as bad as NAFTA' is not only factually wrong, but proves to me that it's time to go," Melville said, in a private message seen by Foreign Policy Magazine.
Melville's retirement announcement comes less than two weeks before the NATO summit convenes on July 11 in Brussels. At the meeting, Trump is widely expected to once again demand greater contributions from other member states of the alliance. "Germany has to spend more money. Spain, France. It's not fair what they've done to the United States," Trump told reporters on Friday, aboard Air Force One, reiterating his demands for a two percent contribution of a nation's overall GDP to NATO.
Melville is not the first member of the American diplomatic community to have quit his job over Trump's administration policies. Acting Assistant Secretary for East Asian and Pacific Affairs Susan Thornton has also reportedly decided to leave her job on Friday, CNN reports, citing two State Department officials.
'Not the language used': Trump after reports of 's***hole' countries remark about African nations
The US ambassador to Panama, John Feeley, was also forced to resign in January this year, after Trump described Haiti and African countries as a "sh*thole."
Elizabeth Shackelford, a member of the diplomatic corps in Africa, was another senior member of the Foreign Service community to announce her departure in November, citing the administration's failure to promote US interests overseas.
If you like this story, share it with a friend!