Elon Musk & the farting unicorn: Cartoon dispute drags Tesla boss into 'compensation' row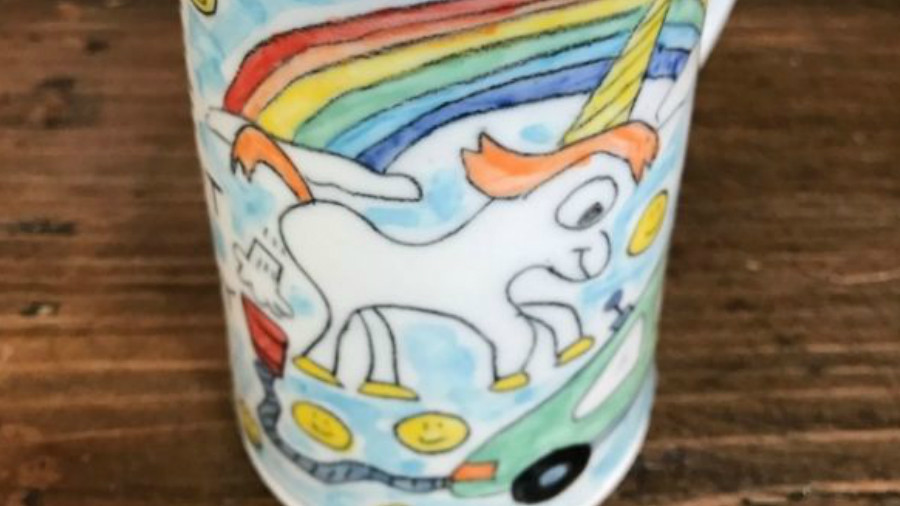 Elon Musk has become embroiled in an intellectual property row after telling an artist it would be "kinda lame" if he sought compensation over allegations Tesla reproduced his work without permission.
*Editorial note: This article contains a series of tweets from Elon Musk which were seen by RT.com on Thursday. Musk has since deleted the tweets but their embeds remain visible.
The Tesla CEO tweeted a photo of an original mug by Colorado artist Tom Edwards in February last year, saying the piece of pottery, which featured a cartoon of a unicorn farting electricity, was "maybe my favorite mug ever." Musk deleted the tweet on Thursday.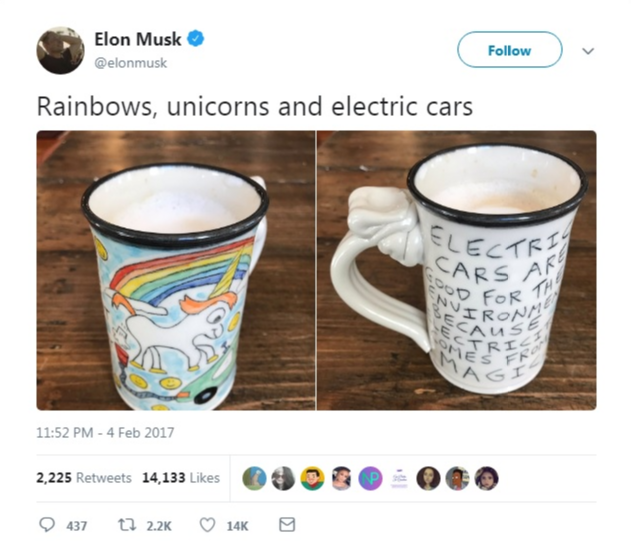 READ MORE: Tesla's car-production tent embarrassingly dubbed 'stone age of auto manufacturing' (VIDEO)
The billionaire's admiration for the image seemingly grew as it later appeared on promotion material for a new sketchpad feature, as a small icon on the car's operating system, and was even used on a company Christmas card. When Tesla failed to respond to a letter from Edwards asking for a consultation to discuss compensation, the potter's daughter, Lisa Prank, took to Twitter to raise the issue with Musk directly.
Your company has been using his creative property for a year without credit or compensation—don't you think artists deserve to be paid for their work? Maybe you can respond to the letter his lawyer sent you & you guys can work something out

— Lisa Prank (@lisaprank) June 27, 2018
READ MORE: Tesla 'on autopilot' smashes into parked police car (PHOTO)
Amazingly, Musk responded, saying Edwards "can sue for money if he wants, but that's kinda lame," and claimed his intervention boosted the artist's sales. "I popularized your Dad's mug for free, he made thousands of dollars as a result & now he wants more money because someone else's drawing of that mug was used as a sketch pad example in a *hidden* feature," Musk wrote.
Was actually someone else's drawing of a unicorn on hidden Tesla sketch pad app & we gained no financial benefit. Have asked my team to use a diff example going forward. He can sue for money if he wants, but that's kinda lame. If anything, this attention increased his mug sales.

— Elon Musk (@elonmusk) June 27, 2018
Prank claimed the issue was one of "stolen intellectual property" and called on the tech tycoon to engage with her father's lawyer to reach a settlement.
it's a copyright issue of stolen intellectual property—I'm not sure exactly what he wants! Maybe whatever wage you normally pay graphic designers to come up with content for you? The person to discuss this with is his lawyer, who sent you a letter you didn't respond to

— Lisa Prank (@lisaprank) June 27, 2018
READ MORE: Musk to fire 9% of staff in 'difficult reorganization' of perpetually unprofitable Tesla
In a later series of tweets, which have also been deleted, Musk called an article purporting to detail the dispute "BS" and said he twice offered to pay the artist "for something we don't even want." He then claimed to "definitely care about artists getting compensated. It would be unfair not to do so." Finally, replying to one commentator's plea to "stop freeloading," Musk said: "Too bad, I'm stealing his mug crayon drawing."
Too bad, I'm stealing his mug crayon drawing of 🦄💨. Tough 🥜

— Elon Musk (@elonmusk) June 28, 2018
Think your friends would be interested? Share this story!