A vision of the future? 28-year-old socialist stirs up New York politics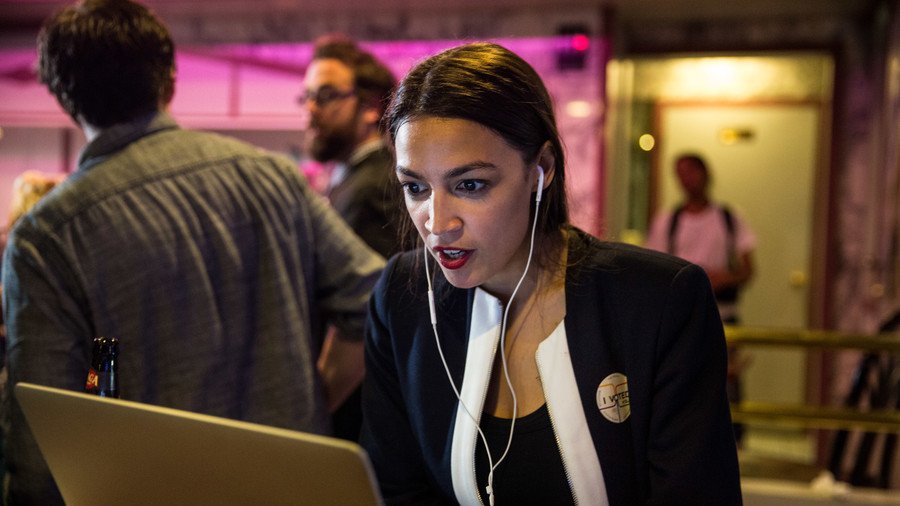 A 28-year-old socialist has shaken up New York politics and sent shockwaves through the Democratic Party by defeating 10-term incumbent Joe Crowley in the party's congressional primary.
The political newcomer, Alexandria Ocasio-Cortez, who was working as a server in a New York restaurant just nine months ago, is a former volunteer for Bernie Sanders' 2016 presidential campaign and comes from a Puerto Rican family. She won the primary with 57.5 percent of the vote in a largely ethnic-minority district.
Crowley, an establishment Democrat, who had been whispered about as a future leader of the party, had not faced a challenger from the left in 14 years — and his defeat will surely have come as a major shock.
This is the start of a movement.Thank you all.

— Alexandria Ocasio-Cortez (@Ocasio2018) June 27, 2018
In fact, Crowley was so assured of his victory that he made what was perhaps his fatal mistake: He skipped two debates with the millennial candidate and on one occasion sent a surrogate in his place — moves which came across, naturally, as arrogant snubs to both his opponent and to voters.
Since the defeat of former Secretary of State Hillary Clinton in the 2016 presidential election, progressives in the Democratic party — and outside it — have warned that this kind of complacency would hurt the party in the long run. They argued that the party needed to put forward more truly progressive candidates if it wanted to regain control of the House of Representatives in the November midterm elections.
Impervious to common sense and unwilling to learn the lessons from Clinton's loss, the top dogs in the Democratic party were still reluctant to listen. In April, a secret recording was leaked, of House Minority Whip Steny Hoyer telling progressive candidate Levi Tillemann, who was running in Colorado's Sixth District, that he should get out of the race to make room for Jason Crow, the candidate favored by the Democratic Congressional Campaign Committee. Tillemann ended up losing his primary to Crow, but the real lesson for Democrats is in New York.
Ocasio-Cortez's victory sends a resounding message to the Democratic establishment: Progressives are demanding change — and the party can't afford not to listen to them.
The Sanders-style Democrat ran on a socialist platform far to the left of Crowley. Her policies included abolishing the Immigration and Customs Enforcement agency (ICE), medicare for all, free university education, criminal justice reform, and a federal jobs guarantee.
She also challenged the conventional wisdom that Democrats need to take massive donations from corporations in order to win. She took no corporate donations. Instead, she managed to raise more small donations than any other congressional candidate in New York, which allowed her to campaign sincerely on a platform for economic justice, while exposing Crowley as a centrist who does not represent real change.
Ocasio-Cortez's victory should be seen as a test for Democrats. Are they, finally, willing to learn the lessons from Clinton's defeat and the growing movement towards real progressive politics — or will they bury their heads in the sand?
The triumph of a 28-year-old socialist against one of the top figures in the Democratic party should be a wakeup call. It's time for Democrats to ask themselves what could have been if they had had the foresight to nominate a likeable, less-divisive and more progressive candidate to run against Trump in 2016. Surely it is beginning to dawn on them that doing everything in their power to thwart Sanders and rig the primary against him was akin to shooting themselves in the foot.
Ocasio-Cortez will face off against Republican candidate Anthony Pappas in the November midterm elections and, if she wins, she will become the youngest woman ever to be elected to the US Congress.
If you like this story, share it with a friend!
You can share this story on social media: