Tesla 'on autopilot' smashes into parked police car (PHOTO)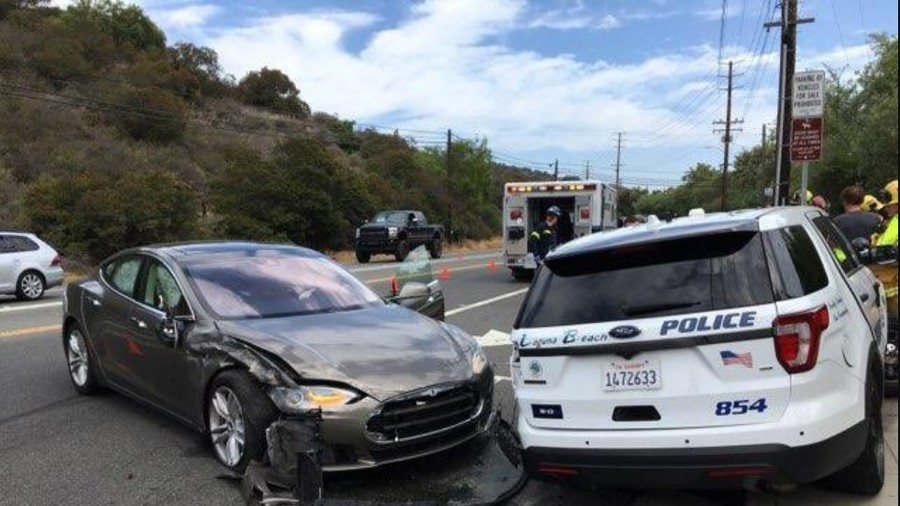 A Tesla Model S crashed into a parked police vehicle while reportedly driving on autopilot in Laguna Beach, California, injuring the Tesla driver and badly damaging the cop car.
Laguna Beach Sergeant Jim Cota said on Twitter that the cop car was unmanned at the time of the impact, while the Tesla driver sustained minor injuries. The crash happened soon after 11am Tuesday on Laguna Canyon Road. Cota told the LA Times the "police car is totalled."
The driver told police the car was operating on autopilot at the time of the crash. Tesla's autopilot system uses sensors, cameras, and radar to study the vehicle's surroundings and carry out automatic functions which include emergency braking. The company describes it as being a "driver assistance system."
"When using Autopilot, drivers are continuously reminded of their responsibility to keep their hands on the wheel and maintain control of the vehicle at all times," Tesla said. "Tesla has always been clear that Autopilot doesn't make the car impervious to all accidents."
READ MORE: 5 fatal crashes that put brakes on self-driving car industry
According to Cota, a Tesla on autopilot crashed into a semi-truck at the same location last April. Police are examining whether something about the area's lane markings or topography are creating a problem for the cars' technology, KTLA reports.
Tesla cars have been involved in a number of recent crashes involving autopilot mode. In March, a Model X hit a highway divider while on autopilot in California, killing the driver.
In Utah, a Model S in autopilot crashed into a fire truck stopped at a red light in May. Two people were injured in the crash. According to the vehicle's data, it sped up just before hitting the truck and the driver hit the brakes seconds before impact. In January, a Model S crashed into a parked fire truck in California while on autopilot.
Tesla founder Elon Musk complained about the press coverage Tesla crashes are receiving earlier this month. "It's super messed up that a Tesla crash resulting in a broken ankle is front page news and the ~40,000 people who died in US auto accidents alone in past year get almost no coverage," Musk wrote about the Utah crash on Twitter.
What's actually amazing about this accident is that a Model S hit a fire truck at 60mph and the driver only broke an ankle. An impact at that speed usually results in severe injury or death.

— Elon Musk (@elonmusk) 14 May 2018
Like this story? Share it with a friend!