Tesla's car-production tent embarrassingly dubbed 'stone age of auto manufacturing' (VIDEO)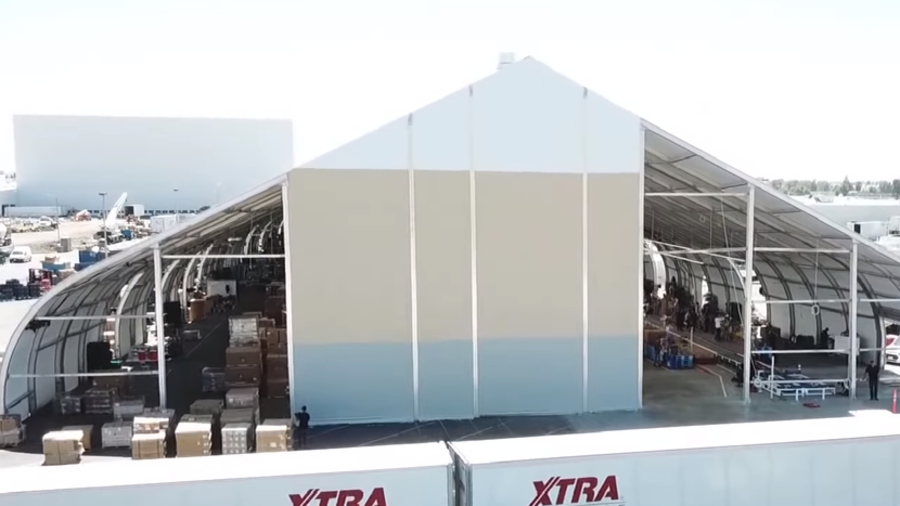 Elon Musk's tent-style "Alien Dreadnought" factory is using obsolete production processes to catch up on manufacturing of the Tesla 3 model, new drone footage of the facility has revealed.
"This is the stone age of auto manufacturing," wrote Twitter user @skabooshka, introducing his aerial footage of the newly erected giant manufacturing tent at Tesla's Fremont factory car park.
In order to keep up with production levels of the Model 3, Tesla has erected an assembly line inside a huge tent in a bid to reach the targeted manufacturing volume of 5,000 units per week.
Despite the futuristic appearance of the "Alien Dreadnought" factory, outdated production techniques are being used inside, the video reveals.
Flying over the structure, the drone footage shows cars being hand-built on a manual line at the right side of the tent. A forklift is being used in the assembly process. On the left side of the tent, there appears to be a lot of junk, kitting, and material storage space.
"This assembly line is still being configured, cannot produce anything but test vehicles, and is limited to making only a token number of vehicles," @skabooshka explained on Twitter.
While Elon Musk defended his tent-style assembly facility just hours after the video was shot, @skabooshka asked: "When will Elon Musk stop lying to the public about what his company can achieve? Or, when will the public, regulatory bodies, and elected officials begin to hold him accountable?"
Musk earlier stated in separate commentary on a video posted on Twitter by an NBC Bay Area reporter: "No standard automotive solution could be built in time, so we created a new solution. It is working and has slightly higher quality than the more traditional general assembly line."
For more stories on economy & finance visit RT's business section