Fonda under fire over Trump pedo threat: RT looks at 5 times liberals got away with it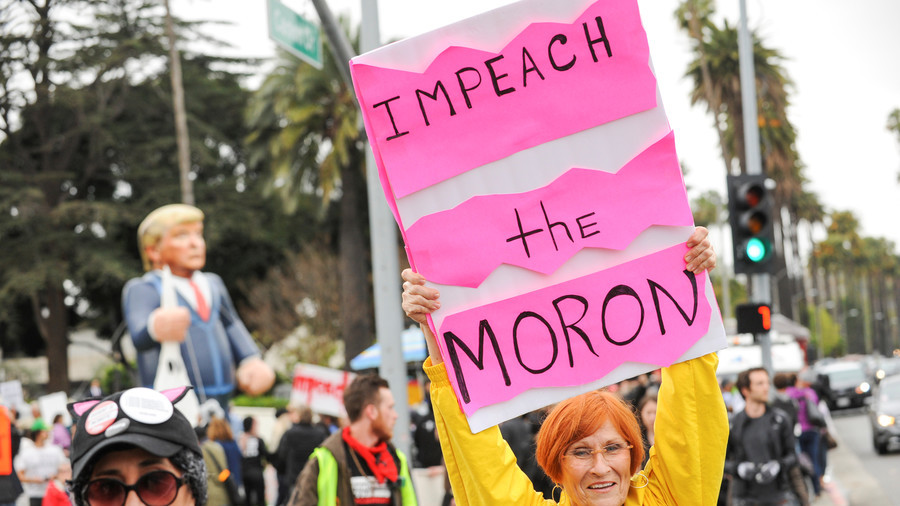 Acting activist Peter Fonda may have found the limit of liberal hypocrisy. His suggestion that Donald Trump's 12-year-old son should be kidnapped and given to pedophiles is proving too much for his shield of self-righteousness.
Fonda was forced to apologize to the Trumps and delete a tweet saying: "WE SHOULD RIP BARRON TRUMP FROM HIS MOTHER'S ARMS AND PUT HIM IN A CAGE WITH PEDOPHILES AND SEE IF MOTHER WILL STAND UP AGAINST THE GIANT ASSHOLE SHE IS MARRIED TO. 90 MILLION PEOPLE IN THE STREETS ON THE SAME WEEKEND IN THE COUNTRY. F**K"
However, First Lady Melania Trump tipped off the Secret Service, and there are calls for Sony Pictures to sack Fonda. Roseanne Barr was sacked last month by ABC for tweeting a little light racism, but she's a well-known Trump-supporting conservative, and they're rarer than hen's teeth in the entertainment industry, so it was only a matter of time.
Fonda, though, is a genuine, bona fide liberal, which usually means he can say pretty much anything he wants because, y'know, he means well. Unless, of course, you don't agree with him – at which point he'll happily suggest feeding you to pedophiles to prove a point.
Here are some other liberals who actually have gotten away with it.
Samantha Bee unloads on Ivanka, but keeps her show
TV host and comedian Samantha Bee faced calls to be sacked for labelling Ivanka Trump an… erm… "feckless c**t." A strange insult really, because liberals spend a lot of their time defending both the 'feckless' and also female private parts, and the right for people to have them – even if they don't actually have them.
What triggered it? Well, Bee was not happy that Ivanka posted a picture of herself cuddling her child online while elsewhere the government has been locking refugees' children in cages. Guess what? Bee was sorry, and she's still on TV.
Joy Reid bashes gays, Israel, McCain, blames Russian hackers
MSNBC commentator and presenter Joy Reid was called out for holding a whole load of controversial opinions which she helpfully wrote down in a blog. The blog is no longer available because the last thing anyone needs if they're making a living as a TV pundit is for people to know what they actually think.
Luckily for her, her comments largely involved criticizing Israel and being nasty about Republican Senator John McCain. In liberal circles, those subjects are what are called 'free-hit' subjects.
Reid also had some interesting views on Muslims and gays, but MSNBC said it's sticking by her because she has "grown and evolved." Some tech experts have concluded her claims that her blog had been hacked suggest she has grown and evolved into someone who may not be telling the truth.
Hillary Clinton shares a kiss with an old Klansman
A photograph showing Hillary Clinton kissing the late Senator Robert Byrd of West Virginia, a former Ku Klux Klan leader, was released online. It's the kind of image that would sink a Republican like, for example, Trump.
But Clinton (says she) is a liberal, which of course means she should be able to kiss whoever she wants without it affecting her access to power. The photo is from 2004 – before she had failed in her bid for the White House – so probably kissed a lot worse in the years that followed. Ultimately, there was plenty of other reasons she didn't become president, but she still got lots of people to vote for her despite her links to Byrd, who she called her "mentor."
Depp calls for Trump's assassination
In a moment completely lacking in self-awareness at the Glastonbury Festival, actor Johnny Depp suggested Donald Trump "needs help" because there are "a lot of dark places he could go."
Depp's ex-girlfriend Amber Heard probably choked on her Chablis when she heard that.
He then referenced the 1865 murder of US President Abraham Lincoln by actor John Wilkes Booth.
"I'm not insinuating anything [and] by the way this going to be in the press and it will be horrible," Depp told festivalgoers. "When was the last time an actor assassinated a president? I want to clarify, I'm not an actor. I lie for a living. However, it's been a while."
But libertarian Depp is lovable Captain Jack Sparrow, so he can say that kind of stuff. He's still getting scripts, and he's still murdering them rather than presidents.
No fine for Colbert after 'c**k holster' rant
CBS talk-show host Stephen Colbert launched into a whole string of insults against Trump, culminating with the memorable phrase "The only thing your mouth is good for is being Vladimir Putin's c**k holster."
Colbert was accused of homophobia, with journalist Glenn Greenwald ironically suggesting: "Homophobia for the right cause, with the right targets, is good homophobia, apparently."
To mangle a phrase from Dr Bruce Banner, don't make liberals angry, they won't like you when they're angry.
#FireColbert was soon trending, but his bosses didn't see it, and he's still on your screens today.
Think your friends would be interested? Share this story!