Was Colbert's attack on Trump homophobic, hysterical, or both?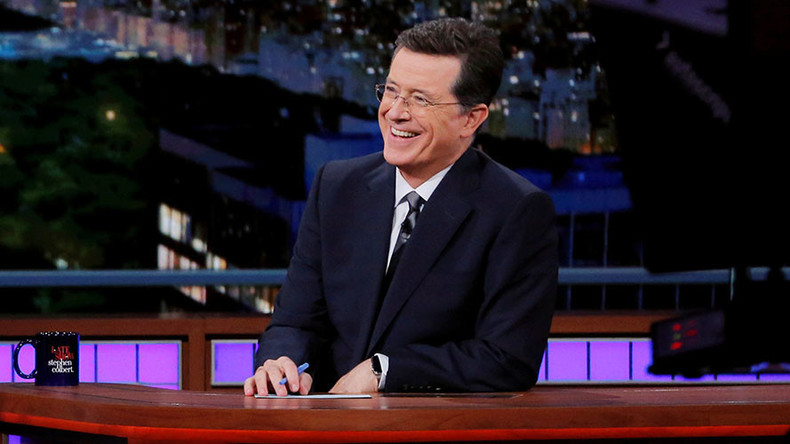 Talk show host Stephen Colbert sparked controversy this week with an anti-Trump joke that some deemed homophobic. Reactions from across the political spectrum reveal much of what ails modern America.
Colbert, host of CBS's The Late Show with Stephen Colbert, took aim at President Trump during his monologue on Monday night. Angered by Trump's walking out of an interview with CBS reporter John Dickerson, host of Face the Nation, which Trump flaccidly re-titled "Deface the Nation," Colbert laid into the president with a scorching barrage of jokes.
Colbert's anti-Trump screed went as follows, "Sir, you attract more skinheads than free Rogaine. You have more people marching against you than cancer. You talk like a sign language gorilla that got hit in the head. In fact, the only thing your mouth is good for is being Vladimir Putin's c**k holster."
It is that Putin-oral sex joke at the end that has stirred calls of homophobia. As a result, the hashtag #FireColbert started trending on Twitter Tuesday night into Wednesday. Alt-right firebrand Mike Cernovich added fuel to the fire by tweeting a video of Colbert making other off-color sexual jokes about Trump and Putin to his followers, and the story grew from there.
Colbert gave a non-apology apology on his Wednesday night show, where he said, "if you saw my monologue Monday, you know that I was a little upset at Donald Trump for insulting a friend of mine. So, at the end of that monologue I had a few choice insults for the president in return. I don't regret that. He, I believe, can take care of himself. I have jokes; he has the launch codes. So, it's a fair fight. So, while I would do it again, I would change a few words that were cruder than they needed to be."
The #FireColbert camp is, according to some, made up of Trump supporters with a few liberals and members of the LGBTQ community sprinkled in. The argument of the #FireColbert movement is twofold, first is that Colbert should be fired because the joke in question is homophobic since it implies that gay sex is shameful and demeaning, and, second, because the offending joke was much too vulgar for network television and disrespectful of the presidency.
With regards to the charges of Colbert's indecency and disrespect, Trump supporters being offended by that is like someone making it rain outside and then complaining about the weather. Trump may be the most crude and crass politician to have ever soiled the public square. It is pretty disingenuous to get upset at a comic for telling a ribald joke when you tolerate your candidate saying he will "bomb the s**t" out of people, or that he can grab women by their genitals whenever he wants. Trump also never failed to be disrespectful of the presidency when President Obama held the office. If Trump's boorishness and impudence towards Obama didn't offend his supporters during the campaign, then it is a bit rich of them to feign indignation at Colbert's discourtesy now.
It is also pretty tough to swallow, no pun intended, Trump supporters being upset over homophobic remarks when Trump's political incorrectness was his main appeal to many who backed him. Add to that the right's historical discomfort with gay rights and you are left with the impression that Trump supporter's dislike of Colbert's homophobia is little more than political opportunism.
What this is really about for those on the right is not homophobia or vulgarity, but wanting the scalp of a popular liberal icon to boost their cause, just like the left yearned for the firing of Bill O'Reilly in order to get in a dig at Trump. The fact that Colbert, who made a name for himself masterfully satirizing and mocking O'Reilly from 2005 to 2014 on his old show The Colbert Report, is now facing calls for his own ouster weeks after his comedy inspiration O'Reilly failed to survive a similar campaign, is one of the delicious ironies of this entire episode. A case of art imitating life imitating art, an example of the madhouse that is our popular and political culture at the moment.
But let's not kid ourselves, the stench of hypocrisy wafting through the air regarding Colbert's situation does not only originate from Trump supporters.
The Advocate, a leading LGBTQ magazine, quickly put out an article in defense of Colbert that stated, in essence, the homophobia of his joke was fine solely because it was aimed at Donald Trump. The liberal and gay establishment shamelessly signing off on Colbert's homophobia because it targets Trump, leaves them guilty of the same insincerity as their right-wing counterparts.
Imagine for a moment, if someone had said something similar regarding President Obama, the liberal outrage machine, always on the lookout for any slight or slur, would have gone into overdrive screaming homophobia, The Advocate loudest of all.
If you make the argument for political correctness, as the left consistently does, that words matter, then that means they matter all the time, regardless of at whom they are aimed. Liberals have been up in arms over nearly everything Trump says and tweets, most times rightfully so, but you cannot hold your opponent to one standard and yourself to another and maintain any semblance of moral authority.
Not all members of the LGBTQ community have taken Colbert's alleged homophobia so lightly. Pulitzer Prize winning reporter Glenn Greenwald, a gay man, has been deeply disturbed by the left's use of homophobic taunts to attack Trump from the get go. Greenwald responded to Colbert's joke and the lack of anger from the left by tweeting, "homophobia for the right cause, with the right targets, is good homophobia, apparently."
Greenwald is the most rare of creatures in public life, a person with intellectual integrity. That said, while I agree with Greenwald about the hypocrisy of those on the left, I vehemently disagree with his discomfort over Colbert's joke. Most importantly because it was a joke, albeit a harsh one that was funny and well-executed.
Secondly, the question is, was the joke too vulgar? Of course it was, but crying foul over vulgarity in our current culture is like handing out speeding tickets at the Indy 500 – it is a fool's errand at best. If you're looking to scorn the indecent in America, throw a rock in the air, you'll hit someone guilty.
The crux of the matter is this, was the joke homophobic? To some, like Greenwald, the answer is a resounding yes, and I respect his opinion on such things. But even if it is deemed homophobic by Greenwald and others, should Colbert be punished for saying it? My answer is an emphatic no.
We have many rights in America, but the right to NOT be offended isn't one of them. We have become much too delicate when it comes to the spoken and written word. People need to screw their courage to the sticking place and stop being so sensitive. We are all too quick to take external offense at the words of others and much too slow to introspection and rumination. In the battle between freedom of speech and protecting feelings, I'll take freedom of speech every single time.
Political correctness has ruled the day for the last decade, and it has done nothing to stop the scourge of coarseness and incivility that has infected our society. Our culture sinks to new lows and becomes baser daily, and policing speech and protecting from offense has done nothing to make us more civil. In fact, it has only exacerbated the problem. President Trump and his opposition are damning evidence of that.
This Colbert brouhaha is one of those cases where many things are true all at once. It is true that both the Trump supporting #FireColbert folks and Colbert's liberal defenders reek of self-serving hypocrisy. It is also true that people with pure and good intentions, like Glenn Greenwald, can be offended by Colbert's joke, but still be misguided in their hyper-sensitivity.
As difficult as it may be at times, we must let people, comedians most of all, say what they want to say and, short of violent speech, we should learn to be comfortable with our discomfort when others offend us.
Why should comedians most of all be allowed free expression? Comedians play a vital role in keeping a society mentally and emotionally healthy. Comedians are meant to hold the psychological shadow, all of our darker thoughts and impulses, for the culture's collective unconscious. If we don't give comedians wide berth and freedom to say all the things that are taboo and offensive, then our shadow will most certainly find another voice through which to express itself. The next thing you know, it won't be comedians saying all the things we aren't supposed to say, but politicians, some of whom will have the launch codes.
Michael McCaffrey, for RT
Michael McCaffrey is a freelance writer, film critic and cultural commentator. He currently resides in Los Angeles where he runs his acting coaching and media consulting business. mpmacting.com/blog/
The statements, views and opinions expressed in this column are solely those of the author and do not necessarily represent those of RT.
You can share this story on social media: