'Stop whining, media!' Jon Stewart slams press over Trump 'break-up' (VIDEO)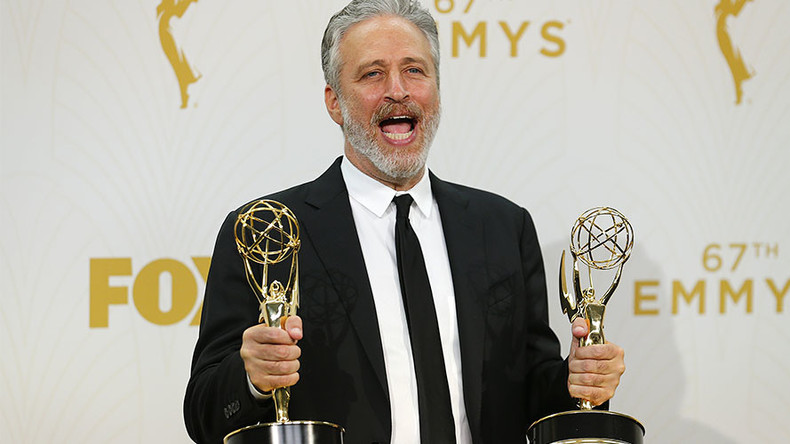 US comedian Jon Stewart chimed in on Donald Trump's contentious relationship with the media when he made a surprise appearance on Monday on the 'The Late Show with Stephen Colbert'.
The former 'Daily Show' presenter jeered the media's "break-up" with Donald Trump, instigated by last week's ban on some major MSM news outlets from attending a White House press briefing.
Stewart brought back some of the old fire from his time presenting the 'Daily Show', railing against Trump and how the media has covered the testing relationship with the White House.
"Ohhh, it's un-American not to like the press," Stewart started, before looking directly into the camera. "You know what I say? I say stop your whining, press! Can I talk to the media for a moment?"
"Hey guys, hey media," Stewart said. "So, I heard Donald broke up with you. Stings a little, doesn't it? You finally thought you'd met your match. A blabbermouth who's as thin-skinned and narcissistic as you are. Well now it's over! Well, good riddance, I say! Kick him to the curb."
The US satirist-in-chief then spent no time in outlying his disdain for Trump, claiming the president "lies more in one press conference than CNN does in a year, and that's coming from a guy who, as you know, hates CNN."
Stewart claimed to be able to tell that Trump is lying when he uses the phrase "believe me". He then showed a number of clips of Trump using the words before demonstrating them in his own example. "Democrats in disarray? No, they have a plan. Believe me."
Stewart ended his tirade with an attack on the media and its reaction to Trump's brash handling of the relationship.
"Here's my point, media. This break-up with Donald Trump has given you, the media, an amazing opportunity for self-reflection and improvement. Instead of worrying about whether Trump is un-American; or if he thinks you're the enemy; or if he's being mean to you; or if he's going to let you go back into the briefings; do something for yourself. Self-improvement! Take up a hobby. I recommend journalism."