#Russiansdidit: Stephen Colbert latest 'hacking victim'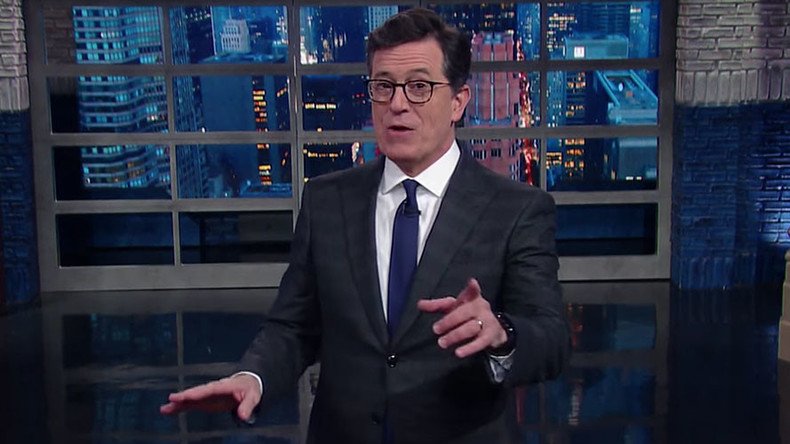 Stephen Colbert's 'The Late Show' is the latest to claim it's a victim of "Russian hacking" amid a trend of increasingly bizarre #Russiansdidit and #Russianhackers accusations within the US media.
As Colbert was giving a monologue on 'The Late Show' about Russian hacking and the recent controversy surrounding C-Span's feed unexpectedly showing RT footage, the show was suddenly 'interrupted'.
READ MORE: RT broadcast interrupts C-SPAN live stream, sends Twitter into conspiracy craze (VIDEO)

"It's unclear just how this happened," Colbert said of the C-Span disruption before being cut off. "But a lot of people are worried it's a hack. Luckily, I've been assured the CBS feed is secure and there is no way for Russia to ever…"
The show was then interrupted with what was meant to be RT footage of Russian singer Eduard Khil, complete with an RT logo.
Earlier this week, Russian hackers were blamed for the leaked 'Sherlock' script – and the blame game continues.
READ MORE: Sherlock no match for Russian Hackers: Twitter erupts as season finale leaked online
The Russians are getting the blame for everything on social media, from the effects of drinking vodka, to Brexit.
Some claim Russian hacking is the reason the Clinton Global Initiative is shutting down.
Meanwhile, others are claiming Russian president Vladimir Putin is influencing the result of games in the NFL.
Russia is even getting the blame for falling numbers of bees and hedgehogs.
Other Twitter users are using the hashtag #Russiansdidit to mock the anti-Russian hysteria.
You can share this story on social media: