Johnny Depp joins growing list of stars to suggest Trump assassination (VIDEO)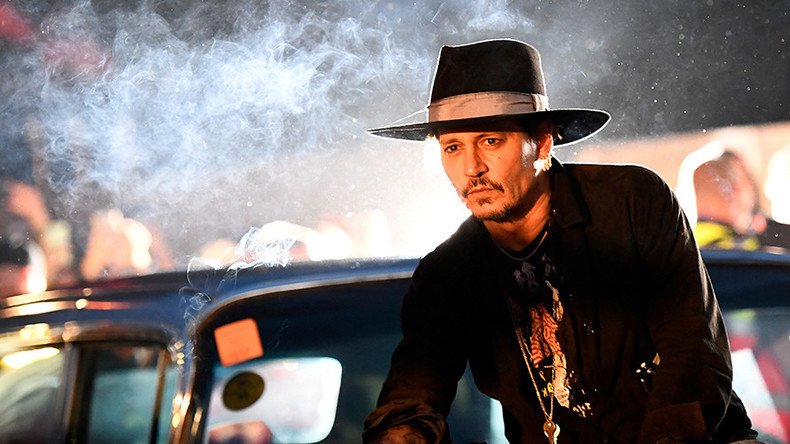 Hollywood star Johnny Depp has become the latest celebrity to broach the subject of assassinating US President Donald Trump. He made the comments during an appearance at the Glastonbury Festival in England.
Amid what he described as the "chaotic madness" of the Somerset performing arts festival, the Pirates of the Caribbean actor joined a growing list of famous faces to suggest bumping off or attacking the controversial US president.
READ MORE: Comedian Kathy Griffin apologizes amid backlash over bloody Trump beheading photo
Depp had been invited to the Cineramageddon outdoor film area on Thursday to introduce his 2004 movie The Libertine, when he went off topic to ask the crowd about an actor assassinating a president.
The American actor expressed his belief that Trump "needs help" because there are "a lot of dark places he could go."
Depp then appeared to joke about killing the Republican commander-in-chief by referencing the infamous 1865 murder of US President Abraham Lincoln by actor John Wilkes Booth.
"I'm not insinuating anything [and] by the way this going to be in the press and it will be horrible," Depp told festivalgoers. "When was the last time an actor assassinated a president? I want to clarify, I'm not an actor. I lie for a living. However, it's been a while," he said.
READ MORE: 'A tragic, dumbass comedy': Robert De Niro's verdict on life in the US
Depp, famous for his role as a swashbuckling pirate and stick-up man Captain Jack Sparrow, joins the company of fellow artists Madonna, Robert DeNiro, and Kathy Griffin, who have all made controversial anti-Trump comments.
Last year, actor Robert DeNiro said in a campaign video that he would like to "punch" Trump in the face.
On January 21, Madonna sensationally admitted to harboring thoughts about "blowing up the White House."
In May, US comedian Kathy Griffin apologized for a provocative photo shoot in which she brandished a bloodied, decapitated model head resembling President Trump.
Depp's own attempt to hit out at the US president has prompted mixed reaction online, with one Twitter user pointing out that his comments come just days after a gunman wounded House of Representatives Majority Whip Steve Scalise.
White House Press Secretary, Sean Spicer, responded to the incident on Friday by describing Depp's comments as "troubling".
You can share this story on social media: