Comedian Kathy Griffin apologizes amid backlash over bloody Trump beheading photo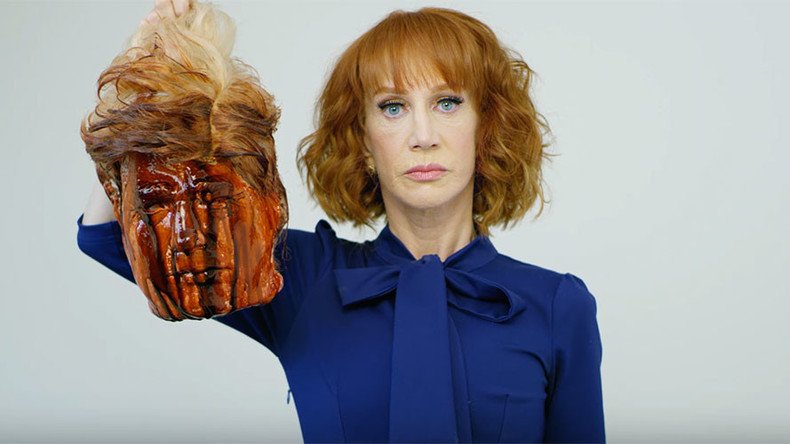 Comedian Kathy Griffin now says she "went too far" in a gory photoshoot where she held up a bloodied, decapitated mock head of President Donald Trump. The backlash against Griffin even rose to the level of the Secret Service, which tweeted it was "on it."
The photos published Tuesday were taken by Tyler Shields, a photographer known for provocative work. "Tyler and I are not afraid to do images that make noise," Griffin said in a behind-the-scenes video released along with the photo, adding: "We have to move to Mexico today, because we're going to go to prison."
By Tuesday night, Griffin had removed the images from her Twitter account and released a video apology.
"I sincerely apologize," she said. "I am just now seeing the reaction of these images. I'm a comic, I crossed the line."
By then, the Secret Service had already tweeted that it was investigating the matter – as it does for all threats to the government officials it protects.
The president took to Twitter to respond to the controversy, telling Griffin she "should be ashamed of herself," adding that his 11-year-old son Barron was particularly affected by the stunt.
Kathy Griffin continued to trend worldwide on Twitter late into the evening, long after the photos had spread over the internet like wildfire. Much of the commentary was harshly critical of Griffin for a range of reasons, including that it could encourage assassination.
Donald Trump Jr. tweeted his distaste at Griffin's photo, as did Chelsea Clinton, daughter of former President Bill Clinton and wife Hillary.
CNN responded to the backlash later Wednesday by revealing that the network was dropping the comedian as a co-host from its New Year's Eve program.
Griffin has co-hosted CNN's annual New Year's Eve program alongside Anderson Cooper since 2007. Cooper earlier condemned the tweet as "disgusting" and "inappropriate."
Before her apology, Griffin tweeted: "OBVIOUSLY, I do not condone ANY violence by my fans or others to anyone, ever! I'm merely mocking the Mocker in Chief."
The 56-year-old Griffin has been vocal in her opposition of Trump since he took office, labelling him an "idiot" and "embarrassing," but she also tweeted against him as far back as 2011, following the White House Correspondents Dinner that some credit with firming up Trump's resolve to run for president.
Then-President Barack Obama had joked about Trump at the annual event, and weeks later Trump maintained his belief that he could win a presidential primary and general election, which Griffin ridiculed.
Griffin isn't the first celebrity to depict violence against Trump. In March, Snoop Dogg released a music video which showed the rapper shooting a clown that was dressed as the president.
The video prompted a response from Trump who tweeted: "Can you imagine what the outcry would be if @SnoopDogg, failing career and all, had aimed and fired the gun at President Obama? Jail time!"
You can share this story on social media: