'Do u?' Melania's jacket sparks fresh outrage amid immigration row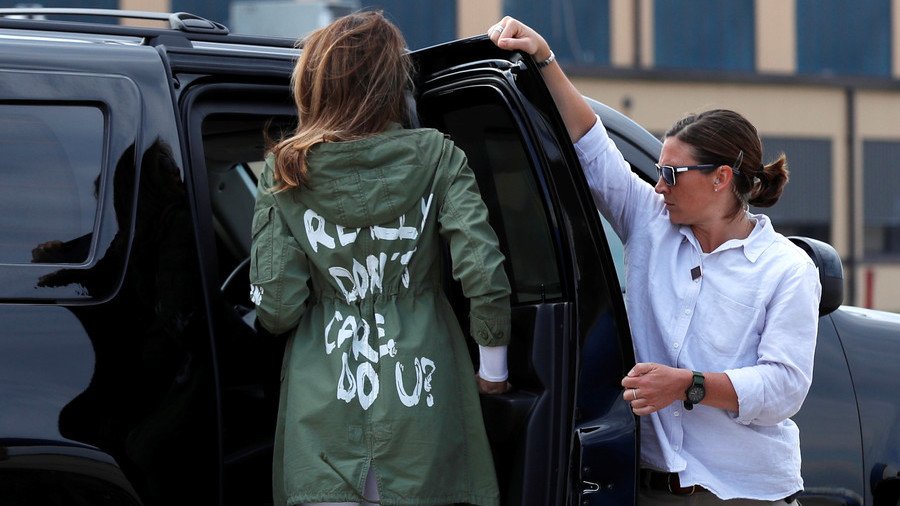 When is a jacket not just a jacket? When it says "I really don't care, do u?" and is worn by First Lady Melania Trump on a surprise visit to a Texas shelter for illegal immigrant children, driving the media crazy.
The first lady flew out to McAllen, Texas, on Thursday morning to visit a shelter for children who crossed the border illegally and had been separated from their jailed parents. The Trump administration came under widespread criticism over the separations, which it said were necessary under the existing laws barring the jailing of children.
All the media could talk about, however, was Melania's jacket, a $40 olive green raincoat from Zara that had the strange message written on the back.
"It's a jacket. There was no hidden message," Melania's spokeswoman Stephanie Grisham said in a statement to the press. "After today's important visit to Texas, I hope the media isn't going to choose to focus on her wardrobe. (Much like her high heels last year)."
Last August, on a visit to Texas following Hurricane Harvey, Melania had boarded Air Force One wearing stilettos. She changed into sneakers before landing, but the heels captured a disproportionate amount of media attention.
The regular chorus of President Donald Trump's critics wasn't buying Grisham's explanation.
"That's like Marie Antoinette ripping a piece of bread from a starving baby and spitting on it," said Eugene Gu, a doctor who recently sued to have Trump unblock him on Twitter.
Amnesty International declared it was "shook by the blatant lack of empathy" and offered to send the First Lady a 'This is What a Human Rights Defender Looks Like' T-shirt to wear instead.
CNN editor Chris Cillizza was also not persuaded by Grisham's explanation.
"She wanted to send a message. To who? Her husband? Her detractors? The media? I don't really know – and don't even want to speculate. But she has lots and lots of jackets. LOTS. She picked this one for a reason," he wrote.
In a Thursday afternoon tweet, the president agreed that there was a message, and said it was aimed at one of Trump's favorite targets, the "fake news media."
"Melania has learned how dishonest they are, and she truly no longer cares!" he said.
Several of his supporters agreed.
The media have obsessively scrutinized Melania's every move, from whether or not she holds hands with her husband to her absence from the public eye following a kidney surgery in April, when some speculated she had been replaced by a body double.
On Wednesday, Melania alerted the Secret Service to a Twitter rant by actor Peter Fonda, who, among other things, said her son Barron should be ripped "from his mother's arms" and put "in a cage with pedophiles."
Unlike actress Roseanne Barr, whose sitcom was canceled by ABC last month over a "racist" tweet, Fonda was not disavowed by Hollywood or banned by Twitter for posting insults or calls for violence.
Trump signed an executive order on Wednesday to suspend the practice of separating children of illegal border crossers from their parents and start detaining them together. Democrats and civil rights groups say that is not good enough, and demand the return to a former practice known as "catch and release," whereby the migrants who enter the US with minor children are effectively immune to arrest.
Think your friends would be interested? Share this story!
You can share this story on social media: