Trump tries to woo Merkel with his Macron moves, but no chemistry there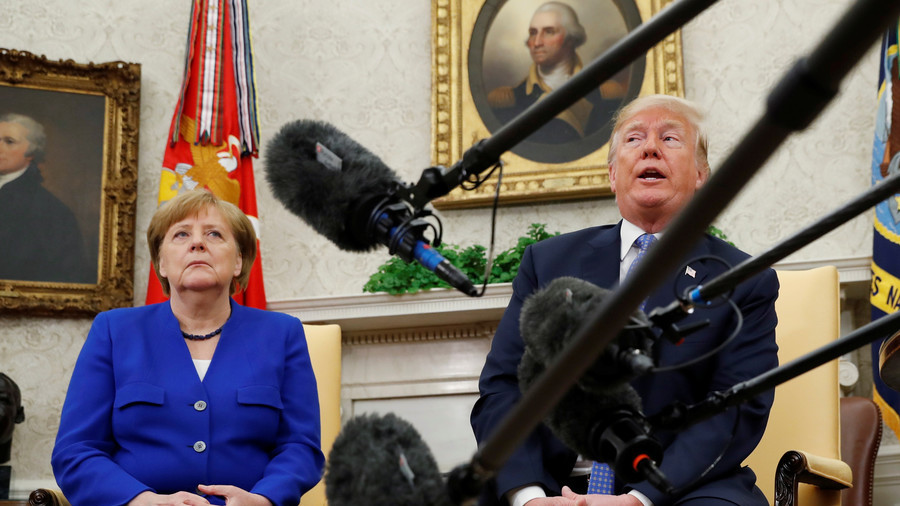 Trump's "hands-on" approach to interacting with Macron did not have the desired effect during Angela Merkel's visit to the White House. The German chancellor showed little interest in getting physical with the US president.
Trump ignited a firestorm of snarky comments and memes earlier this week after numerous photographs documented, in terrifying detail, his "bromance" with French President Emmanuel Macron. But Merkel's summit with Trump did not exude the same level of physical… familiarity. Once overflowing with memes depicting Trump lovingly grooming Macron's hair, Twitter is now busy highlighting the intense lack of chemistry between the US and German leaders.
Trump's attempts at setting the mood began the moment Merkel arrived at the White House, with the US president landing a kiss on each of the chancellor's cheeks – a move which he "picked up" from Macron, according to NPR. Merkel reciprocated the gesture with a head nod and a puzzled look.
READ MORE: Trolling the bromance: Trump-Macron love-in sparks major meme meltdown
Trump later told reporters that his relationship with Merkel was "great" – but clearly it's not 'Macron great':
After a joint press conference on Friday, Trump apparently struggled over whether he should put his arm on Merkel's back. A video of the two leaders exiting the conference shows Trump's arm hovering behind Merkel, at one point making contact to give the chancellor a friendly pat. The video shows Trump making one last attempt at contact – just as Merkel makes a sharp left, outmaneuvering Trump's fabled "small hands."
Perhaps Merkel just had a hard time adjusting to Trump's newfound affection for her. After all, when they met last May, Trump refused to even shake Merkel's hand.
Think your friends would be interested? Share this story!
You can share this story on social media: