Trolling the bromance: Trump-Macron love-in sparks major meme meltdown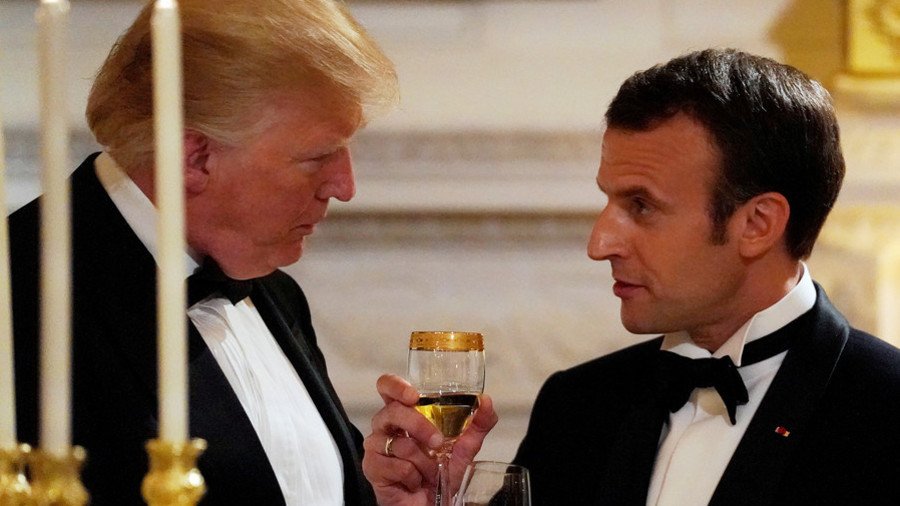 Emmanuel Macron seems to have enjoyed himself during his visit to the White House to see his US counterpart, and apparent BFF, Donald Trump.
The French president and wife Brigitte visited the presidential residence this week where Trump and Macron repeatedly shook and grabbed hands, kissed cheeks and slapped each other on the back. In fact, the tactile pair became so handsy that some doubted you would find a more affectionate display in a candle-lit Parisian restaurant.
READ MORE: Macron: 'We have to make him perfect': Trump brushes 'dandruff' off Macron's suit (VIDEO)
The couples' various photocalls brought out the best in the internet's meme artists, with the two statesmen being refashioned in their wives' stylish garb. Trump was then portrayed as a simian-type character, lovingly grooming his pal in the Oval Office.
READ MORE: Melania keeps escaping Trump's tenderness, Macron offers his hand and cheek (VIDEO)
North Korean dictator Kim Jong-un was added to a scene of the White House lawn, the nuclear-armed strongman apparently leering at First Lady Melania Trump as she struck a slightly awkward pose. In another, Twitter users riffed on Trump and Macron's planting of a tree gifted by the French president, replacing Trump's shovel with a chainsaw, a nod to the property tycoon's alleged anti-environmentalism.
Trump loomed large over the relatively diminutive Frenchman, a fact that didn't escape observers who were quick to liken their dynamic to that of some much-loved Disney characters.
READ MORE: 'Beautiful friendship'? Trump and Macron's awkward body language (VIDEO)
Think your friends would be interested? Share this story!
You can share this story on social media: