Melania keeps escaping Trump's tenderness, Macron offers his hand and cheek (VIDEO)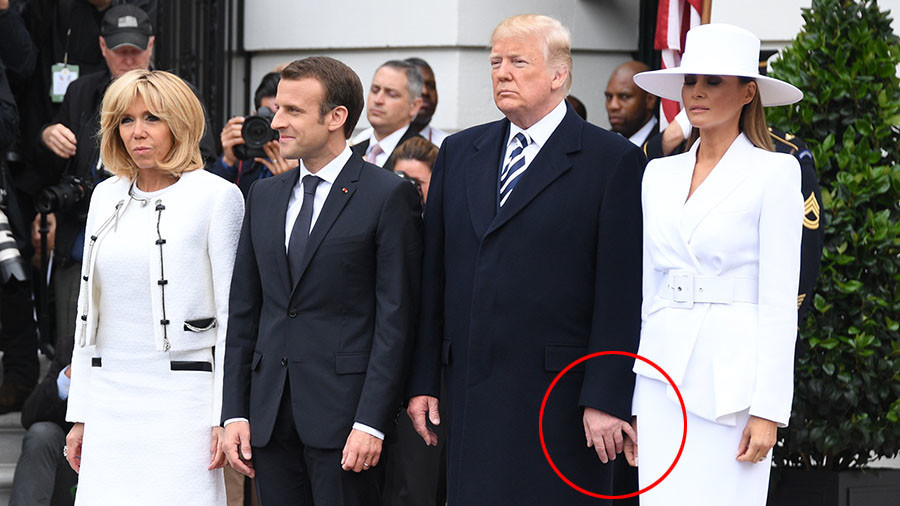 US First Lady Melania Trump appeared quite cold towards her husband Donald Trump during the Macrons' visit to the White House. Their awkward hand-holding moment and uncomfortable kisses were spotted by vigilant netizens.
President Donald Trump had some more awkward moments with Melania as he hosted French President Emmanuel Macron and his spouse Brigitte on Tuesday. At first, the first lady apparently refused to hold hands with Trump, showing no reaction as he poked her hand subtly with his little finger before finally grabbing it.
Melania's wide-brimmed hat became an apparent obstacle for Trump, keeping him at bay when he tried to kiss her on the cheek. However, the headwear didn't stand in the way for Trump's French counterpart.
The Twitterati were quick to mock the Trumps' relationship, with some social-media users describing the behavior as a "hand-holding-by-coercion attempt."
For Trump, Melania's chilliness was wholly compensated for by Macron, who shared several bizarre moments of his own with the US president. Their "special relationship" and "beautiful friendship" were expressed in several gestures during the French president's visit to the US – from kisses and back-pats to brushing a spot of dandruff from Macron's collar.
This is not the first time that Melania has shrugged off her husband's advances. The first lady refused to take her husband's hand during a visit to Rome in May 2017, and also swatted away Trump's hand during a trip to Israel earlier the same year.
Like this story? Share it with a friend!
You can share this story on social media: