'Maybe things will work out, maybe not': Trump hedges bets on N. Korea
Published time: 22 Apr, 2018 14:31
Edited time: 23 Apr, 2018 07:53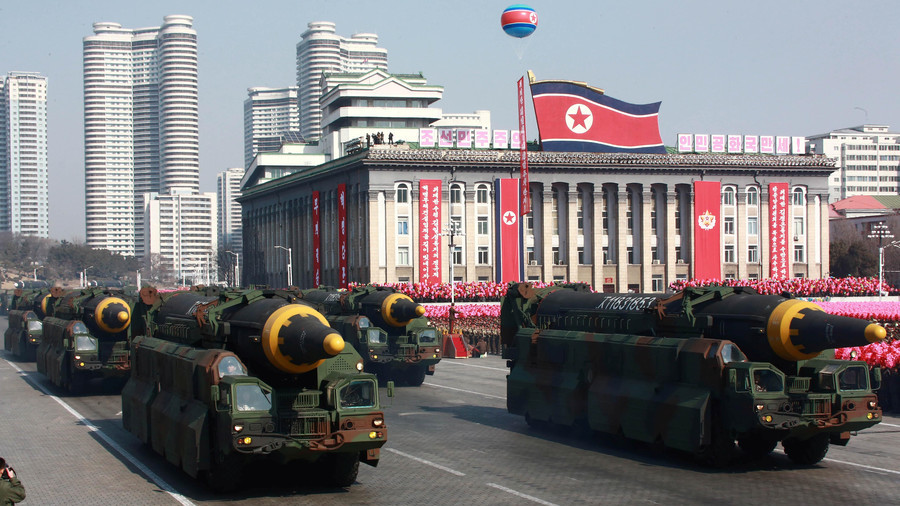 Ahead of sit-down talks with North Korea's leader, US President Donald Trump defended his tough-talking stance against the nation, remarking that efforts to resolve tensions between the two could still amount to nought.
Trump is expected to meet with Kim Jong Un in the coming months. Over the past year, diplomatic relations between the two leaders at one stage declined to the point where the US president threatened to "totally destroy" North Korea.
READ MORE: Trump: US may have no choice but to 'totally destroy' North Korea
The meeting will provide the US with an opportunity to propose dismantling North Korea's nuclear program, which in 2017 was held up by Jong Un's administration as a means to attack the US territory, Guam.
On Sunday, the US president acknowledged the possibility that talks between the two countries will not be successful. In a series of tweets, which opened with the president making fun of NBC's Chuck Todd, Trump said "maybe things will work out, maybe they won't."
The tweets echo recent comments Trump made in relation to the US relationship with Iran and Russia. Speaking after the US participated in airstrikes against Syria, Trump said: "Hopefully someday we'll get along with Russia, and maybe even Iran, but maybe not."
North Korea's stance towards nuclear arms has eased in recent days, with Pyongyang announcing its intention to freeze missile production and scrap a major test site. US Vice President Mike Pence said the news showed that pressure being applied by Washington and its allies is working.
READ MORE: 'US will say they saved the world' while peaceful Russian approach on N. Korea won – Moscow
Head of Russia's Foreign Affairs Committee of the Federation Council, Konstantin Kosachev, believes China and Russia have also played a significant role without resorting to threats.
"Keeping the channels of the dialogue with Pyongyang by Beijing and Moscow was not a less important instrument than public threats to 'wipe off the map' from Washington," he said.
If you like this story, share it with a friend!