Enabler of 'Trump's worst instincts?' Pompeo walks line between hawk and diplomat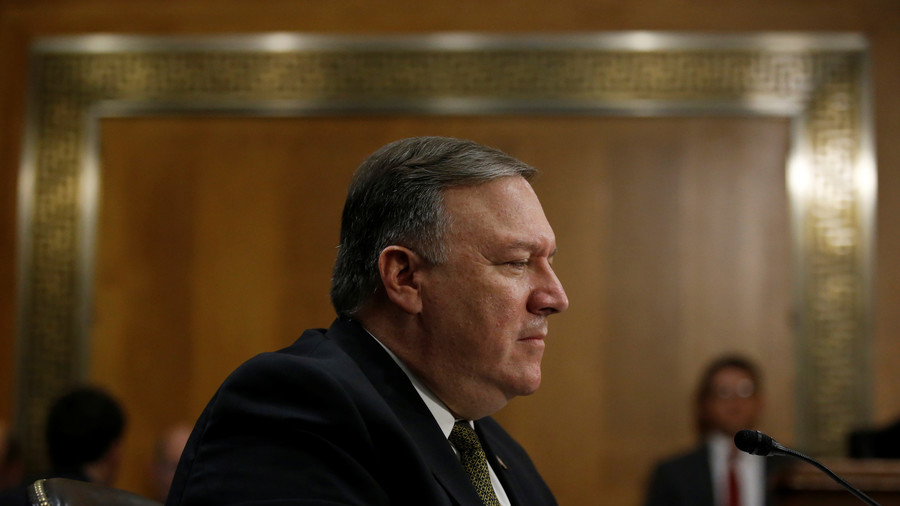 In a five-hour appearance before the Senate Foreign Relations Committee, the nominee for secretary of state, Mike Pompeo, attempted to balance his reputation as a hawk with his desire to appear as diplomatic as possible.
Senators grilled the CIA director on everything from his stance on Russia to his opinion on gay marriage.
'US is an exceptional country. Russia is not'
Entering the hearing to chants of "no more war" from protesters, Pompeo was bellicose on Russia from the outset. He described Russia as "a danger to our country," and blamed President Vladimir Putin's administration for any "bad blood" between the two countries.
The Russia-bashing continued, as Pompeo assured senators that he would "confront them [the Russians] at every vector, cyber, economic, et cetera. We need to make sure Putin doesn't succeed."
To nods of approval, Pompeo used the example of the "annihilation" of more than 100 Russian mercenaries in Syria by US forces two months ago as proof of the Trump administration's new, hardline stance. Pompeo also bemoaned the lack of US retaliation over Crimea rejoining Russia and declared Wikileaks a hostile foreign actor.
Pompeo was decidedly less diplomatic in how he dismissed Putin's opinion on democracy.
"This is a unique, exceptional country," he said. "Russia is unique but not exceptional. It behaves in ways that are deeply different from what we ought to ever contemplate."
U-turn on Iran and North Korea?
Pompeo has previously made hawkish statements on Iran and North Korea. As a member of the House of Representatives, he once told reporters that it would take "under 2,000 sorties to destroy the Iranian nuclear capacity," adding that this would not be an "insurmountable task."
In Thursday's hearing, however, Pompeo downplayed this statement, telling senators that "diplomacy is the solution" to halting Tehran's nuclear ambitions. As the Obama administration's nuclear deal with Iran is due to expire on May 12, Iran will be one of Pompeo's first diplomatic tests.
The CIA director was also keen to walk back his hardline stance on North Korea, telling the committee that he was "not advocating regime change." Despite this seemingly soft approach, Pompeo said during the hearing that he could imagine a time coming when the US would need to "take a response that moved past diplomacy."
Last year, Pompeo told reporters at a conference that the most dangerous thing about North Korea was not nuclear weapons, but "the character who holds the control over them today."
Building a 'war cabinet'
The nomination of Pompeo to the State Department and the appointment of the notoriously hawkish John Bolton to be Trump's national security adviser has raised worries on both the left and the right that the president may be moving in a neoconservative direction.
When asked whether Trump was assembling a "war cabinet," Pompeo didn't outright deny the accusation, but laughed and repeated that he was committed to diplomacy.
Despite this, when pressed by Senator Rand Paul (R-Kentucky) on his opinion of the $1.2 trillion Iraq war, Pompeo refused to admit that the war was a mistake, saying only that "we had bad intelligence."
ICYMI today I joined the confirmation hearing for Mike Pompeo to find out where he stands on important issues and voice my concerns. pic.twitter.com/Q6y0N5JiVB

— Senator Rand Paul (@RandPaul) April 12, 2018
On the matter of Afghanistan, Paul urged Pompeo to declare victory and go home, as the stated objective of that war was achieved long ago.
"There's not a single person alive who plotted against us on 9/11," Paul said. "There are kids fighting in Iraq who weren't even born on 9/11."
Paul, who is bitterly opposed to US intervention in foreign wars, warned Pompeo against leading the president to war. Paul advised Pompeo to listen to Trump, who, throughout his campaign, argued against US intervention in foreign wars.
However, Pompeo did not deny his desire to see regime change in Syria, saying that the Trump administration's goal was to see a "post-Assad" Syria one day.
Standing by Trump
Democratic senators repeatedly pressed Pompeo on his opinion of the Mueller investigation into alleged collusion between the Trump campaign and Russian actors in the 2016 presidential election. Mueller refused to speak about the ongoing investigation and said that Trump had "never asked him to do anything remotely improper."
Pompeo added that he would "stay the course" as secretary of state in the event that Trump fired Special Counsel Mueller.
When asked whether he would distance himself from Trump's rhetoric on Mexico, Pompeo simply said that he would work to promote America's interests with the Mexican government.
On Monday, a coalition of 68 "progressive groups"sent a letter urging senators to vote against the former CIA director, saying his "repeated advocacy for war, Islamophobia, climate change denial, hostility to human rights, including reproductive and LGBT rights, and support for torture make him dangerous and unfit to be a chief architect of U.S. foreign policy."
Senator Bob Menendez (D-New Jersey), the ranking member of the committee, wondered if Pompeo would stand up to Trump, or be a "yes man."
"Will you enable Trump's worst instincts?" Menendez asked in the hearing's opening remarks. In the closing remarks, he was still undecided about that question.
Like this story? Share it with a friend!