Pro-regime change Pompeo: Trump's pick for secretary of state is an outspoken hawk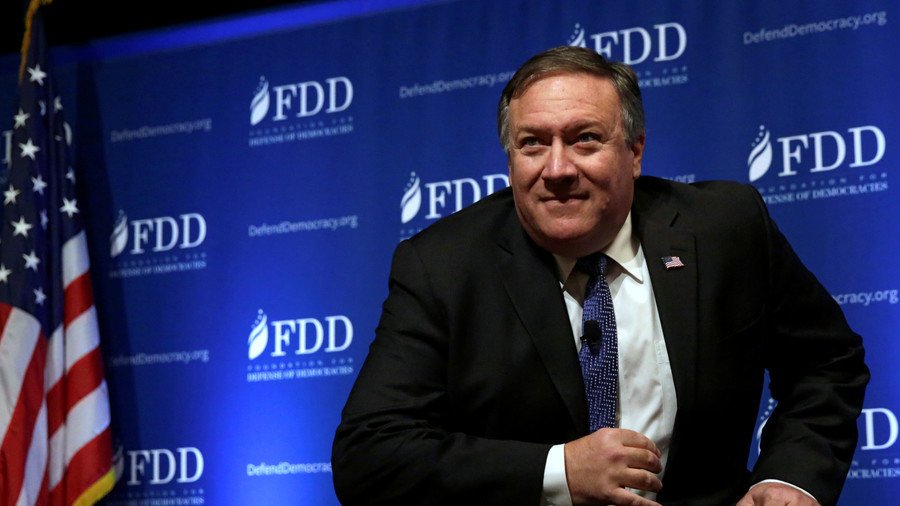 Mike Pompeo is expected to face a tough confirmation hearing on Thursday – but more dangerous hurdles await him as secretary of state. With tensions mounting in the Middle East, what kind of diplomat would Pompeo be?
The US Senate Foreign Relations Committee will hold a hearing to consider Pompeo's nomination as secretary of state on April 12. The former CIA director and Kansas congressman is known for his hard-line approach towards Iran and North Korea – a quality he shares with US President Donald Trump. But Pompeo's openly hawkish position on Syria seems to be at odds with previous statements made by Trump, making Pompeo a controversial, and perhaps extremely consequential, choice for secretary of state.
On Syria: "It is difficult to imagine a stable Syria that still has Assad in power."
Since the start of the conflict in Syria, Pompeo has been a vocal proponent for direct US military involvement. He has framed US interests in the country not just in terms of counter-terrorism operations against Islamic State (IS, formerly ISIS), but also as part of a fight to undermine Iranian influence in the region.
In July 2017, Pompeo said that American interests would likely be harmed if Syrian President Bashar Assad, Tehran's closest ally, remained in power. "He is a puppet of the Iranians and therefore it seems an unlikely situation where Assad will be sitting on the throne and America's interests will be well served."
Pompeo distinguished himself as one of the few Republican congressmen to openly support US military involvement in Syria when then-President Barack Obama warned Damascus about crossing his now-infamous 'red line' in 2013.
"We support a well-crafted use-of-force resolution against Syria and urge the president to take decisive, effective military action," Pompeo wrote in an op-ed published in the Washington Post at the time. This long-held policy position may prove consequential as Trump mulls potential military action in Syria in response to an alleged chemical attack in Eastern Ghouta on April 7.
On Iran: "A despotic theocracy"
Pompeo staunchly opposes the Iran nuclear deal brokered by the Obama administration in 2015 and has used every available opportunity to express his disdain for Tehran. He once even went so far as to suggest that sanctions relief for Tehran was a bad thing because it may provide Iran with more access to – wait for it – food.
"Ayatollah Khamenei watches America allow Iran to expand its power while [Obama] writes him missives ensuring we will protect Iran's interests. This is dangerous. The Islamic Republic cannot even feed its own people without access to markets and our president rewards that nation, which has killed countless Americans, with sanctions relief," then-Congressman Pompeo said in December 2014, before the historic accord was signed.
Two years later, after being picked by Trump to lead the CIA, Pompeo tweeted: "I look forward to rolling back this disastrous deal with the world's largest state sponsor of terrorism."
Pompeo later lashed out at Iran in a speech he gave at the University of Texas, calling it "a thuggish police state" and "despotic theocracy" with ambitions similar to those of Islamic State's brutal caliphate.
Even before becoming CIA director, Pompeo made the case for bombing Iran. "In an unclassified setting, it is under 2,000 sorties to destroy the Iranian nuclear capacity," he said in 2014. "This is not an insurmountable task for the coalition forces."
On North Korea: US should "separate" Kim Jong-un from his nuclear arsenal
Pompeo has proven to be almost as incendiary as Donald Trump with his statements about North Korea. Speaking at the Aspen Security Forum last year, Pompeo essentially called for regime change in North Korea – even while then-Secretary of State Rex Tillerson said he was against forcing Kim Jong-un out of power.
"As for the regime, I am hopeful we will find a way to separate that regime from this system," Pompeo said. "The North Korean people I'm sure are lovely people and would love to see him go."
On Russia: "Soft policy" towards "Russian aggression" is over
Pompeo appeared to hold a more nuanced approach to Moscow than most US officials. However, following accusations from Washington that Russia is responsible for an alleged chemical attack in East Ghouta, and likely in anticipation of Russiagate-peddling Senate Democrats opposing his nomination, the former CIA chief reassured his critics that he will be no friend of Russia.
"Russia continues to act aggressively, enabled by years of soft policy toward that aggression. That's now over. The list of this administration's actions to raise the cost for [Russian President] Vladimir Putin is long," Pompeo said in his prepared testimony ahead of Thursday's confirmation hearing. The Trump administration has correctly identified "Russia as a danger to our country," and has "imposed tough sanctions and expelled more Russian diplomats and intelligence officers from the US than at any time since the Cold War," the statement added.

Pompeo had previously described Washington's relationship with Moscow as "complicated," and even expressed hope that the US would be able to find areas in which it could work with Russia, including in counter-terrorism efforts.
On China: "The greatest rivalry to America over the medium and long term"
Pompeo has struggled with consistency in his statements about China. Last year he said that Beijing "has the capacity to present the greatest rivalry to America of any of those over the medium and long term."
But he followed up this sober analysis by complaining about how China is dependent upon poaching American technology: "If you look at them, they are probably trying either to steal our stuff, or make sure they can defeat it," he said.
As a congressman, Pompeo introduced a bill that called on China to stop its military build-up on islands in the South China Sea – perhaps a sign that the Trump administration's trade feud with China could expand into a more hostile policy towards Beijing.
A hawk at the state department?
Despite championing policies that would likely lead to regime change in Syria, North Korea, and even Iran – while also pushing the US towards a conflict with Russia or China – Pompeo insists that he sees war as a last resort.
"There are few who dread war more than those of us who served in uniform," Pompeo, who served as a captain in the US Army, wrote in his Senate testimony. "When journalists, most of whom have never met me, label me – or any of you – as 'hawks,' 'war hardliners,' or worse, I shake my head."


Like this story? Share it with a friend!
You can share this story on social media: